One Piece Odyssey is an RPG Action-Adventure game in which players will get to play with Star Hat Pirate characters. Players will get to explore the Island of Waford and gather useful items and materials as they progress through the main story of the game. One of the Items that players will get in the game is Accessory Items.
Accessory Items are like Old Relics and Objects which contain different types of Buffs in them. Players will be able to put on these Accessory Items to get certain Stat Buffs and they will also be able to enhance them later in the game.
In this guide, we'll explain how Accessory Items work in One Piece Odyssey.
What are Accessory Items in One Piece Odyssey
Accessories are one of the most important items in the game that will give different types of Stat Buffs to the characters. Accessory Items are the Old Relics and Objects that players will find from the Red Chests in different areas and locations. Red Chests holds rare items like better useable items, materials, and accessory items.
How to Equip Accessory Items in One Piece Odyssey
All the Accessory Items give different Stat Buffs. Players can equip the accessories on the characters to get an advantage in the battles. All the Accessory Items can be seen in the Equipment Tab of the menu and players will be able to equip them in the Character Board of the characters. Each Character has its own Character Board and there are 25 spots of space in each Character Board.
Players can equip the Accessories through the following steps.
Select the Accessory Item from the Equipment Tab to overview the buff in the particular stat.
To confirm the Accessory item on the character, press the X button.
To change the character, press the L2 or R2 button and then press the X button to equip the Accessory Item.
Accessory Items will be placed inside the Character Board and you can view the Character Board by pressing the Square Button.
All the items take a certain number of spots and you can add other accessory items according to the number of spots left in the Character Board.
You can move the Accessory Items in the Character Board by selecting it and then moving it with the directional keys. You can also rotate the items to make room for more accessory items.
If you want to remove an Accessory Item, go into the Character Board and then remove the item by selecting it.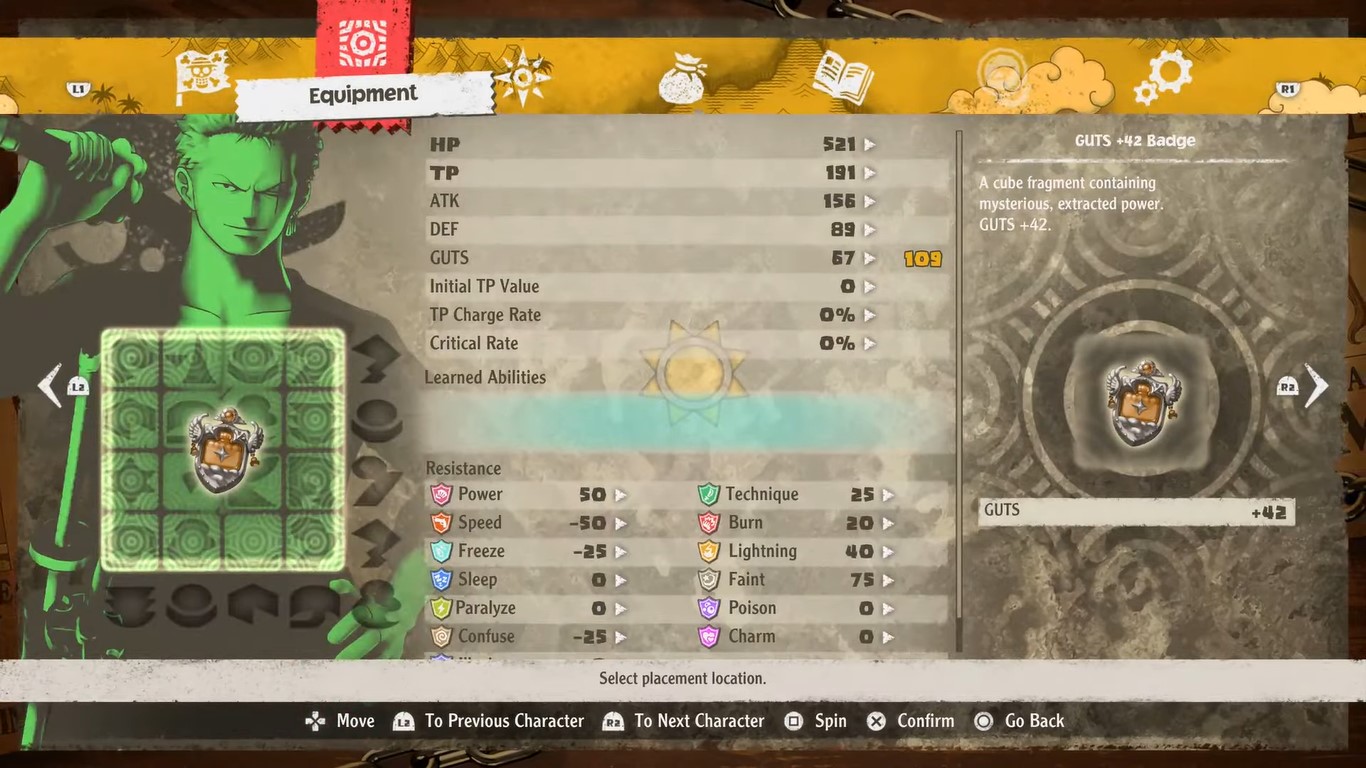 Players can get a huge stat buff by keep changing the Accessory Items with the high stat buff accessory items. To get more accessory items, loot the Red Chests in your adventure.