Sometimes WPS office files get corrupted or users forget to save the files before quitting the software which results in files being lost. So if you are wondering how to restore deleted or unsaved WPS files then this article is for you.
WPS Office is a complete package and the best alternative to Microsoft Office. It has amazing features such as Writer, Spreadsheet, and Presentations. If you are an individual or working in an office the WPS office suite is the best choice.
Like anyone else, if you lost or delete WPS documents on your Windows PC, you can try the following methods to restore them as soon as possible.
How to Recover Deleted WPS Files on Windows and Mac PC
The most common factors that cause WPS files to delete are careless deletion, virus attacks, crashes, updates, and hard drive corruption. Whenever a WPS file is corrupted or deleted you should start working on your computer to recover it. But if you miss-handled this situation you might end up with the permanent loss of file.
The safe and easiest way to recover deleted WPS files is to use Data recovery Software. There is plenty of data recovery software for Windows and Mac OS. These tools help you instantly scan, find and recover the lost WPS file automatically.
To recover WPS files that are deleted or corrupted we recommend you download EaseUS Data Recovery Software For Windows or Mac. This tool can effectively recover lost WPS document files from internal hard drives (HDD & SSD), external hard drives, USB flash drives, pen drives, or Android SD cards.
It is one of the most popular and reliable data recovery software tools to retrieve lost, deleted, and corrupted WPS files.
How to Use EaseUS Data Recovery Software To Recover WPS File
First, you need to download and install the EaseUs Data Recovery software on your computer. This tool has a standalone version for Windows and Mac OS so choose the respective file for your PC.
Step 1. Launch EaseUS Data Recovery Wizard and choose the drive where you lost files and start scanning. This software allows you to recover lost data from all devices, including HDD, SSD, USB drive, SD card, pen drive, camera, etc.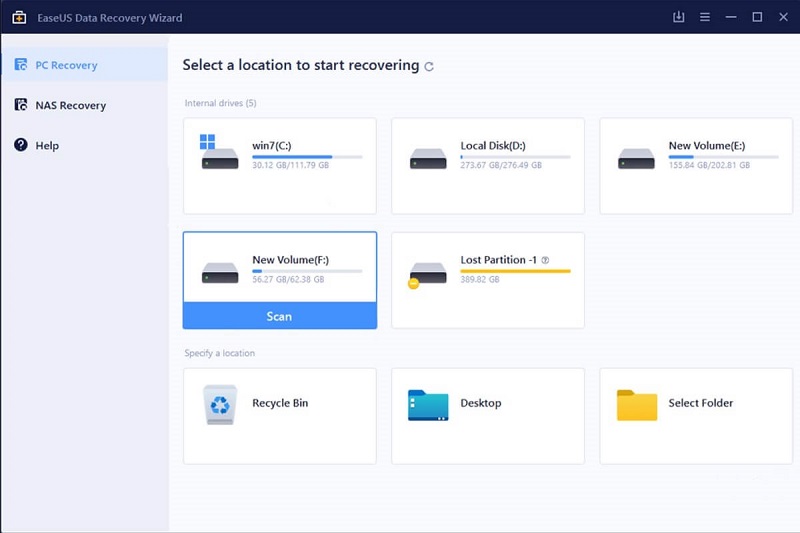 Step 2. Once the scan is finished you can see all found files are sorted into categories. On the left side, you can browse through folders, and on the right side, you can check the individual files.
Step 3. When you find the lost or deleted WPS files simply select the files type for preview. Click Recover and set a storage location to save the recovered data.
How to Recover Unsaved WPS Documents
You may lose WPS documents if you opted to quit the software without saving the file. Don't worry you have two options to restore the unsaved WPS file.
Restore Unsaved WPS Document from the Pop-up
In case you have mistakenly closed the tool but didn't power off your PC or WPS Office encountered a crashing error then upon relaunching the WPS you will see a Pop-up. Simply use this pop-up to recover unsaved files.
Follow these simple steps:
Relaunch the WPS office software and wait a moment to see if the pop-up notification appears. If there is, retrieve the unsaved Writer document in WPS by following the reminder.

Restore Unsaved WPS Document from Backup Management
Don't worry if you didn't see any pop-ups you can still retrieve unsaved files using the WPS Backup Management feature.
Follow these steps:
• Launch the WPS software and open a file.
• Click the menu option and select Backup Management to restore unsaved files in WPS Office.
• Now click the View Backup option. Here you can see all the backed-up WPS files one by one.
• Select the one you were unable to save and open it in WPS.
• Once the file is open save it somewhere on your computer.
How to Backup WPS Documents to Prevent Data Loss
If you are working on an important project or handling office work saving the documents is very important. The WPS Office has Cloud Service and a local Backup setting embedded in it.
Use these settings to secure WPS documents automatically.
Enable AutoSave in WPS Document Locally
As already explained the WPS Office has settings to save documents locally. You can enable AutoSave or customize the time gap between AutoSave while you are writing or editing documents.
Follow these steps:
Open WPS Office i.e. Writer, Presentation, Spreadsheets
Click the first icon on the top left and click on Options at the bottom right.
Now go to General and save.
In the Recover options, you can see backup options, tick the checkboxes and save time gap.
Enable WPS Cloud to Back up WPS Files
WPS Cloud is the best feature that saves the file and then lets its users view and edit on different computers. You can also access the cloud-saved files on Android or iOS devices.
All you need is to sign in to the cloud using the following steps:
Open WPS Office i.e. Writer, Presentation, or Spreadsheets.
Click on Sign in on the top to log in with your account (existing account holders).
You can also create a new account or log in using Facebook, Google, or Twitter.
Once logged in, the file roaming feature is automatically enabled.
After creating files and closing them, you can find them next time by launching the WPS software > Office Tab > File Roaming.