Resident Evil 4 Remake is a popular survival horror game that has been enjoyed by gamers for many years. In this game, you take on the role of Leon S. Kennedy, a US government agent tasked with rescuing the president's daughter from a mysterious cult in Europe. Throughout the game, you'll navigate various environments, fight off dangerous enemies, and solve puzzles to progress through the story.
If you're looking to spice up your gameplay experience, you can use cheats to give yourself an extra advantage. With a variety of cheats available, ranging from infinite ammo to invincibility, you can customize your gameplay to suit your preferences.
In this article, we have mentioned our favorite cheat trainers that are safe and easy to use. Let's take a closer look at some popular cheats and how to use them effectively.
Are there any Cheats in the Resident Evil 4 Remake?
Unlike the old games, there aren't any cheat codes or console commands that you can use in Resident Evil 4 Remake. However, you can use Resident Evil 4 Remake cheat trainers on PC to cheat in the game & gain some extra advantage.
Furthermore, there are also some hidden tips and tricks available on the internet that you can use to gain an advantage in the game.
Download Best Resident Evil 4 Remake Trainers To Cheat on PC
Each RE 4 Remake trainer offers different cheat options. So according to your choice, you can download any of the below-mentioned trainers on your PC.
1. Download WeMod (The Best Resident Evil 4 Trainer)
WeMod is the best cheat trainer that you can download to activate god mod in games. WeMod Trainer offers 28 cheat options in Resident Evil 4. It doesn't matter if you are playing Steam or non-steam game WeMod support both. You don't need to spend a dime to activate any cheat.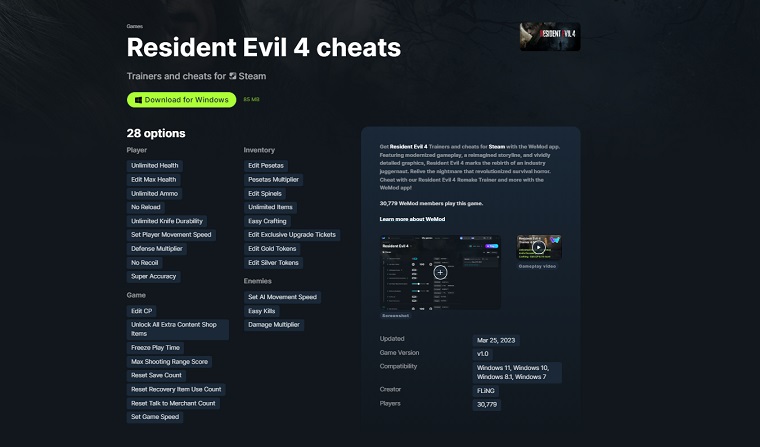 The WeMod Trainer cheats are categorized into 4 main sections i.e. Player, Game, Inventory, and Enemies.
Player

Unlimited Health
Edit Max Health
Unlimited Ammo
No Reload
Unlimited Knife Durability
Set Player Movement Speed
Defense Multiplier
No Recoil
Super Accuracy

Game

Edit CP
Unlock All Extra Content Shop Items
Freeze Play Time
Max Shooting Range Score
Reset Save Count
Reset Recovery Item Use Count
Reset Talk to Merchant Count
Set Game Speed

Inventory

Edit Pesetas
Pesetas Multiplier
Edit Spinels
Unlimited Items
Easy Crafting
Edit Exclusive Upgrade Tickets
Edit Gold Tokens
Edit Silver Tokens

Enemies

Set AI Movement Speed
Easy Kills
Damage Multiplier
How To Use WeMod Trainer on PC?
Using this cheat trainer is very easy, just follow these steps.
First, download and install WeMod on your PC
Open it and drag and drop the game .exe file under the Install Game button.
Now play it and use the toggle keys to enable or disable cheats.
To be able to use this trainer a bypass is required. To do this download RE4.zip from GitHub. Unzip the folder and place dinput8.dll in your game folder
2. Download FLiNG Trainer
FLiNG is another popular and reliable trainer to cheat in Resident Evil 4 Remake. This trainer offers also offers 28 cheat options which include: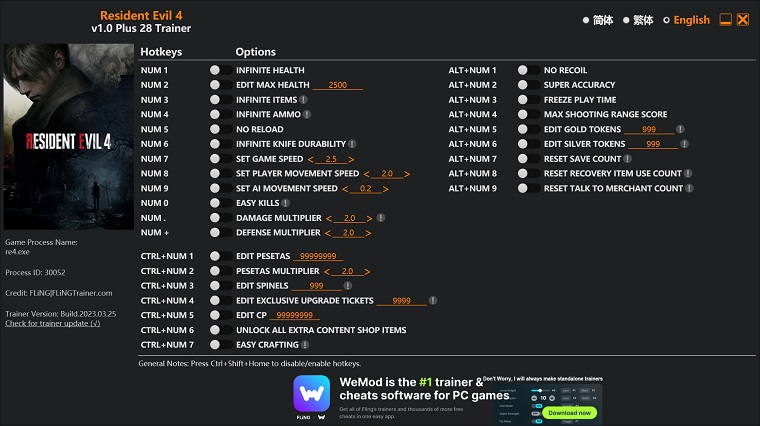 Num 1 – Infinite Health
Num 2 – Edit Max Health
Num 3 – Infinite Items
Num 4 – Infinite Ammo
Num 5 – No Reload
Num 6 – Infinite Knife Durability
Num 7 – Set Game Speed
Num 8 – Set Player Movement Speed
Num 9 – Set AI Movement Speed
Num 0 – Easy Kills
Num . – Damage Multiplier
Num + – Defense Multiplier
Ctrl+Num 1 – Edit Pesetas
Ctrl+Num 2 – Pesetas Multiplier
Ctrl+Num 3 – Edit Spinels
Ctrl+Num 4 – Edit Exclusive Upgrade Tickets
Ctrl+Num 5 – Edit CP
Ctrl+Num 6 – Unlock All Extra Content Shop Items
Ctrl+Num 7 – Easy Crafting
Alt+Num 1 – No Recoil
Alt+Num 2 – Super Accuracy
Alt+Num 3 – Freeze Play Time
Alt+Num 4 – Max Shooting Range Score
Alt+Num 5 – Edit Gold Tokens
Alt+Num 6 – Edit Silver Tokens
Alt+Num 7 – Reset Save Count
Alt+Num 8 – Reset Recovery Item Use Count
Alt+Num 9 – Reset Talk To Merchant Count
To use this trainer you also need to download REFramework which bypasses the game cheat protection.
3. Download Resident Evil 4 Remake Cheat Engine
CT files, which are Cheat Engine tables, offer functionalities that are similar to game trainers. Fearless Revolution is a reputable source for finding dependable Cheat Engine tables when searching for one
The RE 4 Cheat engine table provided by the Fearless Revolution gives you 27 options.
Activate Trainer
Godmode/No Hit
Unlimited Health
No Reload
Unlimited Ammo
Unlimited Knife Durability
Super Damage
Freeze Time Played
Super Movement Speed
Save Coordinates
Teleport to Saved Coordinates
Mega Pesetas
Mega Spinel
Unlimited CP
Easy Craft
Unlock All Extra Content Shop Items
Increase Game Speed
Decrease Game Speed
Reset Game Speed
Game Speed Multiplier
Damage Multiplier
Edit: Max Health
Edit Pesetas
Edit: Spinel
Edit: Player X Coordinate
Edit: Player Y Coordinate
Edit: Player Z Coordinate
How to Use Resident Evil 4 Remake Cheat Engine?
Unlike cheat trainers to use cheat tables, there are some additional steps to do.
Download and install Cheat Engine.
Launch the game you want to modify and Cheat Engine.
In Cheat Engine, click on the "Open Process" button and select the game's process from the list.
Search for the value you want to modify in the game by using Cheat Engine's scanning tools. This can be done by performing a search for the current value, then modifying the value in the game and searching again until you have narrowed down the possible memory addresses to a single or few addresses.
Once you have identified the memory address for the value you want to modify, you can create a cheat table in Cheat Engine to make it easier to modify the value in the future.
To create a cheat table, click on the "File" menu and select "New Cheat Table". Add the address of the value you want to modify to the table, along with any notes or descriptions. You can also add other cheats to the table if you want to modify multiple values at once.
Once you have created your cheat table, you can use it to modify the values in the game by simply opening the table and changing the values as desired.