A driver updater software does just what you're probably thinking. It helps you to update device drivers installed on windows. If you are looking for the best free driver updater tools for your Windows 10, Windows 7, Windows 8.1, Windows 11, Windows Vista, and Windows XP PC, 32 bit and 64 bit operating system. We have listed the top best driver updater tools in the articles down below. Choose one as per your system requirnment.
We have shortlisted the best free driver updater software for 2023. These free driver updater utility software make it easy to keep your hardware drivers updated.
Once you have installed any of these programs, you won't need to go to find the right device drivers from the official hardware manufacturer website. Before going for the free driver update software.
What is a driver update software?
A driver is a vital software component that allows a device to communicate with an operating system. Driver update software forms a connection between hardware & software on your computer. For example, you've bought a printer.
To make it operate correctly with your laptop or PC. It requires right device drivers to installed on your System. To do this, you have to know the exact model of your device, or when your PC or laptop drivers become outdated and have difficulty responding to your commands.
With the help of software designed to update drivers on a Windows computer.
How to Update Windows Drivers Automatically
Using Windows Update. Your computer will automatically download and install several recommended updates by the operating system ( Windows ).
Manual Install. Installing the drivers manually, either using the disc containing drivers that came with the purchases of the device or downloading from manufacturer's website.
Drivers Updater Software's. The comfortable and convenient way to update your drivers is by using windows drivers updater software's.
Best Free Driver Updater Software 2023
Update your computer hardware drivers with these best free driver updater tools.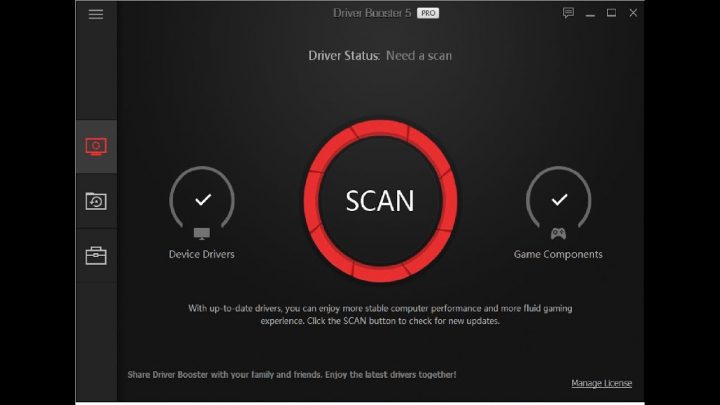 Iobit driver booster 9 is free driver updater software. It automatically checks for all outdated drivers for your computer hardware. Driver Booster 9 supports Windows XP/ Windows Vista / Windows 7 / Windows 8.1 / Windows 10.

User-friendly interface, which help users to update drivers easily. The list of drivers found in Driver Booster is labeled according to the severity of the update. Examples Extremely Old & Old.
When latest drivers for your devices are found, It quickly starts downloading them from inside the application, So you don't need to go out to a Web browser to grab them. This driver updater utility program clearly displays Driver version number, release date & size next to each driver needs to be updated.
This program also scans for all outdated game components, like Adobe Flash Player and Microsoft DirectX Runtime. You must create a restore point, before checking for driver updates, in the event, something went wrong you can restore it to the previous settings. Supports batch driver downloads & installs.
Driver Booster software comes in Free & Pro version. The difference between in the free & full version, It restricts automatic downloading, Automatic program updates & backing up drivers is not supported in the free version.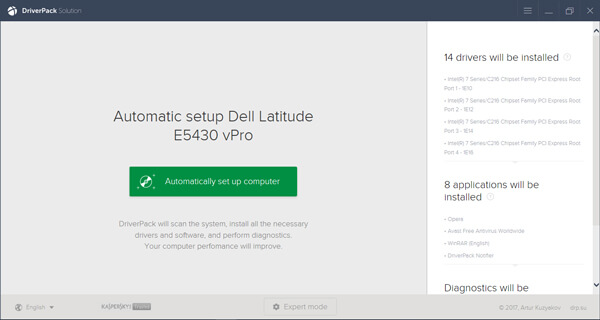 Driver Pack solution is another option for checking & updating for missing or outdated device drivers. DriverPack Solution is a lightweight program that doesn't take long to download & connects to the internet for finding free online driver updates. This driver update utility program has a user-friendly interface which makes it easier to install.
This free driver updater software let's you to download and install device driver even if you don't have a working network. You have to download driver pack offline version which has all driver in it and then transfer it the computer that needs it.
Driverpack solution 17 offers you to bulk download and automated install, So you don't have to go to click through the installation wizard.
Driverpack solution supports Windows 10, Windows 8.1, Windows 7, Windows Vista, Windows XP.
Free Driver Scout 1.0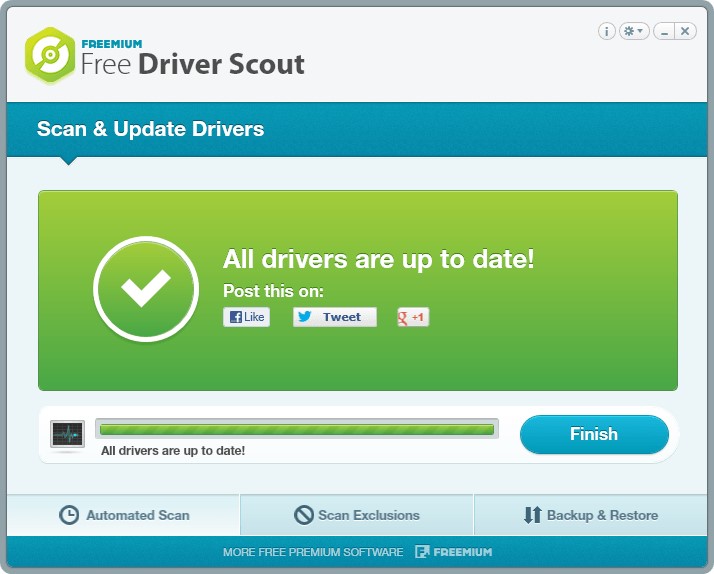 Free Driver Scout is the best driver updater program. It automatically updates all device driver in your computer. Once you install free driver scout it automatically starts scanning for any outdated device driver. After that, it installs required drivers without involving any manual input.
Simple and user friendly interface . If you don't want to scan any particular device driver, you can exclude it with the help of Free Driver Scout. It also has the ability to create backup and restore updated drivers. You can create a full back up of device drivers and when needed restore them easily. OS Migration tool, will conduct drivers search for new OS and saves these updates on a flash drive or CD. Later on, you can run that tool when you install new operating system and restore device drivers. Free driver scout V1.0 supports Windows 8, Windows 7, Vista and XP both 32-bit & 64-bit.
The only short comings of free diver updater are,
Doesn't find as many outdated driver as it should
Doesn't supports windows 10
Installs adware during update process
LavaSoft Driver Updater
LavaSoft is user-friendly driver updater allows you to find and install most suitable PC drivers. It also creates a backup copy of your installed drivers. Huge database of hardware drivers you can install software and start scanning with Lavasoft advanced driver updater. Live Update device identifier database and driver update database.
Driver Identifier 5.2
Driver identifier 5.2 is the simplest program which can be used to update drivers. It support drivers for windows 10, Windows 8.1 , Windows 7, Windows Vista & Windows XP. It's free driver updater program, which allows you to update drivers free. With the help of driveridentifier 5.2, you can scan for drivers without an Internet connection. When the scan completes, it will have you save the list of device drivers to an HTML file.
DriverIdentifier Free Download
Just open the file on a computer that does have an internet connection so the Driver identifier website can cross-reference the results with their database. Drivers that need updating will have an update link next to them. It requires a free account at Driver identifier to download driver updates. There is also a portable version of Driver identifier available.
Driver Magician
Here is another best driver upgrading software name driver magician. It's powerful driver scanning engine find out all missing and outdated system drivers. Driver magician also creates a backup copy of system drivers for future installation purpose. It checks and installs afresh copy of device drivers on your laptop or PC. Enhance gaming experience while updating Graphics card drivers to latest version. Clean from Adware, Spyware & Malware
Cobra drivers pack 2013 is another best driver finder tool with a huge database of computer hardware drivers such as Sound drivers, Graphics card drivers, Printers, Direct TV segments. Simple User-friendly interface helps you to quickly install the Cobra Driver pack 2013. Easily update all your PC drivers on the fly.
Uniblue Driver Scanner
Uniblue is a reputable name in Driver Scanner software. After installation, it quickly scans for missing and outdated drivers on your PC. After completion of scanning process, it comes up with the list of hardware's which needs driver up gradation. Uniblue is good free driver updater software you should give it a try. Uniblue always updates the latest copy of device drivers. Clean from viruses and threats you will experience significant change after upgrading your windows device drivers using Uniblue Driver Scanner