The Age of Empires 4 cheats for PC were not available when the game was first released, but they have been added in the Season Three update.
Age of Empires is known for its cheats since the beginning, some codes provide you extraordinary features or facilities so that you can test craziness on medieval maps.
Using the command console players were able to use magical bears and cars that can fire lasers. In this updated article, we'll tell you all the new AOI 4 cheats that AOE 4 cheat codes that are added in patch 24916 & help you to enhance your gaming experience.
How to Enable Age of Empires 4 Cheats
Using the AOE 4 cheats will disable your acheivements and masteries null for that session.
As of now, cheats in Age of Empires IV can only be used in Skirmish/Custom Game mode. To use cheats, you must enable the cheat setting in the Game Setup before starting the battle.
Once the game start press Enter during gameplay to activate a text box, enter the code with or without Casing, and press Enter again. After that, you'll see a notification in the Chat Box and you see units appearing from the player's Town Center.
All Age Of Empires 4 Cheats Codes on PC
After the season three update, here is all the Age of Empire cheats that you can use on your PC to get all resources, unlimited good, and much more. So, let's take a look.
| | |
| --- | --- |
| Cheat Code | Effect |
| photon man | Spawns a Photon Man unit (Custom/Skirmish) |
| inna jiffy | Instantly build, research and produce units (Custom/Skirmish) |
| full meal deal | Grants player food (Custom/Skirmish/Campaign) |
| i have an app idea | Grants player gold (Custom/Skirmish/Campaign) |
| take it for granite | Grants player stone (Custom/Skirmish/Campaign) |
| make it quick | Kills selected units and buildings (Custom) |
| knock on wood | Grants player wood (Custom/Skirmish/Campaign) |
| smorgasbord | Grants player 100,000 of all resources (Custom/Campaign) |
| i give up | Lose the game (Custom/Campaign) |
| it was known | Removes fog of war (Custom) |
| it is known | Reveals or hides map (Custom) |
| another round | Slows down simulation in scenario (Campaign) |
| another cup | Enables turbo mode in scenario (Campaign) |
| age me up scotty | Advance to the next age (Custom) |
| anti-poke | Makes selected units and buildings invulnerable (Custom) |
| you monster | Kills all Gaia (Custom) |
| minimally minimal | Hides or shows UI (Custom/Campaign) |
| king size beds | Grants max population cap (Custom/Campaign) |
| at the core | Spawns one of each core unit (Custom) |
| big bad sheep | Turns sheep into wolves (Custom/Campaign) |
| out with the new | Replaces the attack notification from Age of Empires IV with the alarm from Age of Empires II (Custom/Campaign) |
| one of us | Converts selected units (Custom) |
| this is fine | Sets selected buildings on fire (Custom) |
| zeleport | Teleports player's selected units to cursor (Custom) |
Taunts in Age of Empires 4
Taunts have been a longstanding aspect of online multiplayer culture within the Age of Empires. In Age of Empires 2, players could enter specific numbers into the chat of a lobby to trigger sound effects or voice lines, including the well-known phrases "start the game already!" and "wololo!". Similarly, this functionality is now available in Age of Empires 4.
In the lobby chat, enter "/" and then the number of the desired taunt. The taunts can be found in your player profile within the game, but not all of them will be immediately available. Certain taunts will need to be unlocked by fulfilling certain requirements, such as completing a ranked season at any level.
If you don't want to hear any taunts, you have the option to disable them in the menu's online settings.
FAQs
Does Age of Empires 4 have Cheats?
No, according to Adam Isgreen, Creative Director of Age of Empires, there are no official AOE 4 cheats for PC.
He added that AOE 4 cheats would be coming post-launch, but currently, they're not in the game. There's also no timetable for the cheat's release date for when this will be.
What's the Unofficial AOE 4 Cheats?
Prior to the Season Three Update, a Reddit user by the name of u/mbwilding discovered a method to open the command console and use cheat codes in Age of Empires 4. These cheats were unofficial but they were functional.
How to Use Age of Empire 4 Cheats For PC?
It is important to note that many of these cheat codes are still in the process of development and testing, so use them with caution.
Follow these steps.
Extract the dev folder from the downloaded ZIP linked below into C:Program Files (x86)Steam/steam/apps/common/AgeofEmpiresIV
It should end up looking like Age of Empires IV dev*.lua
In steam right click Age of Empires IV and click on Properties
Add the launch option: -dev
In-game press CTRL+SHIFT+ The key above tab on a US keyboard
Paste in this text (Ctrl+V): dofile("dev/cheatmenu.lua")
Hit Enter
Then press CTRL+SHIFT+ ~ again.
Cheats for Age of Empires IV
Once you are done with all the given above steps, simply press the combinations to get the required effect.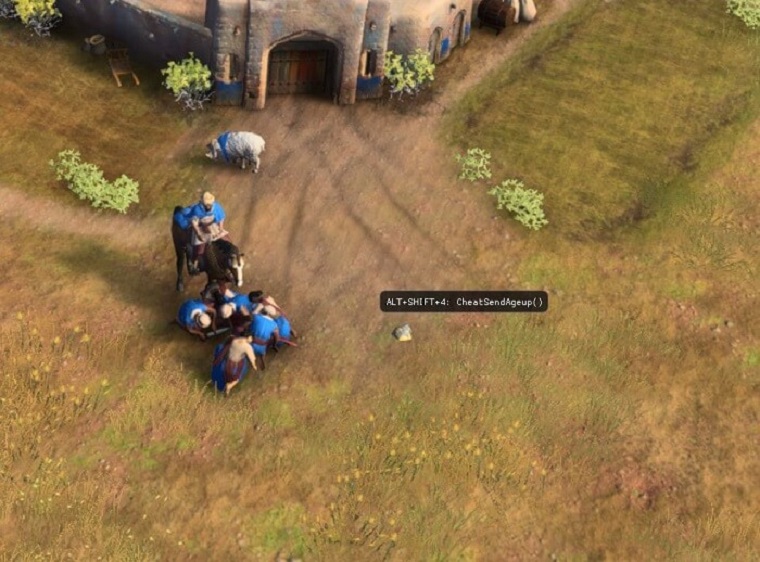 | | |
| --- | --- |
| Effect | Command Code |
| +1000 Resources | ALT+SHIFT+1 |
| Invulnerable | ALT+SHIFT+2 |
| Reveal Map | ALT+SHIFT+3 |
| Age Up | ALT+SHIFT+4 |
| Instant Build | ALT+SHIFT+5 |
| Turbo mode | CTRL+T |
| Slow mode | CTRL+S |
| Slower | CTRL+SHIFT+Z |
| Faster | CTRL+SHIFT+X |
| Spawn Villager | CTRL+SHIFT+1 |
| Spawn Spearman | CTRL+SHIFT+2 |
| Spawn Archer | CTRL+SHIFT+3 |
| Spawn Horseman | CTRL+SHIFT+4 |
| Spawn Man at Arms | CTRL+SHIFT+5 |
| Spawn Knight | CTRL+SHIFT+6 |
| Spawn Crossbowman | CTRL+SHIFT+7 |
| Spawn Sheep | CTRL+SHIFT+8 |
| Spawn Scout | CTRL+SHIFT+9 |
Note: It only works on a single player
Do Cheat Engine and Trainer Work in Age of Empires 4?
There are various links to cheat engines and trainers that you can find on the internet and on Reddit. However, we suggest to Ao E IV cheat engine developed by the FearLess Revolution.