What are the Age of Empires 4 cheats codes and how you can use them? If you are looking for AOE 4 Cheat release or console command then read this article till the end.
Age of Empires is known for its cheats since the beginning, some codes provide you extraordinary features or facilities so that you can test craziness on medieval maps.
Using the command console players were able to use magical bears and cars that can fire lasers. But where are the Age of Empires 4 cheats? or what are the Age of Empires 4 cheat codes?
Does Age of Empires 4 have Cheats?
No, according to Adam Isgreen, Creative Director of Age of Empires there are no official AOE 4 cheats for PC.
He added that AOE 4 cheats would be coming post-launch, but currently, they're not in the game. There's also no timetable for the cheat's release date for when this will be.
There Are Unofficial AOE 4 Cheats
Several people on Reddit have figured out a way how to open the Age of Empires 4 command console and use cheat codes.
How to Use Age of Empire 4 Cheats For PC?
It is worth noting that many of these codes are still undergoing development and testing, so be careful when using them
Follow these steps.
Extract the dev folder from the downloaded ZIP linked below into C:Program Files (x86)Steam/steam/apps/common/AgeofEmpiresIV
It should end up looking like Age of Empires IV dev*.lua
In steam right click Age of Empires IV and click on Properties
Add the launch option: -dev
In-game press CTRL+SHIFT+ The key above tab on a US keyboard
Paste in this text (Ctrl+V): dofile("dev/cheatmenu.lua")
Hit Enter
Then press CTRL+SHIFT+ ~ again.
Cheats for Age of Empires IV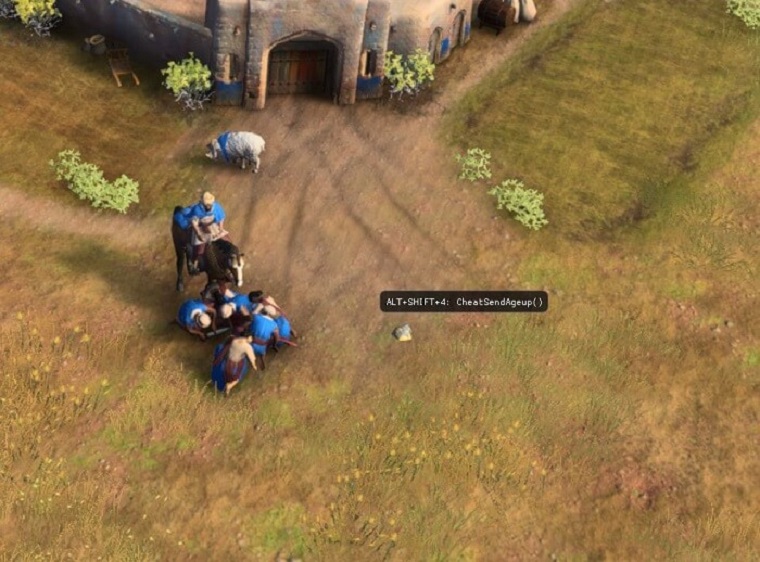 | | |
| --- | --- |
| Effect | Command Code |
| +1000 Resources | ALT+SHIFT+1 |
| Invulnerable | ALT+SHIFT+2 |
| Reveal Map | ALT+SHIFT+3 |
| Age Up | ALT+SHIFT+4 |
| Instant Build | ALT+SHIFT+5 |
| Turbo mode | CTRL+T |
| Slow mode | CTRL+S |
| Slower | CTRL+SHIFT+Z |
| Faster | CTRL+SHIFT+X |
| Spawn Villager | CTRL+SHIFT+1 |
| Spawn Spearman | CTRL+SHIFT+2 |
| Spawn Archer | CTRL+SHIFT+3 |
| Spawn Horseman | CTRL+SHIFT+4 |
| Spawn Man at Arms | CTRL+SHIFT+5 |
| Spawn Knight | CTRL+SHIFT+6 |
| Spawn Crossbowman | CTRL+SHIFT+7 |
| Spawn Sheep | CTRL+SHIFT+8 |
| Spawn Scout | CTRL+SHIFT+9 |
Note: It only works on a single player
Do Cheat Engine and Trainer Work in Age of Empires 4?
There are various links to cheat engines and trainers that you can find on the internet and on Reddit.
So far we haven't tested them nor verified any of them. It is recommended to be cautious when checking out these links. The game has only been out a short time, after all. We'll let you know as soon as official Age of Empires 4 cheats become available.
In the meantime, make sure you read our Age of Empires 4 Not Launching if you haven't already. You can also read out our guides Age of Empires 4 keeps Crashing on PC. If you are dealing with an "out of memory" issue while playing then we suggest you read How To Fix Age Of Empires 4 Not Enough RAM?