OpenAI introduced a long-form question-answering AI called ChatGPT. This immensely powerful chatbot answers complex questions conversationally.
In other words, it responds to, you as if it were your friend. However, with GPTs' influx, some schools in the US, France, and India banned the AI chatbot, so it wouldn't negatively affect student learning.
It's clearly a no-brainer that GPT has helped students, developers, and content creators in helping them brainstorm ideas to boost their businesses.
If prompted correctly, this powerful AI bot engages in scarily-accurate human-like dialogue and can generate text, write your end-of-term paper, and even spit out code snippets. Impressive Right?
As quickly as it caught the attention of various businesses and regular users, some countries such as China, Russia, Egypt, and more have blocked access to it.
Many of these countries, like China, block the use of VPNs. With more VPNs getting blocked and ChatGPT not being available to everyone, it's a sin to not let everyone explore the powers of AI model language.
So, with the best VPN for ChatGPT, you can access the generative AI application and write everything from poetry to technical documents, create computer code, and build detailed plans and instructions for just about anything.
It's crucial to choose a trustworthy and reliable that works. With a good VPN, you can access ChatGPT from anywhere on Earth.
But, not every service is capable of bypassing such restrictions. In order to bypass ChatGPT blocks, you need a VPN with plenty of servers (as some servers might be blocked), high-security measures, swift speeds, and continuous development.
Therefore, we designed this simple and easy guide to help you make your decisions faster. Continue reading to find them out.
My Top 3 Choices For the Best VPN for ChatGPT in 2023
What We Look For in the Best VPN that Unblocks ChatGPT
When we say "The Best VPN for ChatGPT", we mean it. We specifically look for a few factors before we crown one.
Server Network. ChatGPT is unavailable in multiple countries (China, Egypt, Iran, and more) and blocked in many schools (in the US, India, and France). So we make sure the VPN you choose provides you with a huge server fleet that can unblock the AI chatbot.
Speed. We cannot compromise speeds in any way. VPNs already slow down the internet speeds, so we make sure that the best VPN that we choose is either WireGuard protocol or NordLynx.
Security features. A functional Kill Switch is necessary. Traffic obfuscation that hides the fact that you're using a VPN is also useful.
Privacy. This one is important. A VPN should never collect your data. So, we make sure the VPNs that we choose to claim have no logs – even better if it's audited.
Price. After all, we don't want all your money drained.
Here are my top picks for the best VPNs for ChatGPT
So, we looked at these factors and chose the VPNs that satisfy these claims such as speed, server fleets as well as unblocking capabilities.
Here's our detailed and filtered list of the best VPNs for ChatGPT:
Further Read: The 5 Best Completely Free VPNs For Windows 7/10/11 PCs (100% Free VPN of 2023)
#1. NordVPN – the best VPN for ChatGPT in 2023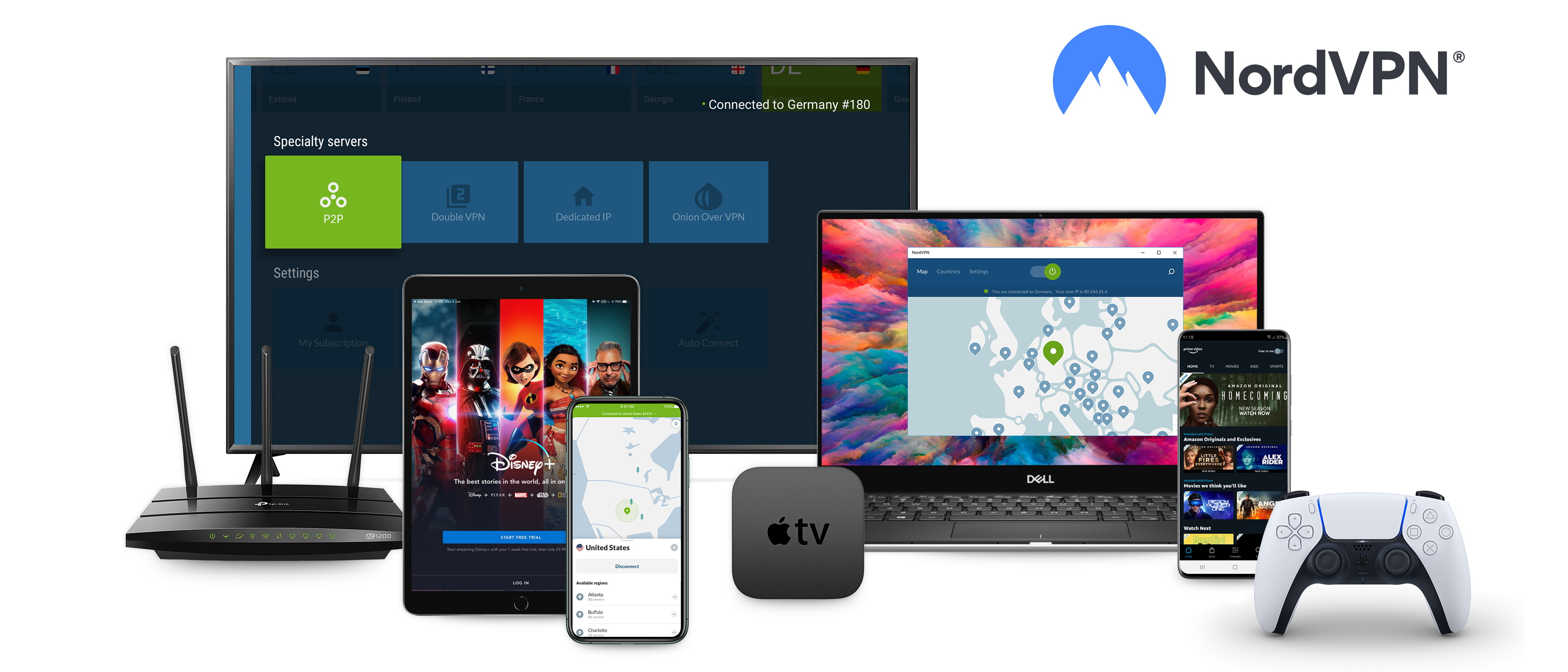 Available on: Windows, Mac, Android, iOS, Linux | Simultaneous connections: 6 | Streaming sites unblocked: Netflix, iPlayer, YouTube, Amazon, Hulu, Peacock, Disney+ | Number of servers: 5,500+ | Server locations: 80+
The Panama based VPN is the best VPN for ChatGPT. By no surprise, its, 5700 servers in 60 countries, will let you unblock ChatGPT in Europe, the East or West coast of North America, Italy, China, or elsewhere.
As you'd expect from a cyber-security giant such as Nord, you get AES-256 encryption, a decent kill switch, and a range of protocols including the speedy WireGuard-based NordLynx.
We also love that NordVPN comes with advanced features such as a kill-switch, obfuscated servers, DoubleVPN, Tor over VPN, ad blocking, malware filtering, and a SmartDNS service to unblock American streams on consoles, smart TVs, or any other device that won't let you install a VPN directly.
NordVPN download for PC has recently been independently audited, which should allay any fears about the company's 2018 data breach. Elsewhere, Nord's strict no-logs policy adds an extra layer of trustworthiness to proceedings.
The NordVPN interface can be a little awkward on smaller screens, but it's not a deal-breaker. So, if you want a VPN that works with ChatGPT, NordVPN is well worth considering.
This VPN's prices start from $3.49/month. You can try out its 7-day free trial for Android devices or make use of the 30-day money-back guarantee as well.
| | |
| --- | --- |
| Pros | Cons |
| Huge Server fleet | No free version |
| Reliable Kill Switch | |
| Audited no-logs policy | |
| Excellent speeds | |
| 7-day free trial | |
Pros and cons of NordVPN for PC
#2. Atlas VPN – beginner-focused solution for ChatGPT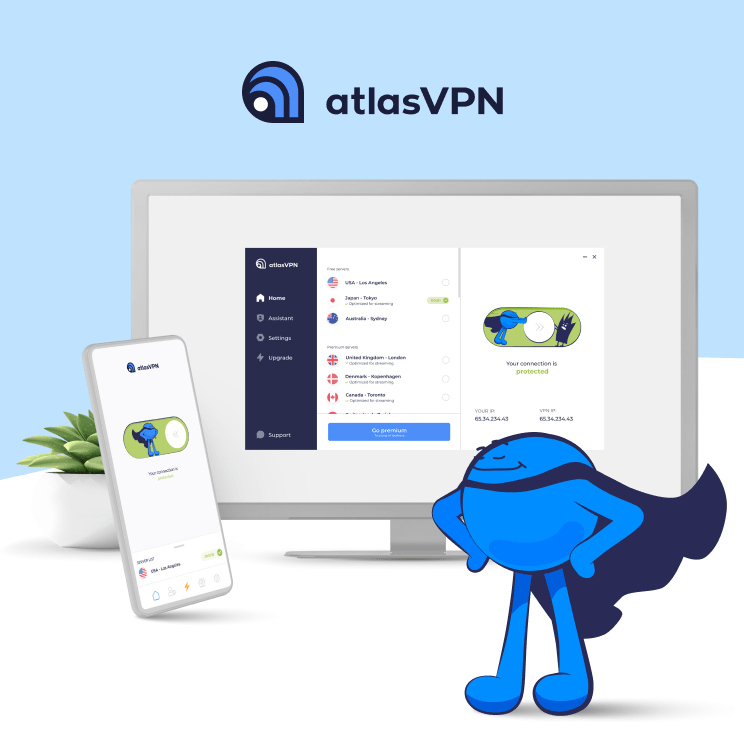 Atlas is a beginner-friendly VPN service. With its ease of use and optimal security and competitive performance, AtlasVPN download for Windows PC will make a great ChatGPT solution. It offers 1000+ servers in 42 countries, so you'll have no issues connecting to any server while maintaining optimal speeds.
I honestly like Atlas VPN for its fast speeds. The WireGuard performance retains 80% of the initial internet speeds. This is good enough to enjoy ChatGPT.
The Kill Switch especially prevents data leaks. For extra security, the SafeSwap feature continuously rotates your IP address.
One thing that concerns me is its privacy policy. Atlas VPN isn't audited. Although Atlas VPN doesn't have past reputational issues with data collection, it is still a thing to wonder about.
Atlas VPN download for Windows is compatible with all the most popular OS. It's mobile-focused and is easier to use on Android or iOS devices. It's excellent if you want to use ChatGPT on your phone or tablet.
It costs $1.82/month. You can try out its free version first.
| | |
| --- | --- |
| Pros | Cons |
| Great Kill Switch | Small server fleet |
| No-logs policy | |
| Great speeds | |
| Free version | |
Pros and Cons of Atlas VPN
#3. ExpressVPN – security-guaranteeing VPN for ChatGPT
Available on: Windows, macOS, iOS, Android, Linux, browsers, and routers.
This one will not compromise on speed and security. With its 3000+ servers in 94 countries, you'll be able to access the AI chatbot without any trouble.
ExpressVPN download for Windows PC uses WireGuard – a proprietary tunneling protocol called Lightway. This means that the speed retention rate on average was 77%.
This security-based Virtual Private Network provides a market-standard kill switch, stealth servers, or obfuscated servers. You can access it when you set the tunneling protocol selection to automatic.
The best part is that ExpressVPN holds nothing related to your online activities or other sensitive information. Its audit policy ensures that every user is safe and protected when ExpressVPN is turned on. This is really something that we look in for the best ChatGPT VPNs.
ExpressVPN starts from $6.67/month. With this subscription model, you can connect up to 5 devices. Overall, it's easy to navigate, we liked how modern the apps are. It's suitable and simple to use with ChatGPT.
| | |
| --- | --- |
| Pros | Cons |
| Functional Kill Switch | Pricier |
| Audited no-logs policy | |
| Great speeds | |
| Advanced security features | |
Pros and cons of ExpressVPN
How to use ChatGPT with a VPN?
Using ChatGPT with a VPN is super simple. Here's how you do it:
Choose a reliable VPN provider
Download the app and follow the instructions
Sign up or log in and connect to a server where ChatGPT is available
Clear your browser cache and cookies. Alternatively, open a private browser window.
Go to the ChatGPT website and sign up
That's it! You can now use ChatGPT without restrictions
Why Do You Even Need A VPN for ChatGPT?
A VPN for ChatGPT is useful for multiple reasons. Here why you need it to unblock it.
ChatGPT is blocked in some countries like China, Egypt and Russia
ChatGPT is blocked in some schools in the US, France, Australia and India
It collects a lot of personal data like IP addresses and the country you reside in. A VPN hides such data from the company's eye.
Countries where ChatGPT is unavailable
Multiple countries have blocked access to the chatbot for their citizens. They include:
China
Iran
North Korea
Russia
Venezuela
Belarus
Egypt
Hong Kong
It's also worth noting that countries like the US, France, Australia, and India restrict ChatGPT usage in schools but not nationwide. If you want to bypass such restrictions and use ChatGPT, then we recommend NordVPN.
Final Thoughts
We all love taking some help from ChatGPT. In-fact, it took the world by storm. However, countries like China, Iran, North Korea, Russia, Venezuela, Belarus, and Egypt. Plus, it's restricted in some schools in the US, India, Australia, and France to prevent students from cheating.
The best way to bypass "chatgpt vpn access denied" is to get a VPN. Our top suggestion is NordVPN. It has over 5700 servers in 60 countries which lets you find the best and fastest servers for accessing ChatGPT. This privacy-focused VPN also ensures excellent speeds and advanced security measures.
Can I use a free VPN for ChatGPT?
We will not push you to use a completely free VPN for ChatGPT for security reasons. For example, many beginners will use Betternet VPN, but they are known to collect user data and sell it. This defeats the purpose of a VPN in the first place.
In some cases, you can use a free VPN for ChatGPT yes. While free VPNs such as Proton VPN Free do exist, you need to be careful. Also, you have to be aware that every free VPN has its drawbacks.
The problem with such provides is that you might be subjected to daily or monthly data caps, and you likely won't get the same high speeds as you would if you paid for a service, which could result in stilted conversations with ChatGPT.
Just want the cheapest option? Surfshark starts at around $2.50 a month. As an alternative, you can opt for freemium VPNs. They're free services of premium and reliable VPN providers, so you know they're trustworthy.
The refund policy is a safe bet for you to try the features and servers. But, freemium VPNs are very limited in terms of servers and features, so you won't be able to use the VPN regularly. The best option is to choose a premium VPN service that offers a free trial or 30 days money-back guarantee, like NordVPN or Express VPN.