You don't need a console to play your favorite games. Instead, a PC is not a bad choice saving you lots of money too. Before the affirmative answer to whether can I run it, you need to be sure that If your current PC can run it.
By checking your PC, you'll know whether can you run it, if your PC has all the minimum requirements or it needs an upgrade. There are more things to look at then just RAM and processor to be able to know if can you run it. So Let's Get started on our Guide to know – Can I Run It (Any Game)?
Can I Run It with pre-installed Intel Graphics?
Do you have pre-installed Intel Graphics, you might have to start thinking to have a dedicated graphics card. This is because you will be experiencing issues while you play modern games. Standard Laptops are accompanied with Intel Graphics Card, unlike gaming laptops that will offer an Intel graphics card along with a dedicated Graphics card.
Gaming Laptops intelligently switch between the two upon the systems requirements. PCs/ Desktops with Intel graphics card are cheaper versions usually that consume less power too. A PC might Heat up with more power consumption
To run a game smoothly, a dedicated graphics card becomes crucial. With a desktop, it is easy to upgrade. Just buy and upgrade your PC. Preferable dedicated graphics cards are from AMD and NVIDIA. This was the the initial test to proceed further to know whether Can I Run It?
Can You Run It – Check Computer's Specifications Manually
If you are wondering "Can My PC Run It," you can check your System specifications manually to know. By specifications, I mean the hardware primarily that includes the CPU speed, RAM, etc. You can Check Your PC's specs manually in multiple ways:
Search Your laptop's Model Number online to know its specifications instantly.
Open Your Computer's Properties, and check your computer's specifications
The information provided here is not sufficient many times for which you need a system information tool like Speccy, Astra32, etc.
Next, You need to check the games Specifications by going to their website, and for every game, the developer has provided the minimum requirements. If Your PC matches or is above than the minimum, then you are good to go. A PC just meeting the minimum requirements to might experience some lag.
This is how you can check and compare your desktop manually and get to know the answer to you question that whether "Can I Run It
Can I Run It – Compare PC's Specifications Automatically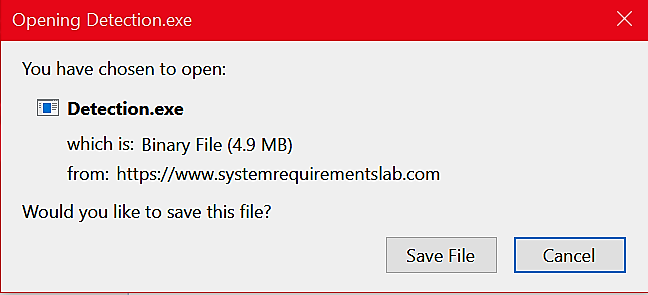 This Whole Process can be done Automatically and an efficient way too. You need to install Detection App from systemrequirementslab.com / Can You RUN It and install it. This will extract your hardware information.
Search for the Game on this Website and search as many as you can where you will be presented with the minimum and required information. Comparing it and deciding it upon the result will help you save extra bucks and let you know the answer to if "Can I Run It?"
Now it's Your Turn!
Which method helped you in getting your answer to "Can I Run it"? Do let us know in the comments section!
Don't forget to ask questions or any further advice you require on whether Can You Run It.