It's normal to have issues with your console. One of them is Spotify not working on ps4.
If PS4 Spotify is not showing up, there can be several reasons for it.
Why isn't my Spotify working on PS4 – PS4 says Spotify is already installed ?
If your Spotify podcast is not working, the reason can be the Spotify app on your console. Perhaps you've already logged in with other accounts.
Reddit has a discussion going on where a user says that Spotify is not loading or playing music from the Spotify app. He was getting an error stating the app is not installed but when he was ready to install, ps4 says Spotify is already installed on my device.
Fix Spotify Not Working On PS4
Keeping the reason in mind, we have tested different possible solutions to fix Spotify when it doesn't load.
Let's see what the solutions are:
Solution 1: Check PSN server status.
Check the Playstation Network server status, beforehand.
Please make sure they are up and running because, at times, things get there in place. If there is something from their side, the company will give a timeframe of when the outage is estimated to be fixed.
Solution 2 – Restart the app to fix Spotify Not Working on ps4
Force close the app and start it back up.
To do that, you have to:
Go over to the Home screen by pressing the Playstation button on the controller
Look for the Spotify icon and highlight it but do not select it yet.
Press the options button on your controller
Choose close application option
Select OK
Start Spotify back up and look if Spotify is responding again
How To Make a Map in Minecraft
Solution 3 – Restart your PS4
If Spotify is crashing again, refresh the console by a restart.
This clears the cache and drains out other minor bugs that cause the app to stop working.
Here's how to restart Spotify:
Turn off the PS4
Unplug the power cable from the PS4 and wait for 30 seconds
Thirty seconds after, plug everything back in and switch on the console.
Open Spotify and check if it's on track.
Solution 4 – Check your Internet connection to fix Spotify PS4 Error "Already Linked" Accounts
If Spotify PS4 error can't log in, then check for your Internet connection.
Often PS4 apps do not work correctly if there's some Internet glitch. Perform some on-the-go manual troubleshoots to ensure your PS4 catches a good connection.
You can restart the network device, refresh the modem, router, switch, or other devices.
After that, run a speed test to ensure it gets a minimum of 5Mbps of download and upload speed.
On that, you can get help from your ISP. It would help if you involved them here to get some troubleshooting steps.
Solution 5 – Log out of Spotify
It would help if you started over on Spotify. Log out of Spotify, and all user accounts for your PS4, and then activate Spotify on a specific account on your console.
Solution 6 – Try playing Spotify on another device.
It is a better practice to open Spotify on your mobile device first and then select a device (your PS4) on which to listen on.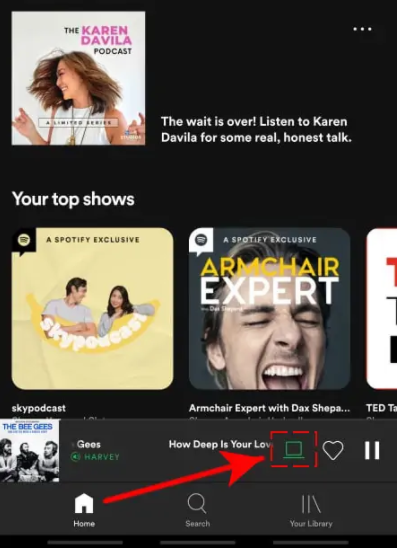 First, open Spotify with the same account on your smartphone.
Now, tap the devices icon at the bottom and make sure that you select your PS4, and then check if Spotify usually works.
Solution 7 – Reinstall the app to fix Spotify not working on PS4
Do a reinstall of the app.
Here's how you can do it:
On the user interface, locate Spotify
Press the options button on your controller
Select Delete
Press OK to confirm
Now, reinstall it.
Download the app and log in and enter your details.
Select Link Accounts and then continue with Spotify.
Solution 8 – Use another DNS to Fix Spotify from pausing all the time
Change the Domain Name Server on your console and see if it fixes Spotify no sound on PS4.
Serves go down or cause slow browsing issues, but it's not something so grave. Instead, use a free Google DNS.
Solution 9 – Rebuild Database
Turn off your PC
Hold the power button until the second beep to shift into safe mode
Plug in your controller and hit the PS button
In the menu section, select rebuild database
Reboot the console
Solution 10 – Delete Everything on Your PS4
Back up everything you want to keep on a separate device such as a USB drive. Boot into safe mode again and on the menu select initialize PS4.
This deleted everything on your PS4. After the reinstall, reinstall all your software and apps to fix Spotify Not Working On PS4.
That's all you've learned to fix Spotify not working on ps4 2021.