Baidu Browser is a free internet browser for devices running Windows 7 and above. Formerly known as Baidu Spark Browser, the web-based program runs on the Chromium platform. It's fast, lightweight, and has a customizable interface.
Download Baidu Browser Free full latest version 43.23.1008.106 for windows 7, Windows 10, Windows Vista, & Windows XP. Get offline installer setup direct download link of Baidu Spark Browser 2015 free download for windows 32/64 bit PC. Previous old versions of Baidu Spark Browser were 2012, 2013, 2014, & 2020.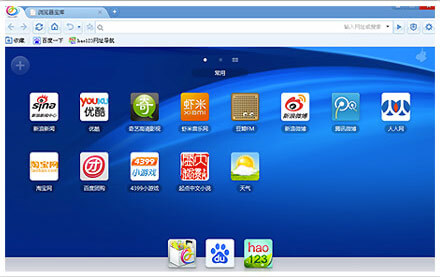 Download Baidu Browser Latest Version for PC – 2022
Baidu Browser that was previously known as the Baidu spark browser is a Chromium-based web browser. The Web browser is packed with many features. It maintains your privacy and lets you browse the web securely.
The interface is similar to chrome that making it easy to use. Additionally, it comes with default gestures to make browsing easier. The browser is integrated with Facebook and offers Video download and screenshots capture functions.
Like Google Chrome Baidu Spark Browser has the same design filled up with some interesting features.
After installing the browser on your machine you will notice a sidebar, get quick access to your bookmarks & downloads. A real-time look at your Facebook social stream. The zoom option lets you enlarge or shrink the pages.
The media button feature allows you to download videos from the webpage you visited. Spark browser 2015.
Baidu allows you to get access to the gird of most visited sites. Capture screenshots in Baidu. If default skin doesn't match your taste you can choose from other several skins via a button next to the tab bar.
Security and Speed
Baidu Browser is equipped with an in-built Virus Scanner that prevents users from downloading harmful material. Users are kept safe from malicious websites. Additionally, the browser offers fast browsing speed.
The browsing gets faster due to the built-in Adware Block as well. Ads that are mostly images cause extra page load times. It also protects you from other programs from modifying existing Security and Privacy settings.
The browser's kernel has a fast speed that helps in rendering pages quicker and executing click links faster.
Baidu Web Browser's Features
The Baidu browser would seem similar to chrome, but there are a lot of interesting features with a refreshed design. Following is the list of features built-in the Baidu Browser:
Simple and Fast.
Available in multiple skins.
Video downloading options enabled.
Pop-up video player
Watch videos simultaneously while you work on something else in your browser. All you have to do is click on Baidu Browser's "Pop-up" button to open any Web video in its own window.
Media Downloader
You can download any image and any video easily through the Media Downloader in your device easily. Downloading videos is now much easier this way.
You also get an in-built torrent search feature. Users can download videos/audios through the media download tool, an in-built media player and many more.
Baidu Browser doctor
People usually look up for solutions and mostly end up wasting their precious time. Baidu Browser's Browser Doctor helps in diagnosing and fixing common browsing problems.
Open Recently Closed Tabs
Everyone doesn't the shortcuts and ends up getting frustrated after closing a tab by mistake. You get the Recently Closed Tabs button where you simply click the button to restore any accidentally closed tabs.
In addition to this, you also wonder sometimes from which tab suddenly a sound starts to come where you can mute all tabs at once. You can simply drag and drop to open a picture/video in another tab with the top Baidu Browser.
Full-Page Screenshots
You get a screenshot option where you can take a screenshot through your browser. It helps you save time besides going to the screenshot options offered by your OS as in Windows users use Screen Snip. Share browsing images easily with friends and family using this feature.
Baidu Sidebar Options
The sidebar gives you quick access to multiple functions. Access your Facebook widget that's nicely integrated in addition to bookmarks, zoom and downloads.
Baidu Gestures
You can use gestures that can change, close or open new tabs. You can also move forwards and backwards with the help of your mouse to carry out the dozens of gestures.
Our Thoughts
Overall, Baidu Browser is a great browser to use. If you're a social person, Facebook is nicely integrated where your feed won't disturb your browsing. It serves as a great alternative to Firefox, Chrome and Opera where you get speed, and security as well along with a long list of features.
Download
Baidu Spark Browser
V 43.23.1008.106 For PC
🛡️ Safe & Secure
Download Specs
License: Free
Platform: Windows OS
Language: English
File Size: 696 KB
Downloads: 123,642
Developer: Baidu.