Owl Hub is a free Roblox script hub supported by over 35 games. Made to be executed on the best Roblox Exploits/Executors out there. It grants the player enhanced abilities like Aimbot, ESP (The ability to see through walls), FOV (Field of View) changing, Flying, Infinite Jumps, Wallbang, Change WalkSpeed, etc.
Owl Hub Roblox script can be run by most of the popular executors/exploits out there. Given below are some of the confirmed executors that Owl Hub can work with, however, feel free to experiment with other exploits/executors.
Owl Hub Roblox Script Supported Games List
Given below is an updated list of all the known Roblox games that the Owl Hub script works in.
Arsenal
A Bizzare Day
Assassin
Bad Business
Bullet Hell
Big PaintBall
Counter Blox
Esper Online
Island Royale
INFINITY RPG 2
JoJo Blox
Knife Ability Test (KAT Script)
Lifting Simulator
Muscle Legend
Mad PaintBall 2
Mayday
Ninja Legends
No Scope Sniping
One Piece Legendary
One Punch Man
Operation Scorpion
One Piece Ultimate
PowerSimulator
Prison Life
Phantom Forces
Project Lazarus
Ruddevs Battle Royale
R2DA
Redwood Prison
Stands Online
Strucid
Skywars
Sound Space
Vehicle Tycoon
Wild Revolvers
Zombie Rush
Zombie Strike
How to Use Owl Hub Script in Roblox
Running a script like Owl Hub is easy, follow the short instructions below to get it working and start hacking in Roblox in no time.
Step 1: Launch Roblox and start one of the executors like Synapse X, Krnl, Fluxus, or JJSploit.
Step 2: Start any one of the Roblox games supported by the Owl Hub Script.
Step 3: Inject the executor into Roblox. To do this there will either be an Inject button, an Attach button, or a button with an injection icon on it. See further details by visiting each executor/exploit's individual page linked above.
Step 4: Once injecting is complete, paste the code given below into the executor script window and click on Execute. This script code is directly from the Pastebin link provided by the developers.
loadstring(game:HttpGet("https://raw.githubusercontent.com/CriShoux/OwlHub/master/OwlHub.txt"))();
Step 4: That's it! A small window of Owl Hub Rbx script should now pop up through which you can easily enable or disable hacks.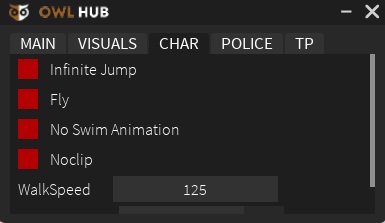 Note: Please keep in mind we will not be responsible for any problems or bans you face for using this script. For your account's safety use a dummy or alternate account.