The Dead Island 2 game is a popular survival horror game. However, this game has been plagued with loading screen issues for some players. However, some players are reporting that the game is getting stuck on the loading screen, and they are unable to proceed further. There could be several reasons for this error, such as outdated drivers, corrupted game files, or system conflicts.
To fix the Dead Island 2 stuck on the loading screen issue on PC, you can try several effective solutions. By verifying the game files using the Steam platform, updating your drivers to the latest version, and running the game as an administrator, you can easily fix your problem.
In this article, we will explore these solutions in more detail and help PC gamers get the most out of Dead Island 2.
How to Fix Dead Island 2 Stuck on the Loading Screen on a PC
If you want to resolve your issue, you need to ensure that your PC meets Dead Island 2's system requirements. Then try to
Disable your antivirus and firewall temporarily to see if it helps.
Make sure that you have installed DirectX Runtime and Visual C++ redistributables.
Ensure that high-performance mode is enabled on Windows.
Restart your PC.
Close Unnecessary Background Apps.
Update Dead Island 2 & OS Windows.
If the problem still persists, then try the below potential fixes;
1. Update the GPU Driver
An outdated display driver is a common culprit for Dead Island 2 stuck on the loading screen on your PC. This can prevent the game from launching. Updating your display driver is an effective solution to this problem. To update the GPU drivers, follow the below steps;
Press Win + X on the keyboard and then click on Device Manager and expand Display adapters.
Right-click on the graphics card, and click on Update driver.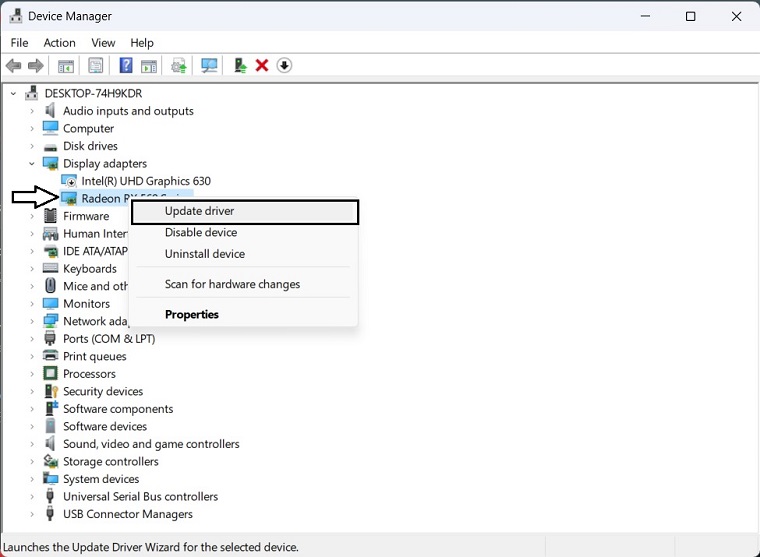 Choose Search automatically for drivers and update the driver.
In order to update the GPU driver, NVIDIA and AMD do release game-specific updates that you can download and install on your PC. But it takes time and if you are a newbie who doesn't have skills then you might end up downloading the wrong drivers.
So, we suggest downloading Driver Easy software to update your graphics card driver quickly and efficiently. Unlike the device manager, it can update all drivers with a single click and has a broader database for detecting the latest drivers.
3. Force Use the Dedicated GPU
In case your PC has two GPUs, then switch to the dedicated GPU on which you want to play the game. This can help you to resolve your issue. To do so, just follow the below steps.
Nvidia:
Right-click on the desktop screen.
Open Nvidia Control Panel.
Go to 3D Settings.
Click on Manage 3D Settings.
Open Program Settings.
Select Dead Island 2 from the list.
Select High-Performance Nvidia Processor as the preferred graphics processor for this program.
Make sure to save changes and reboot the PC.
AMD:
Right-click on the blank desktop screen.
Open Radeon Settings.
Head over to Additional Settings.
Go to Preferences.
Click on Power.
Click on Switchable Graphics Application Settings.
Select Dead Island 2 from the list (If the game is not visible, select Add Application to include the game)
Select High Performance from Graphics Settings.
Finally, reboot the PC to apply changes.
3. Clear Cache
Clearing the cache can solve your Dead Island 2 stuck-on loading screen problem. To do so, just follow the below steps;
Press Win + R on the keyboard to open Run.
Type %localappdata% and click on OK.
Enter into the EpicGamesLauncher directory.
Go to the Saved folder.
Find the folder names starting with web cache, and delete them.
Restart Windows.
4. Increase Virtual RAM
Virtual memory combines your RAM with temporary space on your hard disk. If you're running out of RAM and the default size of your virtual memory isn't large enough for your needs, you'll need to increase it manually.
Press the Windows logo key on the keyboard and type advanced system settings.
Click on View advanced system settings.
Click on Settings > Click on the Advanced tab > Click on Change.
Uncheck the box next to manage paging file size for all drives Automatically.
Select your C: drive [Where you've installed Windows] > Click the Options button next to the Custom size and type 4096 in the text box of the Initial size (MB) and Maximum size (MB).
Note: Increasing the virtual memory three times higher than the current RAM size is always better. [1GB=1024MB]
Click on Set and then OK to save changes.
Restart your computer and your game.
5. Properly Place the Storage and RAM in the Slot
To potentially fix the Dead Island 2 loading screen issue, try removing the side panel of your PC's cabinet and unplugging the HDD/SSD and RAM components from their slots. Clean the slots and components carefully, then reinsert them properly and check if the loading screen issue has been resolved.
6. Try Disabling Overlay Apps
It seems that a couple of popular apps do have their own overlay program that can eventually run in the background and cause issues with the gaming performance or even launching issues. You should turn them off to fix the issue by following the steps below:
Disable Discord Overlay
Launch the Discord app > Click on the gear icon at the bottom.
Click on Overlay under App Settings > Turn on the Enable in-game overlay.
Click on the Games tab > Select Dead Island 2.
Finally, turn off the Enable in-game overlay toggle.
Make sure to reboot your PC to apply changes.
Disable Xbox Game Bar
Press Windows + I keys to open Windows Settings.
Click on Gaming > Go to Game Bar > Turn off Record game clips, screenshots, and broadcast using the Game bar option.
If, in case, you're unable to find out the Game Bar option, then just search for it from the Windows Settings menu.
Disable Nvidia GeForce Experience Overlay
Launch the Nvidia GeForce Experience app > Head over to Settings.
Click on the General tab > Disable the In-Game Overlay option.
Finally, restart the PC to apply changes and launch the Dead Island 2 game again.
Also, remember that you should always disable some other overlay apps like MSI Afterburner, Rivatuner, RGB software, or any other third-party overlay apps that run in the background.
6. Verify the Integrity of Game Files
If you're experiencing the issue of the Dead Island 2 Remake screen flickering/tearing issue on your PC, there's a simple and highly effective solution that you can try. Repairing the game files has been reported to have a very good chance of solving this problem. To do so, just follow the below steps;
Open Steam > Click on Library > Go to Home.
Right-click on Dead Island 2 > Click on Properties.
Go to the Local files tab > Click on Verify integrity of game files.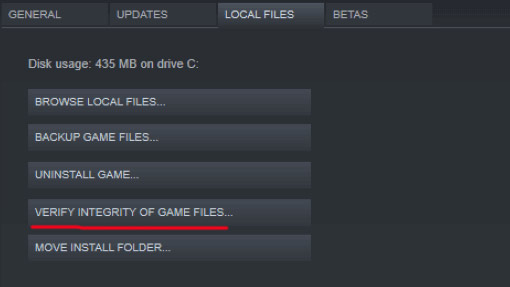 7. Repair Common Disk Problem
To do so, just follow the below steps;
Open File Explorer.
Navigate to This PC.
Right-click on the disk drive where Dead Island 2 is installed, and then click on Properties.
Go to the Tools tab.
Click on Check.
Click on Scan Drive.
Wait for a few moments until Windows finishes the repairing process.
Repairing common disk problems will help if Dead Island 2 freezes while loading.
8. Perform a Clean Boot
During system startup, certain apps and services may automatically launch and use a significant amount of internet connections and system resources. If you are experiencing this issue, performing a clean boot on your computer can help identify the problem. To do so:
Press Windows + R keys to open the Run dialog box.
Now, type msconfig and hit Enter to open System Configuration.
Go to the Services tab > Enable the Hide all Microsoft services checkbox.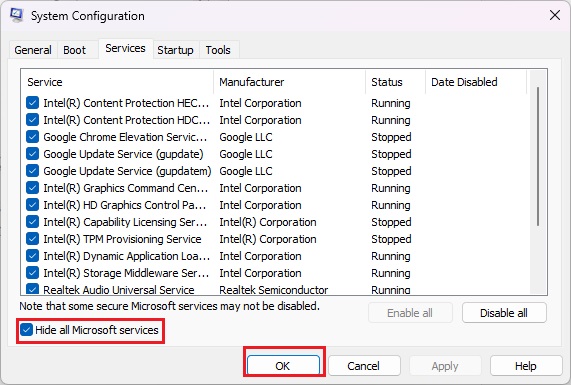 Click on Disable all > Click on Apply and then OK to save changes.
Now, go to the Startup tab > Click on Open Task Manager.
The Task Manager interface will open. Here go to the Startup tab.
Then click on the particular task which has a higher startup impact.
Once selected, click on Disable to turn them off from the startup process.
Do the same steps for each program that has a higher startup impact.
Once done, make sure to restart your computer to apply changes.
If Dead Island 2 is still freezing on the loading screen, consider uninstalling your antivirus program, re-install the game, and re-install Epic Games Launcher.