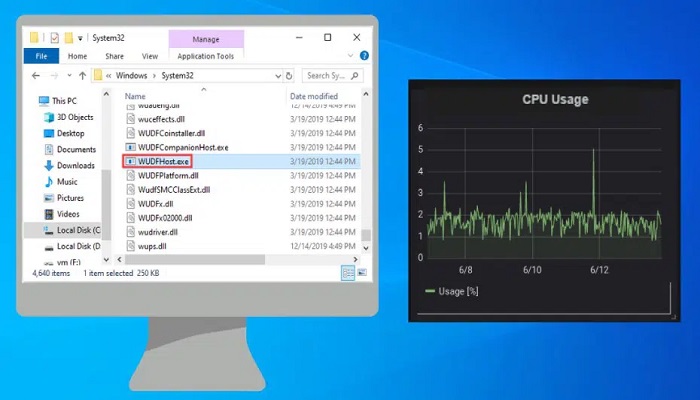 You might have got irritated with your device's speed and the unusual lag you're facing, and to know which process is Causing High CPU Usage, your task manager would have shown you a list of processes with WUDFHost.exe consuming the most.
Killing the process is not the solution as it's an important process that can affect other processes in turn. Following this guide, you'll get to know what is WUDFHost.exe? How to Disable WUDFHost? You'll also know the related services and why do they consume so much memory.
What is WUDFHost.exe? Is It a Virus?
WUDFHost.exe (Windows User-mode Framework Host) is a useful and important system process. You need to be rest assured as far as your safety is concerned. WUDFHost was introduced in Windows Vista and continued till now to mainly provide stability and security to MTP devices, Portable Devices, sensors, etc.
As killing the process is not a recommended option, there are many ways you can control high CPU usage on your PC/Laptop. To fix WUDFHost.exe, follow the instructions below. The instructions have been tested and as there are multiple ways to solve any problem, the following are 6 ways on how you can stop WUDFHost.exe from running.
Solution 1: Update Your Device Drivers
As a general rule of thumb whenever you encounter an issue in Windows, you should always check if your drivers are updated. Although it isn't really related to drivers, users have reported their issues being fixed after getting the latest updates as outdated drivers cause incompatibility issues.
Don't go for the hard way, download Driver Easy to auto-install missing drivers on your PC.
Solution 2: Disable Intel Wireless Gigabit 17265 User mode driver
Some users who faced WUDFHost.exe consuming high CPU usage have fixed it by disabling the Intel Wireless Gigabit User-mode driver. It's really odd to know that Window's own processes cause problems for other processes when they are all really there to help solve problems. Disabling it from the device manager simply requires 3 steps.
Press Window Key + R button, type devmgmnt.msc and click OK.
Expand Intel Wireless Gigabit Drivers list by double clicking on it.
You will see Intel Wireless Gigabit User Mode Driver item, right click on it, select disable device and Yes to confirm.
Intel Wireless Gigabit 17265 User Mode Driver is related to the wireless docking devices and won't affect 2.4G and 5G connections. If you are currently using a wireless docking device, then make sure you download and install the driver from here: Intel dock manager.
Solution 3: Check Your Disk and Clean Up Junk Files
Cleaning up junk files can be done using Windows. You can also use any third-party apps but it's recommended to have it downloaded from a trusted platform.
Solution 4: Scan Your Computer to Check Virus
Windows Defender can check for virus threats on your PC. Many users don't trust it as it doesn't keep itself updated with the latest malware. You can download an antivirus that can scan for threats on your PC and while using the web as well.
Solution 5 – Disable NFC
NFC has also been known to interfere with WUDFHost high CPU usage. Check if your device has NFC, and try disabling it to check if this quick way helps. You can disable it from the device manager.
Press Window Key + R button, type devmgmnt.msc and click OK.
Find NFC, disable it by right clicking on it.
Try rebooting your PC, and checking if the problem is solved.
Windows 10 users can do it in an even simpler fashion
Type "Airplane Mode" in the search bar,
Toggle NFC from the list of connections shown in the window.
Solution 6: Disable portable devices
Another reason why WUDFHost.exe consumes high CPU usage is probably because of the portable devices. To know if it really is causing an issue, you can try disabling portable devices from the device manager. Disabling portable devices won't cause a problem, they will continue to work fine.
Press Window Key + R button, type devmgmnt.msc and click OK.
Find Portable Devices, double click to expand it.
Right click on your device from the expanded list and click Disable device.
Head to task manager to know if you have solved the problem, if yes then you know that the portable devices might have caused the problem. If no, go back to enable the devices, and check if the next solution helps you.
Solution 7: Run SFC to Troubleshoot the Issue
System File Scanner runs a scan to identify whether the task manager file in your device is corrupted. It inspects all of the important Windows files on your PC. If an infected file is found, it will update it. Following are the steps that you can carry out to Run SFC to troubleshoot the task manager not responding issue.
Open the command prompt
You can open it by typing cmd in the Windows search box, and right clicking on the command prompt to Run as administrator.
Type "sfc /scannow" and press Enter. Don't forget to add the space between sfc and /scannow.
Verification will start that will come up with two types of results upon completion, you'll see something like this if issues were found and corrected:
"Windows Resource Protection found corrupt files and successfully repaired them"
Or you'll see this if no issues were found:
"Windows Resource Protection did not find any integrity violations"
Solution 8: Troubleshoot in Clean Boot State
The last option you can resort to is to perform a Clean Boot.
These were 5 methods that can help you solve the high CPU usage issue caused by WUDFHost.exe permanently.