WhatsApp status is another silent form of communication that allows you to view videos, images, and emotions of your contacts. This newly added feature has enhanced WhatsApps ability of just texting into a complete social media platform.
However some people, even after setting their contacts and status, cannot view the WhatsApp status of others. This is a technical problem and is mostly due to the settings you have set on WhatsApp. Following are the major causes of Why you can't see WhatsApp Status.
Internet Connection Problem.
Contact list issue.
Outdated WhatsApp
WhatsApp Storage Full.
Minore bugs or glitches on the app.
WhatsApp syncing is turned off.
Read Receipt turned off.
Blocked by your contacts.
How To Fix Status Not Showing Up Problem on iPhone
You can follow the below-mentioned steps to solve these issues in order:
I. Connectivity Problem
To view, load and upload WhatsApp status make sure your phone has an active internet connection. Make sure your phone is connected to the internet and the signals are not weak. A poor internet connection may not load the WhatsApp status on your phone. You can view WhatsApp status by connecting your phone to Wi-Fi or a cellular network.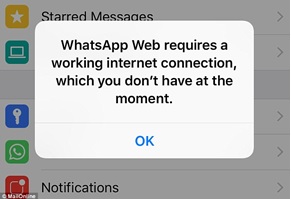 2. Check the iPhone Privacy Setting
WhatsApp enables you to view the status only if your privacy settings are set correctly. Make sure that the person whose status you want to view has added you to their contact list and has allowed you to view their status.
If your contacts can't see your status then make sure that you have saved the contacts in order to make your status visible to them.
If your contacts are unable to see your status make sure you have the right settings.
Go on WhatsApp > Settings > Privacy > Status > My Contacts

3. Update WhatsApp on iPhone
The older version of WhatsApp may not have this new update of status setting or showing so make sure you are using the latest version of WhatsApp and if not you can update WhatsApp to overcome this problem.
You can do this by going to the App Store > Search WhatsApp > tap Update.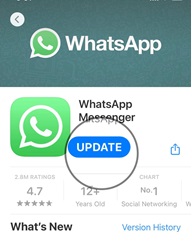 4. Clear WhatsApp Cache
WhatsApp status may not be visible because you might be running out of storage. Clear WhatsApp cache to help overcome any issues with the app, you can do so by:
Go on Setting > Storage and Data > Manage Storage.
You can delete the videos, chats, and images which are no longer in your use to access WhatsApp efficiently.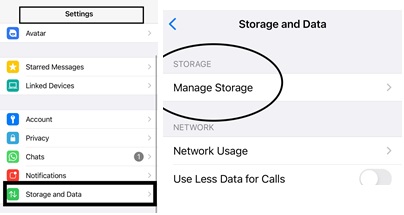 5. Restart Your iPhone
Restarting your phone removes minor bugs and glitches from your apps and helps in the proper functioning of all your apps. To solve any problem related to any app you may restart your phone to refresh the system.
6. Turn ON WhatsApp Syncing
Another issue that may occur in viewing your status is that you have turned off WhatsApp syncing. Your contacts won't sync to WhatsApp if you disable contact sync on your iPhone or Android device in the settings. Consequently, WhatsApp status is completely hidden. You can turn it on by:
Go to Settings on your iOS device.
Go to Privacy > Contacts.
Locate WhatsApp, to turn on WhatsApp syncing switch the toggle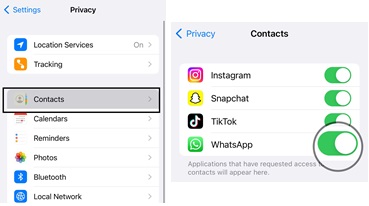 7. Enable Read Receipt
If you have turned off your read receipt it will not only prevent people from knowing whether you have seen their message or not but will also prevent you from seeing views on the WhatsApp status you have put.
You can turn it on by going to WhatsApp Settings > Privacy > Turn on Read Receipts.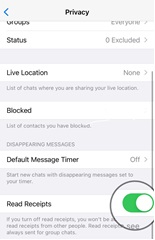 8. Check If You Are Blocked by Others
If you are unable to see the status of your contacts or they are unable to see your status it can be because the other user may have blocked you or you would have blocked them. If your number is blocked by any of your contacts it will result in not showing you their status, not showing them your status, not receiving any message you have sent, and vice versa.
You can check your block list by going to WhatsApp Settings  > Privacy > Blocked.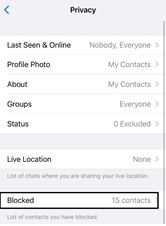 9. Contact WhatsApp Support:
If none of the above procedures is working you may contact the developer of WhatsApp to help you overcome any issue related to the app.