Redfall is an upcoming game that is generating buzz in the gaming community. However, some users are encountering the Incompatible Build Error while trying to run the game. This error is preventing players from launching the game and is causing frustration in the community.
The Incompatible Build Error occurs when the game's build version is not compatible with the system's hardware or software specifications. This error can also occur due to outdated drivers or conflicting applications running in the background. In some cases, the error may be caused by issues with the game's servers.
Fortunately, there are multiple steps that you can perform to resolve your problem. in this article, we have come up with all the effective & working solutions that can easily solve your problem. So, let's take a look.
How to Fix Incompatible Build Error in Redfall
To resolve your issue, try the below potential fixes;
1. Update Redfall
The first thing you need to do is to check if your game is up to date and if there are no pending updates.
For Steam
If you have the game of Steam, then auto-updates are on by default, if they are not, you can turn them through the steps below.
Go to your Steam library and right-click on Redfall.
Go to Properties
On the left side, there will be an Updates Tab. Click on it.
From the first drop-down menu, select "Always Keep This Game Updated"
For Epic Games
If you have the game on Epic Games:
Click on your profile photo in the top-right corner and go to Settings.
Scroll down and you will find "Allow Auto-Update". Check the box and you are good to go.
For Microsoft Store
For Microsoft Store
Click on your profile photo in the title bar and go to settings.
There you will see "App Updates" Make sure it is turned on.
For Xbox
If you are on Xbox you can follow the steps below to make sure that your game stays up to date:
Press the Xbox button on your controller to pull up the guide.
Then navigate to Profile & System> Settings > System > Updates.
From the Updates Menu, select "Keep my console up to date".
2. Verify the Integrity of Game Files
If you're experiencing the issue of the Redfall Incompatible Build Error issue on your PC, there's a simple and highly effective solution that you can try. Repairing the game files has been reported to have a very good chance of solving this problem. To do so, just follow the below steps;
For Steam:
Open Steam > Click on Library > Go to Home.
Right-click on Redfall > Click on Properties.
Go to the Local files tab > Click on Verify integrity of game files.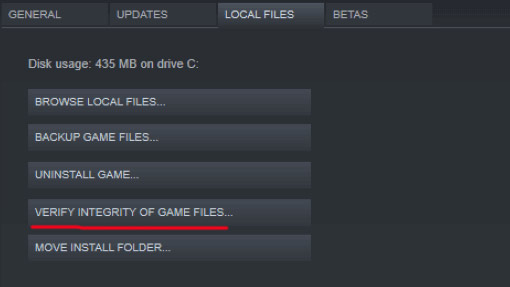 For Epic Games Launcher:
Open Epic Games Launcher on the PC.
Click on the Game Library > Click on Redfall.
Select Settings > Click on Verify.
Close the launcher, then restart the PC to apply changes.
For EA Client:
To verify game files on the EA App (formerly known as EA Desktop and Origin), follow these simple steps to ensure your game is running smoothly:
Launch the EA App on your computer.
Sign in to your EA Account.
Navigate to your game library by clicking on the "My Collection" tab.
Locate the game you want to verify the files for.
Right-click on the Redfall game tile, and select "Repair" or "Verify" from the context menu that appears. The exact wording may vary depending on the version of the EA App you are using.
The EA App will then begin the verification process, checking for any missing or corrupted files in your game installation. The app will automatically download and replace the problematic files if any issues are detected.
Once the verification process is complete, you'll receive a notification. You can now launch your Redfall and enjoy a seamless gaming experience
3. Update the Client
Along with the game, it is also crucial that your client; Steam, Epic Games, and Microsoft Store, are also up to date. Sometimes if your game client is not up to date, it can cause errors that will not allow you to play the game, just like the one mentioned above.
4. Reinstall Redfall
If the previous solutions don't work, a clean install of the game may be necessary. Uninstall the game, restart your PC, and reinstall the game to remove any unwanted errors.
5. Check the Servers
Another possible reason for the error could be that the Redfall server could be down due to some issue or for maintenance reasons. You can head to Redfall's Official Twitter to check for more information.
6. Wait for a Patch to Come
Another thing you can do is you can wait for game devs to release a patch for the error. Once the patch is released, update the game and try again.
Considering that several players are facing this "Incompatible Build Error" in Redfall, a hotfix is sure to arrive.
7. Contact to Bethesda Support
After you have done everything, but the error still remains, you can head over to Bethesda's Support Forum and open a ticket. They will get back to you with either a solution or will ask you for more information.