This guide explains how to turn off the PlayStation (PS5) DualSense controller mic permanently.
You will also learn how to Mute Your PS5 Controller Mic using the PS5 DualSense controller and the PS5 built-in settings.
When you disable your PS5 controller mic, you can enjoy your games without worrying about other players accidentally hearing your rage-induced expletives.
Here's the thing. You have to simply work out with your PS5 controller to turn off the sounds so that when you're playing online multiplayer games, your voice is not picked up randomly.
Also, PS5 DualSense Controller comes un-muted by default. This means you have to mute PS5 controller with a quick press or change the settings and make the microphone stay on mute permanently.
PlayStation 5 Error Code CE-100028-1- There is not enough free space on SSD 
How to Turn off the PS5 DualSense Controller Mic
Follow the steps below to Turn off the PS5 DualSense Controller Mic.
Navigate to PlayStation 5's Setting Menu using the gear in the top right corner.
Navigate all the way down to the "Sound" section of the Settings Menu.
On the appearing window, select the option for "Microphone".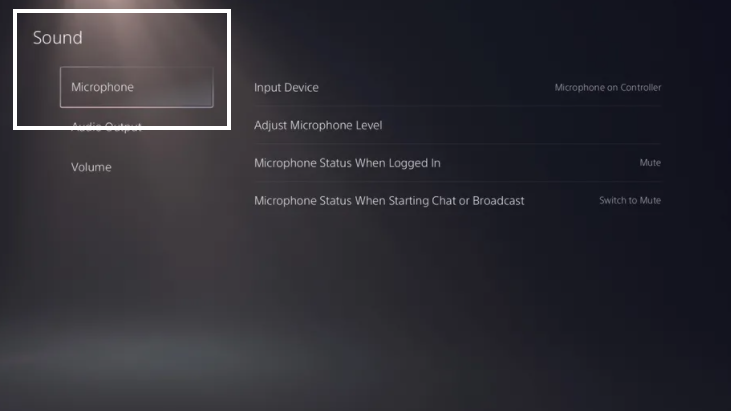 To mute your PS5 controller make sure that the input device is set to "Microphone on Controller".
Navigate to the "Microphone Status When logged In" option.
This brings up the option to either turn the microphone on or to mute it.
Change the option to mute.
This method will mute the PS5 controller mic and you won't have to worry about your PlayStation 5 picking up any accidental background noise that can trigger up your online teammates.
Disable Your PS5 Controller Mic with just one button
Hold the Mute light button on your DualSense controller for several seconds.
The Mute button will begin pulsing orange, which means that all PlayStation audio has been muted
This method is great to turn off the PS5 DualSense Controller Mic.
However, this method won't mute the audio if you're using a DualSense controller with a PC.
How to Permanently Disable PS5 Controller Mic?
How To Disable PS5 Controller Mic?
You can disable permanently or mute your PS5 controller mic through a series of these simple steps.
To un-mute your PS5, simply tap the Mute button again, or press the PlayStation button to bring up the Control Center. Then, from the bottom row, select the "Sound" option.
Once the pop-up appears, select "Turn Off Muting."
I hope you've learned how to turn off sound on ps5 controller