Have you ever wanted to create an avatar to use on social networks, forums, or online games? By creating cool images with the best avatar maker websites, you can protect your data and keep your identity a secret.

Top Free Websites to Create Avatars
Creating an avatar doesn't require any drawing skills or complicated software. These user-friendly websites make it easy to create one. Using a photo as an avatar is also possible. Either you can choose the characteristics manually or it can be generated automatically.
We provide avatar improvement services for those who want to improve their avatars without spending too much time and effort. For beginners who have no idea how to edit photos professionally, change the background, or turn images into sketches or cartoons, this is a wonderful offer. A photo can be edited to fit your style by our skilled retouchers.
Adobe Creative Cloud Express (formerly Adobe Spark) — Our Choice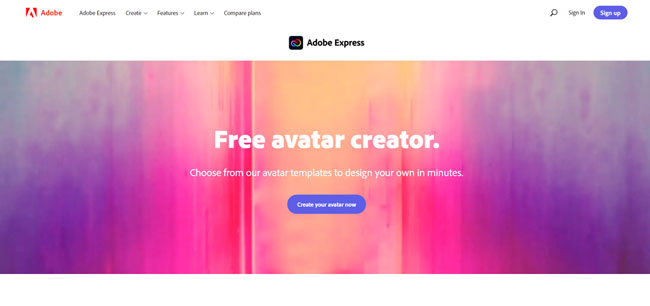 A memorable avatar can be created quickly and easily with Adobe Creative Cloud Express, formerly known as Adobe Spark. The platform offers a wide variety of beautiful templates, as well as resources such as social media content, logos, and more. The Adobe Stock library contains free photos, images, icons, backgrounds, and design assets.
Despite not being a designer or being able to draw, you can still create a beautiful avatar. There are many features and tools in this popular avatar creator that are very user-friendly, so even beginners will have no trouble using it. Just a few taps are required to resize content for any site or social media that caters to photographers, and you can instantly apply high-quality Photoshop effects.
Ava Maker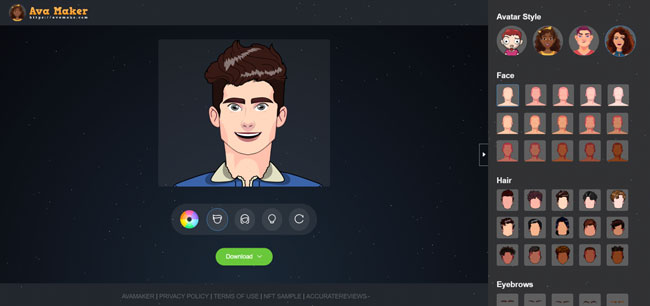 Those who want to create a cartoon version of themselves will find Ava Maker one of the easiest tools to use. You can create an avatar that looks just like you by choosing from a variety of faces, eyes, mouths, noses, hairstyles, and other features.
There are lots of options available on the website, and it is easy to navigate. One of the best things about Ava Maker (known as Avatar Maker) is that it's free. It has all the necessary options right at your fingertips. Avatars can be made in four different styles without searching for additional features.
Using Avamake, you can create a personalized avatar with multiple items offered, including face shape, mouth shape, cloth style and color, hair type, and beard. etc. You can also share your avatar with your friends once you've finished creating it. As a standard for online profile pictures, avatars should have 200×200 pixels and 400×400 pixels.
Canva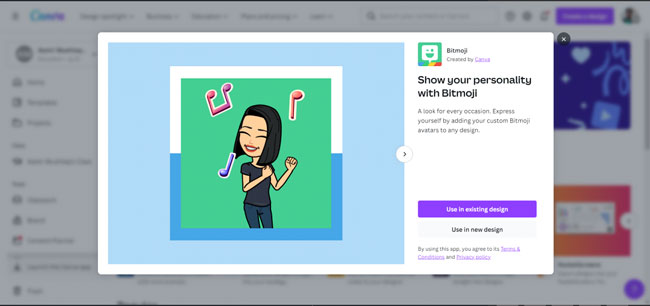 I recommend Canva for beginners since it is an online platform and photo editing software that is well created. The majority of users use Canva for a variety of purposes. It also happens to be one of the best avatar-making websites if you've never used all its features.
Creating a thumbnail avatar with a real face is not possible, but you can use the "Avatars Smileys" section, where hundreds of cartoon avatars have already been created. Just edit them according to your preferences.
Portrait Illustration Maker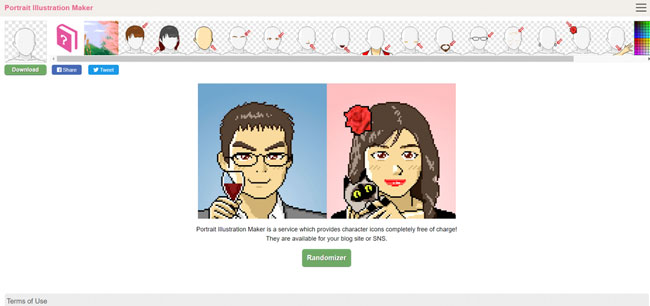 Free character icons are available through Portrait Illustration Maker. Your blog or social media pages can quickly be decorated with cartoon avatars based on your gender.
Avatar templates can be created by anyone, regardless of their experience with graphic design software. When you want a pure cartoon avatar creator rather than a platform with sketches, then you should definitely take a look at this website.
You'll see many customization options when you open the website. With over 90 different hairstyles to choose from, you can apply a specific look. Similarly, you can edit other aspects of a face and the background as well.
BeFunky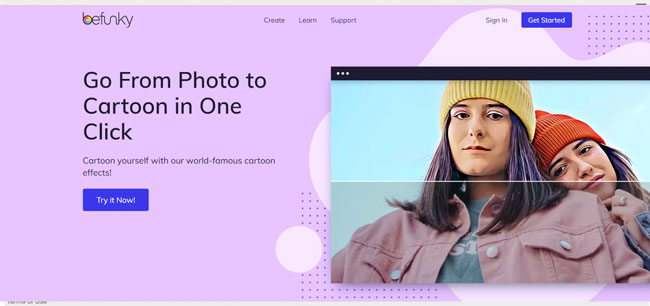 Among the best photo editing programs on the market today, BeFunky can be used for very creative editing. You can create a cartoon-style avatar by using this program if you want an image-inspired avatar.
The contrast can be changed or you can correct colors or add some cool effects here. There are plenty of features to choose from on the site, and it is completely free of charge.
Pixabay and Unsplash are good places to find the needed photos if you practice self-portrait photography but do not want to use your images. The only thing you need to do to get started is upload the image you want. After that, you will need to edit it.
Pickaface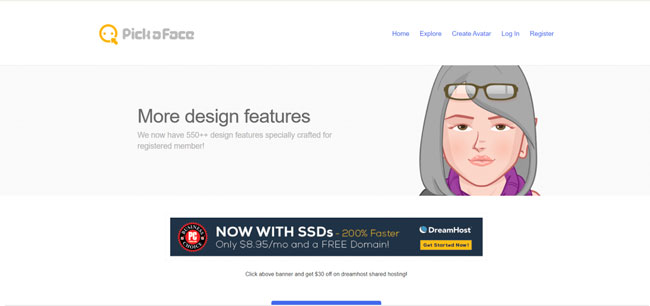 Creating a custom avatar is easy with Pickaface, a free web application. A cartoon avatar can be created quickly and easily. Follow the instructions by clicking "Create Avatar.". Avatars can then be saved to your gallery.
You can customize your avatar in a variety of ways with this maker. The site offers many features to registered users only, even if you aren't able to create an avatar without registering. A gallery of your unique avatars can be created and managed by registering on Pickaface.
Furthermore, you can create new avatars based on your previous work without having to start from scratch. Furthermore, avatars can be renamed/deleted and high-resolution files can be purchased.
Cartoonify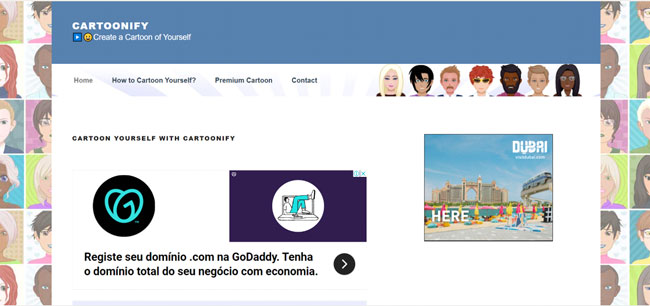 A cartoon can be created quickly and easily with Cartoonify using your photo. Making a cartoon face is as simple as choosing suitable facial features and a background. More than 300 image adjustment options are available on this avatar maker, such as nose type, size, color, etc.
It is also important to indicate the gender before getting started. Users must click on different parts of a human face, and AI algorithms will show a preview on the left side of the website. This website doesn't operate on a drag-and-drop basis.
As soon as you are satisfied with the result, you can download it as an SVG (vector) or PNG file. Additionally, you can upload the file to Gravatar. Besides the possibility of creating avatars for social networking sites, the program also allows you to output them.
Cartoonize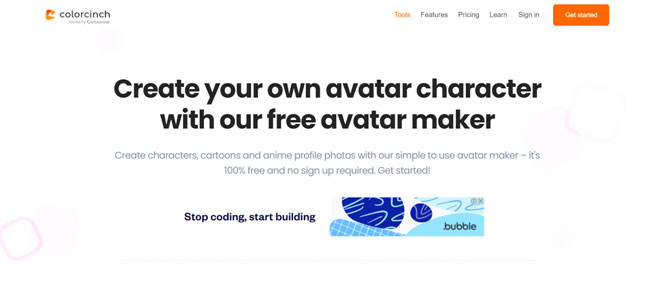 For those who want to create an avatar with a cartoonish theme, Cartoonize is a great option. In addition, you can choose the effects you want to add to your photo manually or by selecting the effects you want.
Its ability to convert real photos into cartoons is one of the most amazing things about this avatar making website. Your face can be added to products, cups, and packaging if you run a business. In a social media profile, you can definitely use your finished avatar.
The paid version of Cartoonize allows you to convert images in batches and apply many special effects to your images if you download it to your Windows PC.
Avachara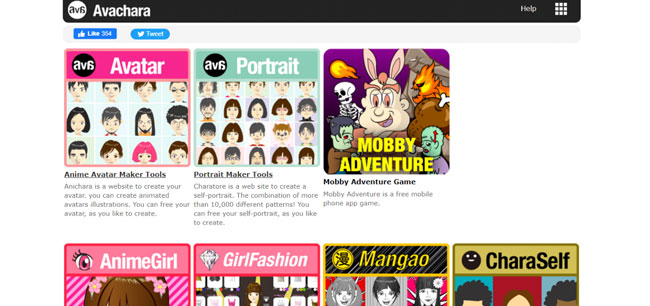 We recommend Avachara as a web application for creating character avatars, such as anime characters or portraits. Users who want to create simple cartoon avatars will enjoy the site's simple user interface. It just takes a few clicks to choose an avatar's gender, shape, eyebrows, nose, ears, and all the other 100+ facial features.
There are also a variety of accessories that can be added to an avatar, including goggles, sunglasses, masks, clothing, and many others. There are numerous options for you to choose from, such as dresses, tops, shirts, and hats. A cross under each avatar element allows you to modify/remove the element in the interactive avatar editor.
Several formats are available for saving your avatar, including PNG and JPEG. An image in PNG format has dimensions of 200x400px, while that in JPEG format has dimensions of 480x480px. With the best manga apps for Android, you can easily share the results.
Doll Divine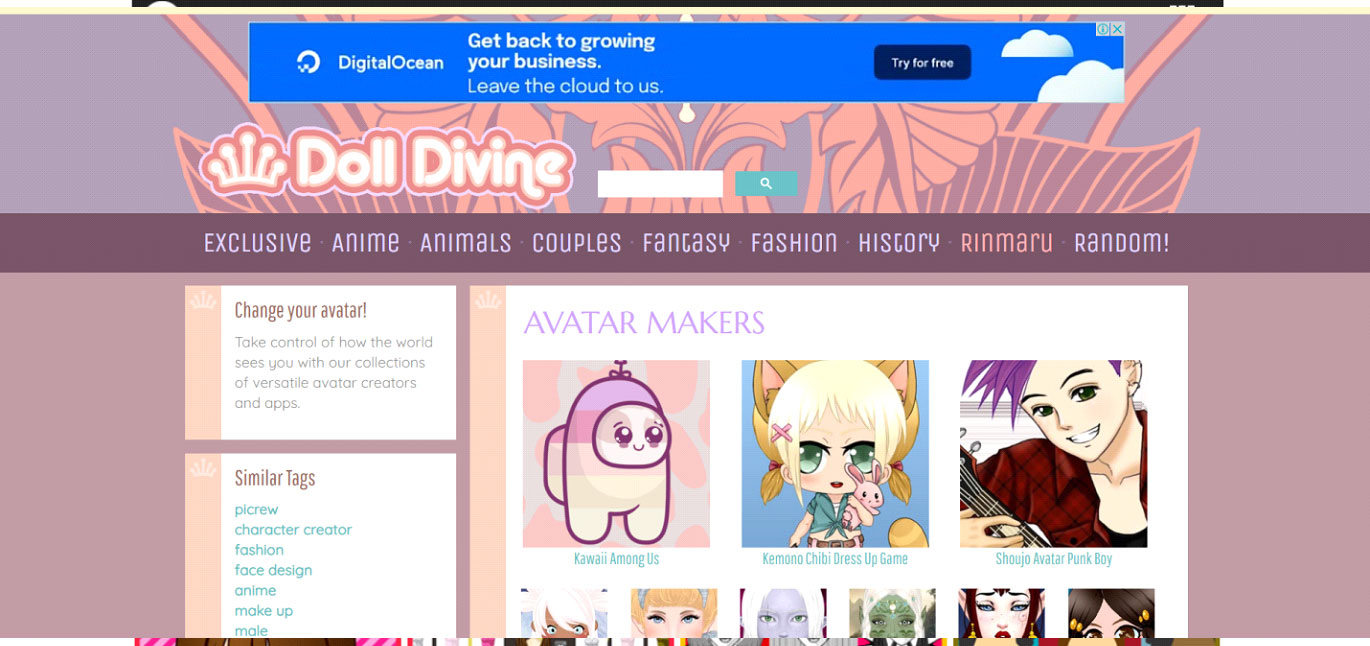 Here you can create your own anime avatar with Doll Divine's great selection of backgrounds. You can easily make your avatar blend in with the manga world here. At least 34 different backgrounds are available. In order to give your anime avatar an authentic feel, the hair, clothing, and accessories are based on anime and manga.
The avatar creation process is very similar to playing a dress-up game on your phone, but you are unable to download images. Screenshots can be taken with your smartphone, and on a PC, you need Chrome extensions.
Over To You
By creating cool images with these best avatar maker websites, you can easily make your desired avatar that can be used for your profiles/ social media networks. I have given you the list of 11 best avatar creator websites now it's up to you which one would you like to choose.
I hope this article will help you to create your attractive cartoon avatar. If you have any questions related to this article, feel free to let us know in the comments section.