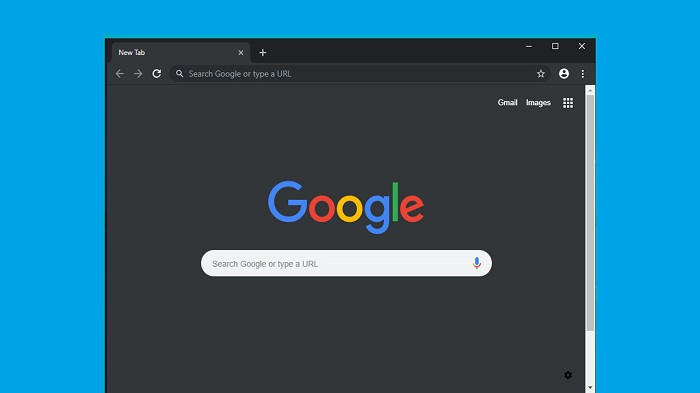 You can enable the Dark Mode on Google Chrome just by a simple tweak in its settings. This guide will show you exactly how you can set up the dark mode in Google Chrome on your PC, Android, Mac, and iPhone / iPad, or iPod touch.
It's super simple.
I'll show you how:
To turn on the night mode for Chrome on your PC you can either:
Apply a Dark Theme
Install a Dark Mode Extension
Put Chrome on Dark Mode by Applying Dark Theme
You can get dark mode on Google Chrome by navigating to Chrome Web Store. Rest is simple.
Search for a dark theme.
Install that theme by adding it to Chrome.
This is it.
This will give your Chrome browser a dark mode on Windows 10, 7, 8, Linux, or Chrome OS.
Hence, with dark mode activated – browsing would be easier on your eyes. As well as it will conserve battery.
Cool enough!
Oh wait – This theme would turn the tab bar, title bar, toolbar, and New Tab page ALL DARK.
Here's an example using the "Slinky Elegant" theme.
Turn night mode on for Chrome by Installing a Dark Mode Extension
Install the Dark Reader extension from the Chrome Store. This extension would automatically put Chrome on Dark Mode. It will put google search on dark mode and would activate night mode to every web page you visit. The other way is also possible. You can remove this extension or change it to default through settings and reverse everything up.
Decent Enough!
Turn on the Chrome Dark Mode on Android
Here's how you can make Google Chrome dark on Android:
Turn up the Google Chrome.
Now tap on "More" at the top right corner of the app (designated by three vertical dots) and select "Settings".
Choose "Themes".
Choose "Dark Mode" to get the Google night mode.
How to turn on Dark Mode in Google Chrome on a Mac
You can enable the dark mode in google chrome on your Mac through your Mac's system preferences and start browsing in the dark theme.
Here's how:
Click the Apple icon at the top left corner of the screen.
Tap "System Preferences" in the menu that appears.
Select "General".
From the three options available select "Dark" to make google chrome go into dark mode. You can however, select "Auto" if you only want dark mode to activate at night.
How to make Google Chrome go into Dark Mode on an iPhone
You can turn on the dark mode in the Google Chrome app on your iPhone by simple changes in its Settings.
I'll show you how:
Open your Settings menu.
Navigate to "Display and Brightness".
Choose "Dark or "Automatic" to turn on the dark mode on iPhone.
If in case your iPhone lacks the dark mode you can still force the dark mode settings on your iPhone.
Here's how:
Open up the Settings.
Scroll down and tap "Accessibility."
Select "Display and Text Size."
Under "Vision" toggle on either "Classic Invert" or "Smart Invert" and your phone will flash and then transition to the new mode.
This adjustment will enable the dark mode on all the applicable apps, including Google Chrome.
This way you can turn night mode on for Chrome and browse in dark theme to reduce the exposure to blue light. This will result in good sleep and will not make you feel tired and cranky. Hence, it will reduce the problems associated with obesity, high blood pressure, diabetes, and heart disease.