After Microsoft Windows 10 KB4023057 update patch many users complained about their PC's CPU, and memory performance has decreased. Even simple tasks like copying files or opening them take several minutes to open. They also claimed that whenever they open the Windows Task Manager they see the Sedlauncher.exe process running in it.
So if you are also dealing with high CPU or memory issues right after KB4023057 then we have reliable troubleshooting steps to fix this process. But first.!
Read Also: How To Fix Microsoft Compatibility Telemetry Causing High CPU & Disk Usage
What is Sedlauncher.exe and why it causes high CPU and Disk usage?
This program is a part of the Windows Remediation Service. When the Windows update KB4023057 was released the Sedluncher.exe file was installed on your system as a part of it. This update was supposed to enhance the system speed, reliability, and make the Windows update process run smoothly.
The discussion of forums revealed that when KB4023057 components try to access the Internet. An inbuilt process with the name of sedluncher.exe runs on the system and causes high disk usage issues.
Along with this process that consumes memory you will also see sedsvc.exe, rempl.exe, etc along with Sedluncher.exe. These are all part of the Windows Remediation Service.
How to fix sedlauncher.exe high CPU memory and disk usage issue?
You don't need to try all these fixes, just work your way down the list until you find the best method to disable this process and make your computer run normally.
Solution 1: Disabling the Sedlauncher.exe via the Task Manager
Accessing the Windows task manager is the easiest way to disable this process. To do this follow these steps;
Open Windows Task Manager on your PC
Scroll down until you find the Windows Remediation Service.
Right-click on it and choose "End Task".
Now Restart your PC
Now that you have disabled the whole Windows remediation service file it will automatically disable Sedlauncher.exe, Rempl.exe, Sedsvc.exe, and WaaSMedic.exe. As a result, your System's CPU, disk and memory consumption will get normal.
Solution 2: Disable "Windows Remediation Service" process Via Service Utility
Sometimes it is not that easy to disable the process from the task manager. If the Disk usage on Windows 10 is still high then you need to access the service utility to stop this process. Follow these steps:
Press the Win + R and type "services.msc" in the Run window and press Enter.
It will open Service Window, here scroll down in the list of services, and find Windows Remediation Service (sedsvc).

Right-click it to open its properties.
Click on the General tab, under Startup type, click the drop-down list and select "Disabled".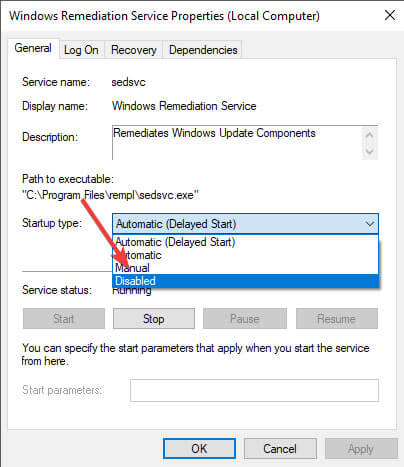 Click OK and Apply to save the changes.
Now Restart your PC to see if the Sedlauncher.exe issue persists.
Note: If you are dealing with WaaSMedic.exe high CPU usage issue on Windows 10, then you can apply the same steps to disable it. Just scroll down the list and find Windows Update Medic Service to stop it.
Solution 3: Completely remove "Windows Setup Remediations"
If the sedluncher problem doesn't solve and your Windows 10 is still dealing with a high disk usage problem, then follow these steps;
Open Windows Settings by pressing Win + I keys and click on Apps.
By default, it opens the Apps and Features tab. Here scroll down the list to find "Windows Setup Remediations (x64) (KB4023057)" or "Update for Windows 10 for x64-based Systems (KB4023057)".
Simply click on the program, and uninstall it.

It will fix the high CPU and Disk usage problem in Windows 10. But this fix has its consequences. such as your Windows speed may decrease including other main components' performance. So, apply this solution only when this issue is not resolved by other fixes.
Read Also: How To Check CPU Temperature & Monitor PC Temps on Windows
Solution 4: Disable REMPL task Via Task Scheduler
Follow these steps:
Press Win + R keys, type "taskschd.msc" and press Enter.
Click on Task Scheduler Library, to activate the drop-down menu.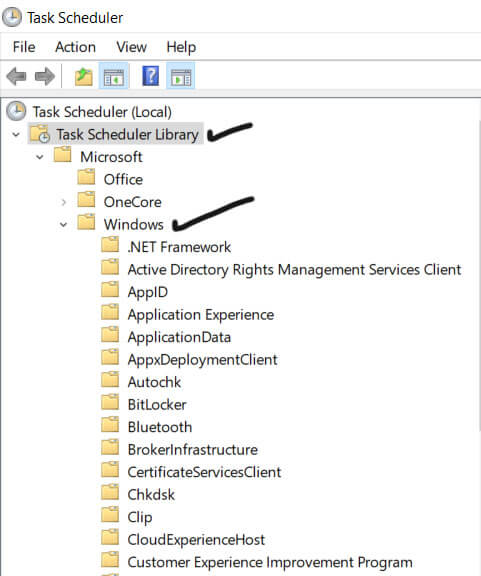 Navigate to Microsoft > Windows > rempl folder.
When you click on the rempl folder you will see the Shell task on the right-side panel.
Select the Shell task to delete it. Press Delete key and then press Yes to confirm.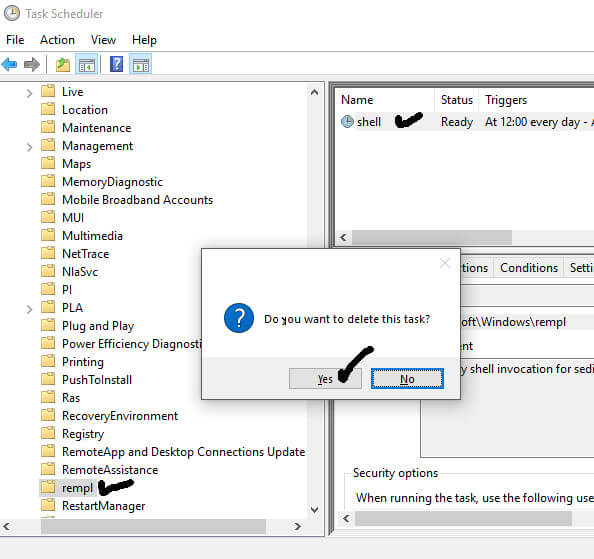 Solution 5: Disable Sedluncher.exe Using Anti-Virus Program or Windows Firewall
Once the KB4023057 Windows 10 update patch is installed on your PC. The sedluncher file will run automatically. To prevent it from consuming 100% disk usage you can use third-party anti-virus software to disable this service. If you don't have anti-virus software installed on your system then you can use Windows 10 firewall function. Follow these steps;
Open "Windows Defender Firewall" and click on "Advanced Settings" visible on the left-side menu.

Click on "Outbound Rules" and then click on "New Rule" in the upper-right corner of the window.

A new window will appear, select "Program", and then click on the "Next" button.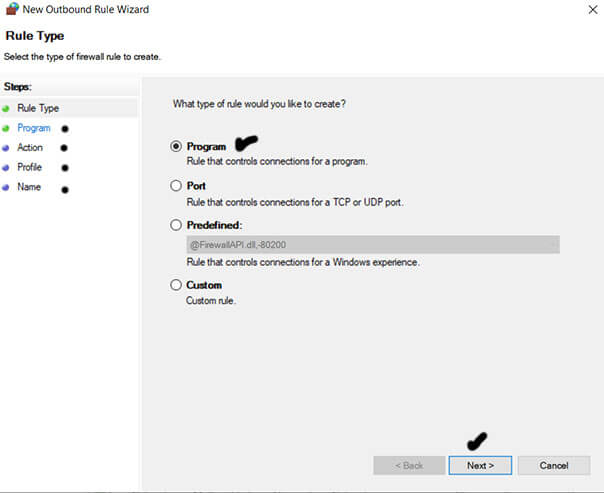 Follow this path (C:>Program Files>rempl) to browse the location of the "Windows Remediation Service" on your drive
Select the 'sedsvc.exe' file, and click Next 3 times to finish the process.
Enter a name for your new rule, and click Finish.
Solution 6: Perform a System Restore
One of the great things about Windows 10 is that you can revert to error-free OS. You can use a previous restore point to resolve the Sedlauncher.exe high disk usage issue.
Click on the search bar on the taskbar and press type "Restore"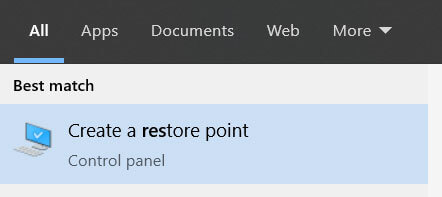 Click on Create a Restore Point from the results.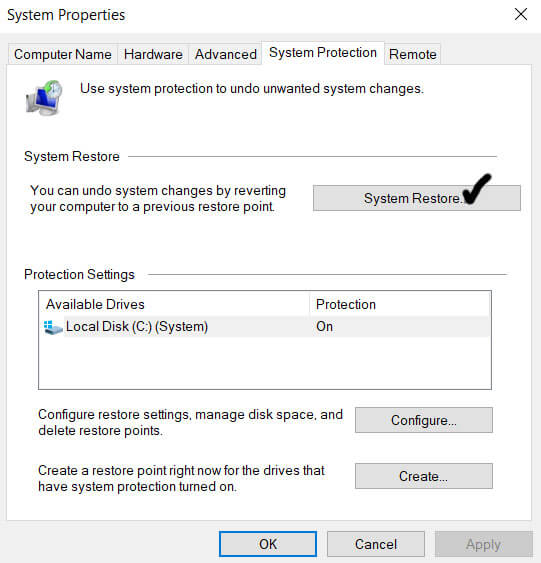 Now, click the System Restore button.
Click Next to begin.
Look at the timestamps of the restore points. Choose an option wherein the issue did not exist.
Click Next to start the system restore process.
The combination of these solutions will help you fix the Sedluncher.exe high disk usage problem on Windows 10. Lastly, the Windows remediation service and all processes that run along with it are not a virus or any malware threats to your PC. They can be easily fixed.
Now let us know if this guide helped you solve your issue.
Read Also: