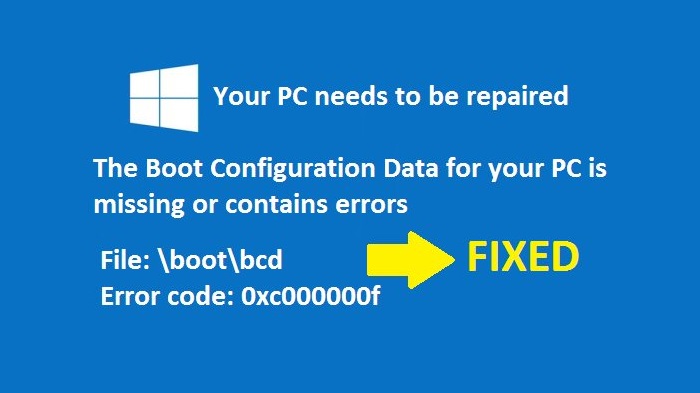 Windows Error Code 0xc000000f is in fact a blue screen error. It is where you see the Recovery Screen popping out.
This prompt says "Your PC needs to be repaired and you need the recovery tools…"
It turns up on your computer screen after an Operating System (OS) update or the installation of the new program.
Let me put it the other way
0xc000000f error is linked to your computer's Windows 10 boot manager. And so whenever, this kind of shit happens, your Windows Operating System won't read the booting configuration data and will inform you to repair your computer.
Also 0xc000000f – Error Code takes shape when Windows computer has powered back on or after a restart as a way to inform the user that the Windows OS was unable to complete its startup.
It will appear like the following:
What Cause Error Code 0xc000000f
Corrupted File
Damaged Drive
Malware or Virus Infection
Faulty or dislocated Cables
Boot Configuration Data is missing or damaged
How to Fix Error Code 0xc000000f on Windows 10, 8, 7, and Vista
Follow these solutions to fix Error Code 0xc000000f and get devices up and running properly again.
Follow the On-Screen Instructions to Fix Error Code 0xc000000f
Usually, following the series of actionable tips or onscreen prompts or restarting the device can help you get through with the problem.
If it does not, then work you way down to the next step.
Perform a soft reset
This is simple enough. Press and hold the power button on your system at the minimum for – 10 seconds. This will turn off the device.
Wait a while. Then turn it on – in the usual way.
This is though not a hard core solution, it can fix any minor glitch or error.
In-case it gets Windows back to normal just make sure to perform a system update. This will repair any corrupted files, and won't let the error happening again.
Rather better to perform an Error check on each drive.
Initiate Startup Repair
Launch Startup Repair through Windows Installation DVD. It will scan the system for damaged or missing system files and replace the corrupted or missing BCD file.
To do so:
Power down your computer.
Insert a Windows installation DVD.
Power on the system.
Press any key to boot from CD or DVD.
After choosing the language and keyboard layout, click on "Repair your computer".
Select an OS.
Click "Next".
Go for "Startup Repair" from recovery options.
Disconnect the External or Peripheral devices
Remove the devices connected to your computer. This includes all devices and accessories making mice, webcams, Xbox One controllers and other video game controllers on the list.
Disconnect them all and then power on the system. This can at times fix Error Code 0xc000000f.
Note: Make sure your computer or tablet is not in sleep mode before you detach the connections.
Check your boot drive with CHKDSK utility
It's super simple. All it need's a two-step process:
Fire up Command Prompt.
Execute the following command:
chkdsk c: /f

If Error Code 0xc000000f persists, continue troubleshooting:
Perform a Force Shutdown
It's a hardcore kinda stubborn and stronger restart for the computer that won't otherwise get your PC up and running properly.
So, here's how you do:
For the latest Surface Pro, Surface Laptop, Surface Book 2, and Surface Go models you have to:
Hold the power button down for 20 seconds until the Windows logo flashes.
For Surface Book, Surface Pro 4, Surface Pro 3, Surface Pro 2, and Surface pro you would have to:
Press and hold the power button for thirty seconds.
Release it.
Now, press and hold the power and volume up button – all together for 15 seconds.
Release it afterwards and wait for 10 seconds – more.
Now, simply turn on the power button as we do it normally.
If still windows error code 0xc000000f continues to show-up. Try to:
Reset your PC
It will erase everything therein on your computer. This option is available within the Advanced Startup Options recovery options and can be found in Troubleshoot > Reset this PC > Reset your PC.
Check for faulty cables
Shut down your PC. Unmount the CPU casing and look at its wiring. Ensure that the cables are not ripped from any part. If they do, replace those with a new one.
Also, wipe the cables with a soft-dry cotton cloth.
Note: The Surface line products can not be opened in this way. So, before making any radical physical changes, run yourself through the user manual and warranty papers.
Reinstall Windows 10 from Installation Media
This is a great way to restore Windows on a damaged PC. Rather it's better to say that this process helps to boot the Windows from a removable USB flash drive or DVD or external hard drives to a damaged computer.
Tip: With AOMEI Partition Assistant and its Windows To Go Creator, you can install and run a fully functional Windows on an external hard drive, USB flash drive, or Thunderbolt drive (portable Windows).
Once you create the Windows 10 installation media, insert the drive into the affected computer. Then restart the system. It should boot to the data on the drive.
Once it loads, Install the Windows and follow the on-screen series of steps to reinstall the Windows.
Rebuild the BCD through Command Prompt
Its super simple. If you continue to see "Your PC needs to be repaired 0xc000000f" error, then you have to rebuild the missing or corrupted BCD.
Here how you can do it:
Launch Command Prompt.
Input the following command:
bootrec /rebuildbcd

If it asks "Add Installation to the boot list", press "Y".
Contact Customer Support
If from the steps given, none works – reach out to customer support. You can call the official customer support for your Windows device's manufacturer.
However, if you have the warranty – valid, you might get a replacement for free or at the minimum, a discount.
Hope that solves Error Code 0xc000000f.