Worldwide, WhatsApp is one of the most popular instant messaging services. Not just texts but also photos and movies are sent using this method. What do you do when you need to share media from a WhatsApp chat to someone over email? WhatsApp by default allows you to backup images and videos to your computer.
Here are a few methods for sending several photos and movies from WhatsApp straight to email with ease.
How To Send Multiple photos from WhatsApp to Email 2023
1. Use the Photo/Gallery app directly
Every device now has its own separate folder for WhatsApp images, the images from there can be selected and sent to the email. By following the below-mentioned steps you can transfer it for both android and iOS.
For iOS:
Go to the photos app on your iPhone.
On My albums go locate the WhatsApp album and open it.
Now select the images you want to send.
On the bottom left tap on the share button and choose Mail from the list of apps.
Enter the recipient's address and tap on send.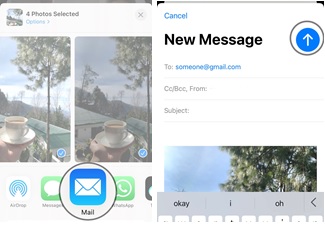 For Android:
Launch any gallery application on your mobile phone.
Click the WhatsApp images folder if you see it separately.
If not, navigate to all photographs and select the ones you wish to email.
Next, select email from the options by tapping the Share icon.
Enter the email address of the recipient and click "Send.
2. Export Chats
Go to the app.
Click on settings at the bottom right and select Chats.
Now select Export Chat and select the chat you want to export.
Now out of the two options "without media and attach media'" select Attach Media.
Now it will be converted into a ZIP file and out of sharing options select mail.
Enter the recipient's email and send the email.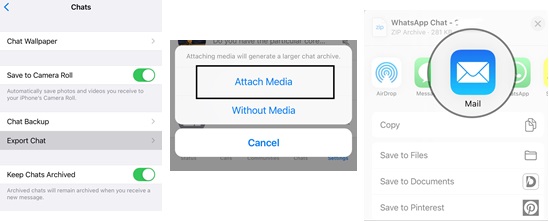 3. Send through Chat backup
Having a backup of everything you use is somehow important, if you back up your WhatsApp conversations, you may simply find all the media in one location. You must go to your iCloud or Google Drive from where you may send the material to anyone via email with ease.
In iCloud:
Open iCloud on your Computer by entering your Apple ID and password.
Select Photos > locate WhatsApp and open it.
Now select the photos you want to send an email.
Tap on download and it will be downloaded as a zip file.
Send this zip file to anyone by logging into your email on the PC.
In Google Drive:
First, save all of your chats to Google Drive and then use the Google Photos app to select the images you want to email otherwise you won't be able to see any photos on your google drive.
4. Use iMyFone iTransor
Try to download iMyFone iTransor to transfer multiple photos from WhatsApp to email at once. iMyFone iTransor program lets you create a backup, restore, transfer, and export features offering users a reliable alternative to iCloud and Google Drive.
You can back up all chats together with their associated data and export them to the computer with the aid of iMyFone iTransor. Users can create a selected backup of their WhatsApp data and restore it using the application program.
So, you will be able to export photographs in bulk with just one click, regardless of where they are saved. The photos you want to email together can be chosen and sent at a later time.
To do it follow the steps:
Download the software and install it.
Connect your iOS/Android device with it. From the home interface, select the "Back Up WhatsApp on Devices" tab and then click "Back Up".
Go to the "Export/Restore WhatsApp Backup" page once the backup is complete. Choose the most recent backup from the backup list, then click the "Export to PC" button at the bottom.
When the scan is complete, the findings appear on the screen. You can further filter the outcomes to find just the photographs you're looking for.
Press the "Export" option after selecting the pictures and other files you want to save to the computer.
You will receive a folder, and in a subfolder of that folder, you may see the media files that are associated.
Open it, choose the pictures you want to transmit, then copy and paste them into another folder.
You can send a large number of pictures to the email address you want to send images to.