If you're experiencing low FPS while playing Star Wars Jedi: Survivor, you're not alone. Low frame rates can seriously hinder your enjoyment of the game and even make it unplayable. However, there are several ways to boost your performance and improve your FPS.
In many cases, this problem occurs due to graphics driver problems, excessive background activities, overheating of the CPU or GPU, game bugs or glitches, CPU throttling or power management settings, Anti-virus or firewall software interfering with game performance, problematic game files, and improper settings.
In this article, we have come up with all the tested & working fixes that can easily solve your problem. So, let's take a look.
Star Wars Jedi Survivor Low FPS: Boost Performance Easily
To improve your FPS issue, you need to
Ensure that your PC meets the system requirements of Star Wars Jedi Survivor.
Install/update the necessary game components, including DirectX Runtime and Visual C++ redistributables and restart your PC.
Disable your antivirus and firewall.
Update the game & windows.
Close Background Running Tasks.
Adjust In-Game Graphics Settings.
Shadow Quality to Medium or Low.
Run the game as an administrator.
If the problem still persists, then try the below potential fixes;
1. Change High DPI Settings
Changing the high DPI settings for the game application executable file may fix frame drop issues. You can try it out.
Launch the Steam client > Go to Library.
Right-click on STAR WARS Jedi Survivor > Go to Manage.
Click on Browse local files > The game installed folder will open on File Explorer.
You'll need to scroll down the page a bit and find the STAR WARS Jedi Survivor.exe application file.
Simply right-click on this file > Click on Properties.
Click on the Compatibility tab > Click on Change High DPI Settings.
Enable/Checkmark the "Override high DPI scaling behavior. Scaling performed by: Application" checkbox.
Then click on OK > Click on Apply, then try rerunning the game.
If using the Epic Games Launcher, head directly to the installed game directory and right-click on the exe file. Then all the steps will be the same.
2. Update the GPU Driver
An outdated display driver is a common culprit for Star Wars Jedi Survivor's low FPS on your PC. This can prevent the game from launching. Updating your display driver is an effective solution to this problem. To update the GPU drivers, follow the below steps;
Press Win + X on the keyboard and then click on Device Manager and expand Display adapters.
Right-click on the graphics card, and click on Update driver.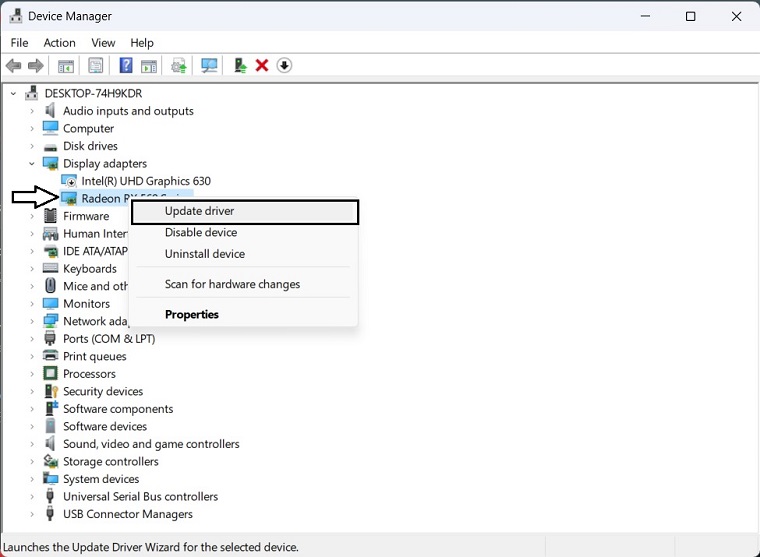 Choose Search automatically for drivers and update the driver.
In order to update the GPU driver, NVIDIA and AMD do release game-specific updates that you can download and install on your PC. But it takes time and if you are a newbie who doesn't have skills then you might end up downloading the wrong drivers.
So, we suggest Driver Easy to update your graphics card driver quickly and efficiently. Unlike the device manager, it can update all drivers with a single click and has a broader database for detecting the latest drivers.
3. Force Use the Dedicated GPU
In case your PC has two GPUs, then switch to the dedicated GPU on which you want to play the game. This can help you to resolve your issue. To do so, just follow the below steps.
Nvidia:
Right-click on the desktop screen.
Open Nvidia Control Panel.
Go to 3D Settings.
Click on Manage 3D Settings.
Open Program Settings.
Select Star Wars Jedi Survivor from the list.
Select High-Performance Nvidia Processor as the preferred graphics processor for this program.
Make sure to save changes and reboot the PC.
AMD:
Right-click on the blank desktop screen.
Open Radeon Settings.
Head over to Additional Settings.
Go to Preferences.
Click on Power.
Click on Switchable Graphics Application Settings.
Select Star Wars Jedi Survivor from the list (If the game is not visible, select Add Application to include the game)
Select High Performance from Graphics Settings.
Finally, reboot the PC to apply changes.
4. Change Window Mode to Fullscreen
One of the simplest solutions to the Star Wars Jedi Survivor low FPS issue is to change the game's window mode to fullscreen. This can be done by accessing the game's video settings and selecting the fullscreen option. Running the game in fullscreen mode can help improve performance and reduce lag, as it allows the game to fully utilize the computer's resources. It is a quick and easy fix that can make a significant difference in gameplay, particularly for those with lower-end hardware.
5. Verify the Integrity of Your Game Files
You need to verify the game file integrity because if your game files are missing, corrupt, or damaged, Star Wars Jedi Survivor crashing becomes an unavoidable problem. This method has been proven effective by many players and hopes it works for you too. To do so, just follow the below steps;
Open Steam > Click on Library > Go to Home.
Right-click on Star Wars Jedi Survivor > Click on Properties.
Go to the Local files tab > Click on Verify integrity of game files.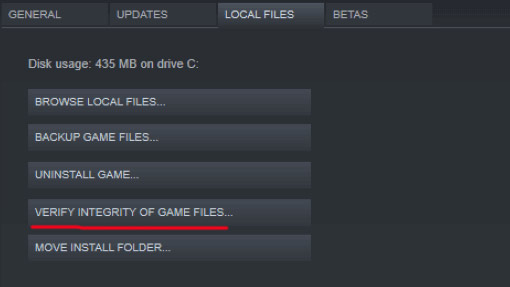 If you're playing on Epic Games, then follow these steps:
Start the Epic Games app.
Select the "Library" tab.
Left-click on the three dots at the bottom right of the Star Wars Jedi: Survivor icon.
Select "Verify" and "Verify Integrity of Game Cache".
6. Disable Third-Party Overlay Apps
To do so, just follow the below steps;
Disable Discord Overlay:
Open the Discord app > Click on the gear icon (Settings) at the bottom.
Select Overlay under App Settings > Turn on the Enable in-game overlay.
Click on Games > Select Star Wars Jedi Survivor.
Make sure to turn off the Enable in-game overlay toggle.
Once done, reboot your PC to apply changes.
Disable Xbox Game Bar:
Press the Windows + I keys to open Settings.
Now, click on Gaming > Go to Game Bar.
Turn Off the Record game clips, screenshots, and broadcasts using the Game bar option.
Once done, save changes, and reboot the PC to apply changes.
Disable Nvidia GeForce Experience Overlay:
Launch the Nvidia GeForce Experience app > Go to Settings.
Click on General > Disable the In-Game Overlay option.
Once done, restart the PC to apply changes.
Some PC gamers or advanced users also use other overlay apps such as MSI Afterburner, Rivatuner, RGB software, etc. If you're also using any other mouse or keyboard software or any RGB tool which isn't necessary that much during gaming, then it's better to turn them off.
7. Disable Fullscreen Optimizations
To fix compatibility issues on some PCs, disabling fullscreen optimizations by the Windows system for your game application file may help. Verify that it's disabled, as it's not enabled by default.
Locate the Epic Games Launcher executable file: Navigate to the folder where the Epic Games Launcher is installed on your computer. By default, it should be in C:\Program Files (x86)\Epic Games\Launcher\Portal\Binaries\Win64.
Find the executable file: Within the Win64 folder, locate the Epic Games Launcher executable file, named EpicGamesLauncher.exe.
Open Properties: Right-click on the EpicGamesLauncher.exe file and select 'Properties' from the context menu.
Compatibility tab: In the Properties window, click on the 'Compatibility' tab.
Disable fullscreen optimizations: Check the box next to 'Disable fullscreen optimizations' under the Settings section.
Apply changes: Click on the 'Apply' button and then on 'OK' to save your changes.
7. Enable Game Mode
Sometimes the game system requires a dedicated game mode feature to be turned on. In that case, your game may run properly without any kind of interrupting notifications which can also improve the frame rate count.
Press Windows + I keys to open Windows Settings.
Click on Gaming > Open the Game Mode option.
Make sure to enable the Game Mode toggle.
8. Run Star Wars Jedi Survivor in the Compatibility Mode
Sometimes issues with the compatibility mode of your game file to run on the PC may also cause screen resolution conflicts. You should always run the game in compatibility mode if your Windows OS version is much higher. To do that:
Right-click on the STAR WARS Jedi Survivor exe shortcut file on your PC.
Now, select Properties > Click on the Compatibility tab.
Make sure to click on the Run this program in compatibility mode checkbox under the Compatibility mode option to enable it.
You can select Windows 7/8 from the drop-down menu and click on Apply.
Finally, click on OK to save changes.
9. Enable Hardware Accelerated GPU Scheduling
It's also worth recommending enabling the Hardware Accelerated GPU Scheduling option on your Windows computer (if available). To do so:
Press the Windows + I keys on the keyboard to open Windows Settings.
Now, go to System > Click on Display > Head over to Multiple Displays.
Select Graphics settings > Turn on the Hardware-accelerated GPU scheduling option.
Finally, reboot the system to apply changes.
10. Increase the Virtual RAM
Another thing you can simply do is to increase the virtual RAM on the PC manually to improve the FPS count up to some extent. Though some players may not find it useful in some scenarios, you should try it out as a workaround.
Go to This PC (My Computer) and right-click on it from the Desktop/File Explorer.
Then click on Properties.
Click on the Advanced System settings option from the left sidebar.
Then click on Performance Options under the Advanced tab.
Go to the Advanced tab > Click on Change under Virtual Memory.
Uncheck Automatically manage paging file size for all drives option.
Select the drive where you've installed the game. (For example C drive)
Then click on the Custom size option > Type 20000 on both the Initial & Maximum size fields.
Finally, click on Set and then click on OK.
Once done, restart your PC and try to launch the game.
11. Change AMD FidelityFX Super Resolution 2 to Performance or Balanced
This setting is critical to reducing stutters. It works similarly to Nvidia DLSS in that renders the game at a lower resolution and then upscales the final image. Setting this to Performance yields a large performance improvement, but will reduce image quality.
The Balanced setting provides much better image quality, and Quality is the preferred recommendation for image quality. Unfortunately, it may not be possible for you to use anything other than Performance until the stutters are fixed.
12. Set the Game's Priority to High
The last thing you can do is set the game's priority to "High" in the Task Manager. Here's what you need to do:
Press CTRL+ALT+DEL key combination.
Select the "Task Manager" option.
Go to the "Details" tab.
Right-click on Star Wars Jedi: Survivor.
Set "High" in the "Set Priority" field.
13. Roll back the GPU driver
Open the Device Manager, as shown in method 1.
Right-click on your graphics driver and go to Properties.
Go to the Driver tab and click on Roll Back Driver.