Threads, an Instagram app, is a microblogging platform that Meta released to compete directly with Twitter. As an Instagram companion app, the users must create a Threads account with their Instagram credentials to start using the app.
Even though it's offered as a standalone application, Threads is blocked in the European Union due to privacy concerns. The Twitter rival is currently available in the US, UK, Canada, Australia, India, and Brazil.
This exclusivity has left users outside these countries eager to access the platform and engage in its vibrant community. This geographical restriction makes people turn to download and use a Virtual Private Network to start using Threads right away.
Why do you need a Threads VPN?
A VPN primarily spoofs users' IP address location. Every time you connect to a VPN, you'll need to select a server location from its network.
It'll make your browser appear from a completely different country. Choosing a server based in a country where Threads is available like the United States or the United Kingdom, for example, will grant people living in the EU access to the app without the need to wait for policymakers in Brussels to give the green signal.
The best VPN for Meta Threads becomes essential outside the USA. Threads VPN allows users to establish a secure and encrypted connection to the internet and masks their IP address to simulate your browser from a different location.
So, if Instagram Threads is banned in your region, you can still access Twitter competitors in China, Russia, and the European Union. Once you get the best VPN for Threads, you can start "threading" and keep your online presence building on track.
Top 3 best VPNs for Meta Threads
NordVPN – the best VPN for Meta Threads overall
Surfshark VPN – High-performing and Most Affordable VPN for Threads app
CyberGhost VPN – speedy and secure VPN for accessing Instagram's Threads content
Why is Threads not allowed in Europe?
It's not that EU blocked the launch of the app, rather it's Meta who's being preemptively careful. But even then, it's unclear whether Threads would respect the EU's strict privacy requirements.
The app has been described as a "privacy nightmare" by tech journalists because it imports personal data from Instagram.
According to the app's own data privacy disclosure, Threads can collect information about a user's health, finance, contacts, search history, location, and other sensitive information via their digital activity.
On Tuesday, Luxembourg's Court of Justice of the European Union (CJEU) ruled that a German watchdog may investigate privacy breaches in which user consent was not acquired before the company used personal data to target adverts to users.
How to choose the best VPN for Threads?
When we say "The Best VPN for Threads", we mean it. We specifically look for a few factors before we crown one. The best Threads VPN adds more security, features and privacy to your online activity. But, it's easier said than done. Here's a quick way to make sure you choose the ideal VPN.
Server Network. Meta's new microblogging app is unavailable in multiple countries. So we make sure the VPN you choose provides you with a huge server fleet that can unblock the video-sharing platform.
Speed. We cannot compromise speeds in any way. VPNs already slow down internet speeds, so we make sure that the best VPN that we choose is either WireGuard protocol or NordLynx.
Security features. A functional Kill Switch is necessary. Traffic obfuscation that hides the fact that you're using a VPN is also useful.
Privacy. This one is important. A VPN should never collect your data. So, we make sure the VPNs that we choose to claim have no logs – even better if it's audited.
Price. After all, we don't want all your money drained.
Best VPNs for Instagram Threads – our detailed list of, 2023
We hand-picked the 3 most effective, secure and fast VPNs to access Meta Threads. We looked at these factors and chose the VPNs that satisfy these claims such as speed, server fleets as well as unblocking capabilities.
Here's our detailed and filtered list of the best VPNs for Meta Threads for easy access.
#1. NordVPN – Top Overall VPN for Meta Threads with best-in-class security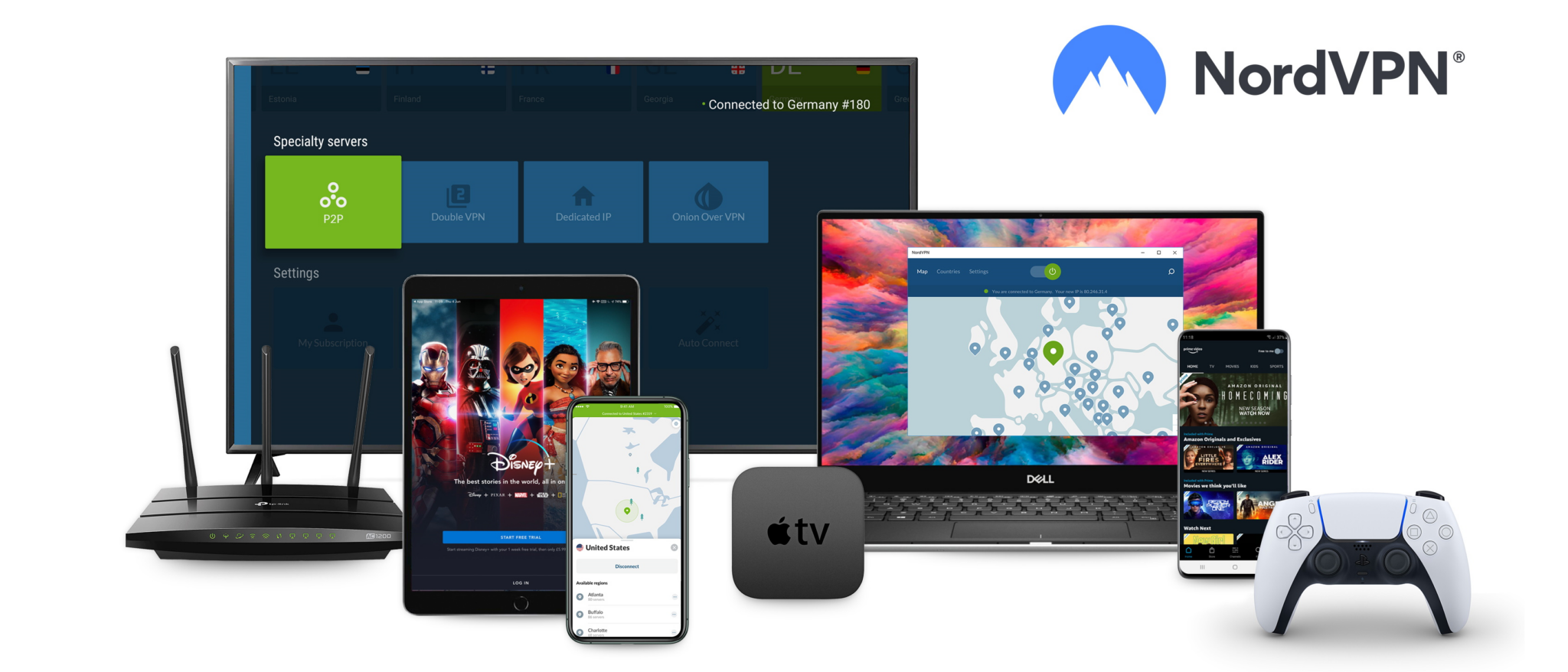 Available on: Windows, Mac, Android, iOS, Linux | Simultaneous connections: 6 | Streaming sites unblocked: Netflix, iPlayer, YouTube, Amazon, Hulu, Peacock, Disney+ | Number of servers: 5,500+ | Server locations: 80+
The Panama based VPN is the best VPN for threading By no surprise, its, 5700 servers in 60 countries, will let you unblock the new platform anywhere on Earth.
As you'd expect from a cyber-security giant such as Nord, you get AES-256 encryption, a decent kill switch, and a range of protocols including the speedy WireGuard-based NordLynx.
We also love that NordVPN for Threads download comes with advanced features such as a kill-switch, obfuscated servers, DoubleVPN, Tor over VPN, ad blocking, malware filtering, and a SmartDNS service to unblock American streams on consoles, smart TVs, or any other device that won't let you install a VPN directly.
NordVPN download for Windows PC has recently been independently audited, which should allay any fears about the company's 2018 data breach. Elsewhere, Nord's strict no-logs policy adds an extra layer of trustworthiness to proceedings.
The NordVPN interface can be a little awkward on smaller screens, but it's not a deal-breaker. So, if you want a VPN that works with this game, NordVPN is well worth considering.
This VPN's prices start from $3.49/month. You can try out its 7-day free trial for Android devices or make use of the 30-day money-back guarantee as well.
| | |
| --- | --- |
| Pros | Cons |
| Huge Server fleet | No free version |
| Reliable Kill Switch | |
| Audited no-logs policy | |
| Excellent speeds | |
| 7-day free trial | |
Pros and cons of NordVPN for PC
#2. Surfshark – high-performing, most affordable VPN with unlimited connections

Surfshark is an affordable next-gen VPN for Instagram Threads. The Netherlands-based Virtual Private Network gets you, 3200 servers in 100s countries. This means that you will be able to thread or post from anywhere on Earth.
Surfshark VPN download is the best VPN for Windows 11/10 and does an impressive job of providing privacy and security. With unlimited simultaneous connections and an expressive global network, Surfshark vpn free download is still cheaper than Nord and ExpressVPN. It boasts a Kill Switch, DNS leak protection, camouflage mode, split tunneling, NoBorders mode, and multihop connections.
We are also excited to see Surfshark for PC roll out its Nexus network. This basically connects the VPN's entire network of servers together and lets you choose multiple servers to route your connection through.
With its Dynamic MultiHop, IP Randomizer, and IP Rotator functions, the Nexus network can give you a few extra layers of protection while you use the VPN.
These things will highly benefit users with their privacy needs. Surfshark says it doesn't log any user activity. German cybersecurity firm Cure53 declared Surfshark's security to be "solid" in its 2021 security audit of the VPN. It also passed its first independent no-logs audit in January.
The overall speeds of the VPN are impressive. The average internet speed loss is just about 19%. Even then, there were some inconsistent speed results in certain locations.
Both NordVPN and Surfshark use WireGuard, although, in NordVPN's case, it's a slightly fancier version called NordLynx.
NordVPN, in comparison, has an edge over Surfshark download for PC. They both offer incredibly fast speeds and rank up for the title of the fastest VPNs available.
However, NordVPN for PC is just slightly speedier. If we compare the mobile users' fan favorite IKEv2 protocol, NordVPN's download speeds are almost identical. However, NordVPN for Windows has better upload speeds.
Because it offers cheaper introductory prices, it is the best value VPN for everyday needs like streaming Netflix or Hulu.
If you opt for the two-year plan, you'll pay $53 upfront for two years combined, plus two free months, then $60 per year for any additional years.
Its monthly plan stays constant at $13 a month. If you're not satisfied with the service for any reason, a 30-day money-back guarantee might help you.
| | |
| --- | --- |
| Pros | Cons |
| Military-grade encryption | No free version |
| Unlimited simultaneous connections | No split tunneling on iOS |
| Widely distributed servers | |
| Next-gen suite of features | |
Surfshark VPN for Meta Threads
#3. CyberGhost VPN – speedy and secure VPN for accessing Threads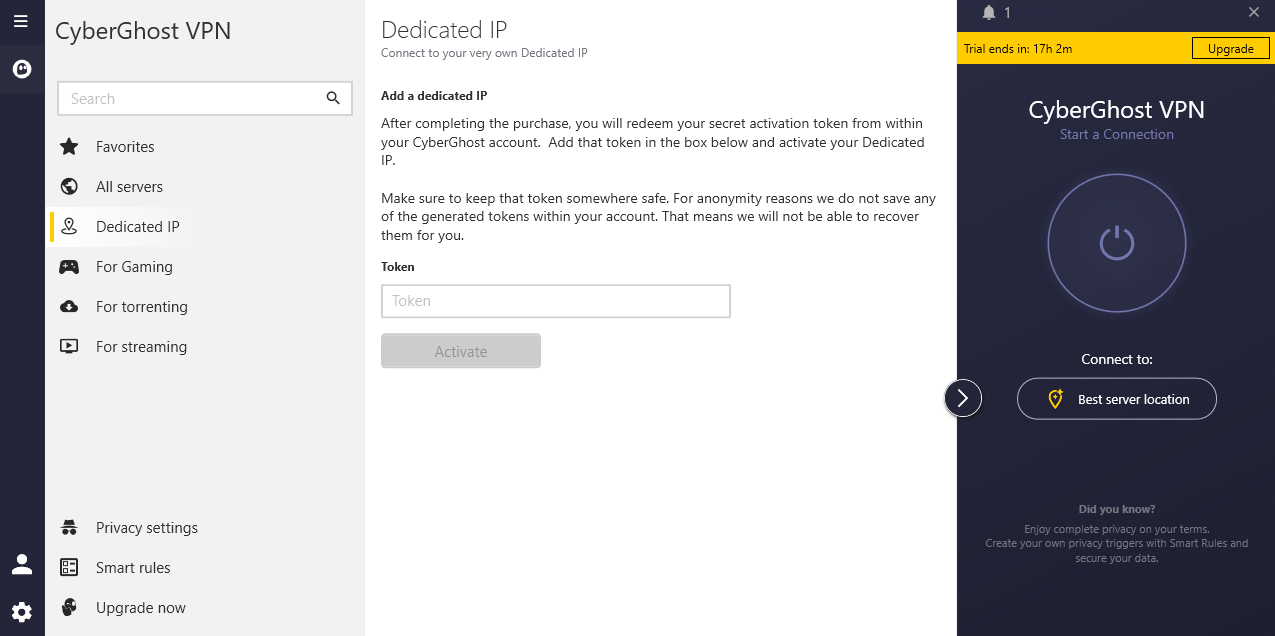 CyberGhost VPN download for Windows PC is famously the biggest VPN service provider that supports torrenting and unblocks the majority of popular online streaming services like Netflix and BBC iPlayer and can connect up to 7 devices on a single CyberGhost subscription.
Equipped with WireGuard protocol, specialized servers, a dedicated IP option, and a 45-day money-back guarantee, the service is expensive, but its no logging policy and independent audits with Deloitte make this the most likely choice for users to set up and login to VPN on Windows.
A contender to NordVPN and Surfshark, it is a secure and great VPN for TikTok. Its vast list of servers– more than9700 servers in 91 countries will find the best connection point for your needs.
So, whether Threads app is unavailable in your country or you're targeting a specific audience, CyberGhost has you covered.
We love to highlight CyberGhosts impenetrable NoSpy Servers. Put simply, these are specially tuned servers in a high-security data center inside Romanian headquarters. According to the firm, these servers feature top-of-the-line hardware that promise you the ultimate privacy, security, and performance.
Similar to Proton VPN's Secure Core servers to increase physical security, they use it for multi-hop connections a feature which is not available in CyberGhost. On top of the VPN protection, they have also gone to extraordinary lengths to protect against malware and ads. As a rule of thumb, we don't recommend using a VPN in accordance with antivirus software because it can hinder VPNs efficacy.
Unlike Proton VPN for TikTok apk and NordVPN, CyberGhost VPN download for PC cannot route your traffic through the Tor anonymization network. Well, not a necessary feature, it's just convenient to have a kind of push-button access. The Romania-based VPN company offers split tunneling and lets you exempt specific URLs from traveling through the VPN connection.
When you sign up to CyberGhost premium and download the VPN app on Windows PC, you'll get a dedicated IP address that's exclusively yours. It's unique and stays the same every time you connect to the internet, and looks a little less like a VPN traffic.
The company trumpets its tokenized system for dispensing dedicated IP addresses. Without ever maintaining records of who uses which IP, you can access IP-restricted networks without exposing your online identity or internet activities. At the time, you can get a Canada, France, Germany, UK, and the US for $5 per month on top of CyberGhost VPN's subscription fee.
CyberGhost for TikTok is also bundling a license for the cloud storage file encryption service Boxcryptor with subscriptions of one year or longer. Like CyberGhost download for Threads, NordVPN also offers a password manager and encrypted file locker along with integrated antivirus protection.
Coupled with its best VPN service, CyberGhost Security Suite for Windows asks an additional $5.99 per month on top of the VPN subscription. Under the hood, Security Suite for Windows includes antivirus protection provided by Intego, a Privacy Guard tool designed to protect your information from Microsoft, and Security Updater, which keeps tabs on your apps that need updating.
How we selected and tested these VPNs
We looked at some factors to test each VPN's capability to unblock Meta's new microblogging app. They are:
No IP leaks – We selected only those that don't have IP and DNS leaks so that your real location wouldn't be exposed.
Wide selection of servers – to have a wide selection of countries so that you could choose the one that meets your needs.
Security – independently-audited no-logs policy
Speed – We test for adequate speeds, so you could watch TikToks without glitches.
How to use Threads with a VPN?
When you connect to a VPN, it becomes possible to bypass restriction, access Threads, and sign in from any location across the globe. Here's a step-by-step guide on how to use a VPN to use the app.
Download and set up a VPN – we recommend NordVPN!
Connect to the US server
Download the Instagram app. Threads will sync with Meta's account
Create a new Google Play or Apple ID account while connected to the US server
After creating a new account, you will see the Threads app
Download it and log in to the Threads via Instagram account
Create a Threads account and click Join
That's all there is to it
Final thoughts
If you use a VPN, it will protect your privacy and bypass geo-restrictions. Once you use the best VPN for Meta Threads, it will ensure that third parties cannot access your browsing traffic or private data, whether it's your ISP or any other app.
The best way to bypass "Threads access denied" is to get a VPN. Our top suggestion is NordVPN. It has over 5700 servers in 60 countries which lets you find the best and fastest servers for accessing the new platform. This privacy-focused VPN also ensures excellent speeds and advanced security measures.
FAQs
Which VPN is perfect for Instagram Threads?
NordVPN or Surfshark VPN (as an alternative) is the best VPN for Threads as it offers worldwide servers in countries where Threads is available (the US, UK, and more). It unblocks the app, beefs up your online security, and lets you use its obfuscated servers that hide the VPN traffic.
Is Threads available in the UK?
Yes, Meta Threads is available in the UK. It is currently available in over 100 countries, including the US, Canada, Brazil, and multiple others. If you're based outside the UK or in another country where Threads is not yet available, you can use a VPN like NordVPN or Cyberghost to start threading.