This short guide covers the best solutions to fix PS5 HDMI Not working issues and explains the most common causes of HDMI Port issues. Are you wondering if PlayStation 5 HDMI Port or cable is faulty?
OR
Did you just come up with No Signal Showing on TV? It's just PS5 Black Screen.
You connect an HDMI cable to your PS5, your gaming Console turns on but with No Signal Showing on the TV. You may be experiencing this issue with the console HDMI port.
Follow our troubleshooting tips if you're having with your PS5 Video Output.
How do I recognize a PS5 HDMI port issue?
TV displays a black screen or "No Input" message on the HDMI channel.
You experience the distorted Audio quality on your PS5.
PS5 display fuzzy picture on the TV screen.
PlayStation 5 displays Blue light for an extended period when turned on before shutting off.
How to Fix an HDMI Port on a PS5
Solution 1: Check PS5 and HDTV HDMI Ports
You turn on your PS5, and it displays no signal on the TV. Faulty cables or ports can cause a black screen or no signal error on PS5. Make sure you use 2.1 HDMI cables or sometimes labeled as High Speed if your experience PS5 HDMI Not Working.
Unplug the HDMI cable from the back of the TV & PS5. Try switching the ends of HDMI cables.
Check for any damage or dirt accumulation in the PS5 HDMI port
Plugin the HDMI cable of your PS5 into your TV and vice versa.
Unplug the power cable of your TV from the switch, and then plug it back in.
Still, PS5 HDMI Not Working? Then, it could be your faulty HDMI ports.
Solution 2: Disable HDR to fix PS5 HDMI Not Working
The PS5's HDR setting can conflict with some HD TV models, so turning it off may help if you're experiencing a blinking or flickering screen. To prevent No signal or Input error, we have to disable the HDR setting in the PS5.

Click on the Screen and video option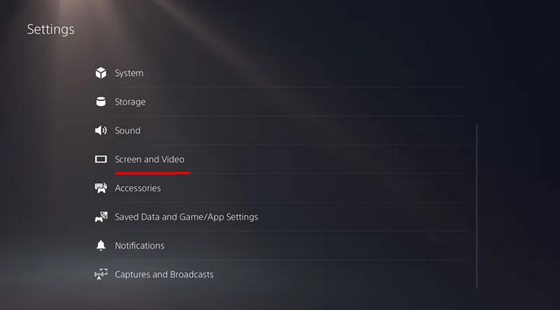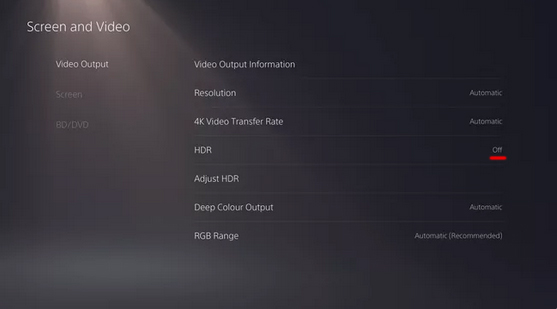 HDR and turn the setting off.
Solution 3: Boot your PS5 console into safe mode
To enter safe mode, turn off the console by pressing and holding the power button until the PS5 beeps twice.
Then press and hold the power button for at least 7 seconds.
Once you hear two short beeps, release the button.
Connect your Dual Sense wireless controller using a USB cable and press the [PS] button on the controller.
On the safe mode menus, select option 2 Change Video Output. Set HDCP mode to HDCP 1.4 only. Once selected, restart the PS5.
Solution 4: Power Cycle your PS5
If all cables are working properly, try power cycling to rectify the issue. Power cycling clears the cache and helps in fixing the PS5 HDMI not working issue.
Completely turn off the PlayStation by holding the power button.
Wait for the power light to stop flashing, remove the power cable and leave the system for 20 minutes.
Reconnect and attempt to launch PS5.
Solution 5: Contact PlayStation Support
If none of these steps works for you, it may be time to contact PlayStation Support directly or licensed repair business. Your PS5 HDMI Ports need repairing.
While repairing HDMI Port yourself is possible, it is not the best idea. Repairing your HDMI port requires soldering, so inevitably, void the warranty, and you may end up with more damage.