Many users are complaining about WhatsApp voice messages not sending issues. According to iPhone users on Reddit, they are unable to send a voice message nor download, play, or record. When listening to WhatsApp voice messages, you may also get a dark screen or receive the message "This voice message is unavailable."
The reasons may vary according to different circumstances exits for each user. Sometimes it's the fault lies in the WhatsApp server, unstable internet connection, a bug in cache memory, or insufficient storage space of your mobile SD.
If you are also dealing with WhatsApp not sending voice messages issue on iPhone then this article is for you.
How To Fix WhatsApp Not Sending Voice Messages Issue on iPhone?
Apply the below-mentioned fixes.
1. Check your Internet Connection
WhatsApp is an internet-dependent app so make sure while using any feature on WhatsApp you have an active internet connection. If not then you will not be able to send, receive or load any voice messages. Hence, the first thing you should do if you run into this issue is verified your internet connection. You might not have an active internet subscription, or you might have accidentally turned it off. You will be able to send voice messages if you connect your phone to available Wi-Fi or cellular networks.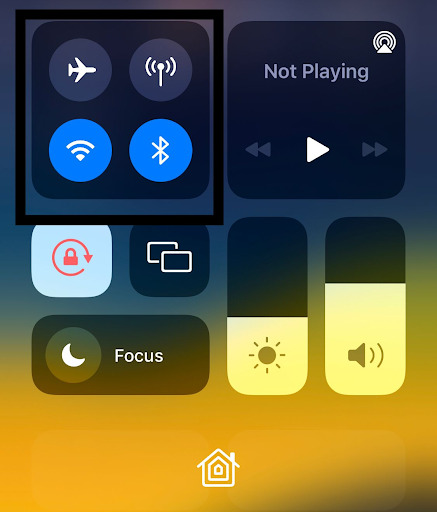 2. Force Close the Background Applications
If you're unable to record and send voice notes on WhatsApp on your iPhone try to force quit the apps running in the background because the mic of the phone works with the app that needs it or has an access to use it but usually works only for one app at a time. So make sure that while sending WhatsApp voice notes no other app in the background is using the mic. You can do this by following the below-mentioned steps.
1. iPhone 8 and below
Double-tap the home button, and swipe left or right to find WhatsApp.
Swipe up on the app to close it.
2. iPhone X and above
From the device's Home Screen, swipe and then pause.
Swipe left or right to find WhatsApp.
Swipe up on the app to close it.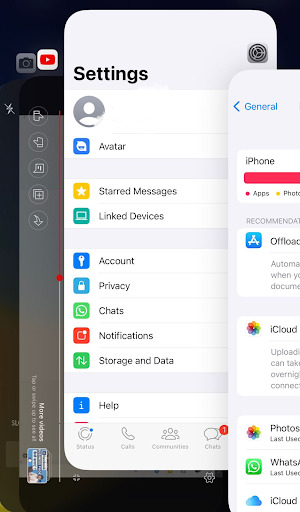 3. Increase the Volume of your iPhone
Before heading onto bigger and more complicated solutions for fixing cant send voice message issues on WhatsApp make sure to check for the simplest which is to increase your volume.
When you're listening to a voice message via the speaker, turn up the volume and try again. If you're using headphones, you should also increase the volume as it is different from the speaker.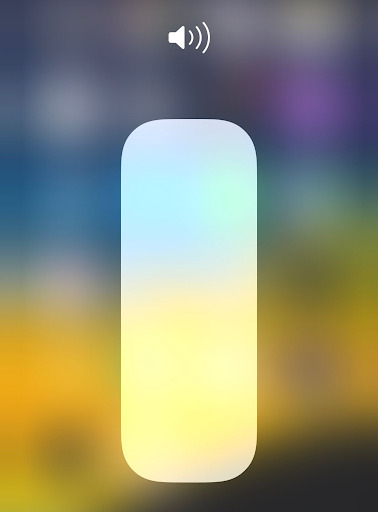 4. Restart Your iPhone
You can restart your iPhone to fix minor faults or malfunctions if WhatsApp voice notes are not being sent. Restarting your phone refreshes the system and removes minor bugs in it. Hold the power button on the side or top of your iPhone for about a minute until the power slide displays, then swipe it to restart the iPhone or iPad. The apple logo will eventually display in the middle of your screen after a brief delay.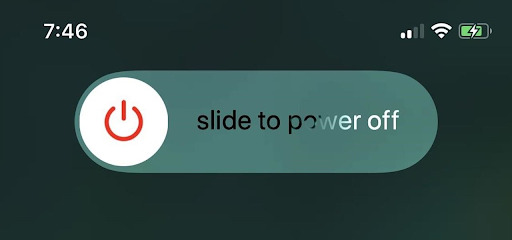 5. Check if WhatsApp has Permission to use the Mic
While setting up your iPhone you might have noticed that the system will ask for necessary permissions which include the permission of using the mic of your phone. Make sure you have granted permission for using the mic. You can do this by:
Going on Settings > scroll down to WhatsApp.
Toggle the Microphone to allow access to the mic.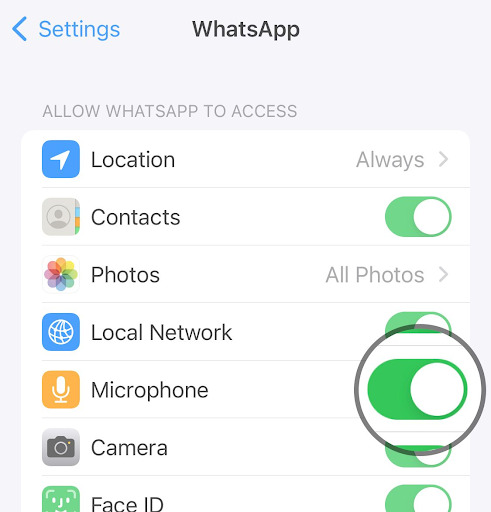 6. Check If Your Phone has Sufficient Storage
You may not be able to send voice messages because your storage space is possibly filling up. Navigate to
Settings > General > iPhone Storage
Make sure you have sufficient space in your phone and if you don't you can create some space by offloading apps you don't use or by erasing images, videos, and documents you don't need.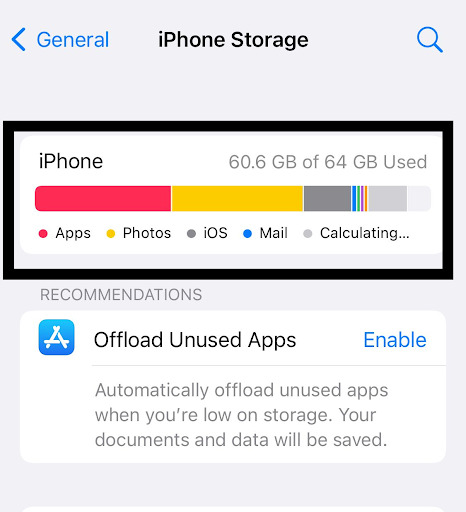 7. Force Close WhatsApp
You can try to force close and reopen WhatsApp on your iPhone or iPad if voice messages aren't working. In order to find the WhatsApp app, slide up from the bottom of the Home screen, continue in the middle, and then swipe right or left. To close it, swipe up on the app's preview.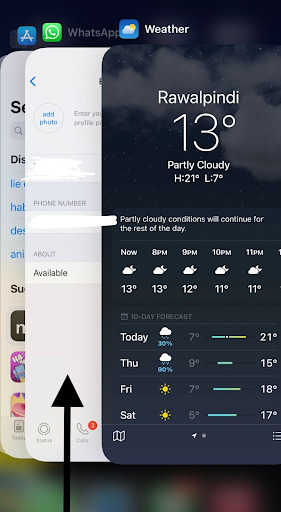 8. Update WhatsApp
Make sure you are using the most latest version of WhatsApp on your iPhone and, if not, update WhatsApp to fix this issue. The earlier versions of WhatsApp might not be able to do work efficiently and often send voice messages. To accomplish this:
Open the App Store >  type "WhatsApp" into the search bar > Update.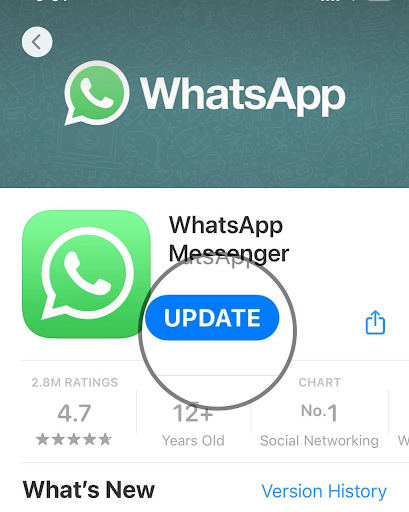 9. Check the Proximity Sensor of the Phone
Check the sensor of the iPhone as the sensor stops working due to certain reasons. For instance, the screen protector is positioned incorrectly, which interferes with your iPhone's proximity sensor. Hence, until you have finished recording the necessary audio messages for your iPhone, you should either check to see if the screen protector is obstructing the sensor or remove it. Or maybe the water or some liquid has gotten into the sensor which enables it to record audio messages. Make sure there is no obstacle in the place of the sensor of your mobile while recording a message. 
10. Make sure your Phone is not Connected to Bluetooth Earphones
While recording a message make sure that you have no Bluetooth earphones connected to your phone as not all the earphones have the capability of recording voice in a clear way while some still have. Just to be sure and to help overcome this issue make sure you have no Bluetooth-connected earphones.
11. Use the Official Version of WhatsApp
Try the official WhatsApp version if you are currently using an unofficial one; it might help you with your issue. Certain elements of the unofficial version (WhatsApp++ iOS), such as the inability to transmit audio messages, may be prohibited.
12. Reinstall WhatsApp
If your WhatsApp constantly crashes and deletes voice messages without notification when using the app, especially the group chat feature, some users have had this issue. The best course of action in this situation is to uninstall WhatsApp and then reinstall it from the App Store. Before doing this, make sure to make a backup of your current messages and attachments.
BONUS:
To learn more about backing up your WhatsApp data for further use you can turn to iTransor For WhatsApp.
Transfer WhatsApp between Android and iPhone.

Back up WhatsApp on Android and iPhone to a computer.

Restore WhatsApp backup to iPhone and Android devices.

Export WhatsApp backup to HTML, PDF and CSV/XLS.