Division 2 keeps crashing on PC! Don't worry.
Many users are reporting on Reddit and Ubisoft forums that while playing Division 2 it randomly crashes or freeze.
Especially those desktop players who have recently updated their Windows 11/10 or game patches, are major victims of Division 2 crashing errors on PC.
What Causes Division 2 Crashing on Desktop PC
If you are dealing with sudden Division 2 freezing then answer:
Did you recently update Windows OS?
Are you running Div 2 in incompatibility mode?
Did you update your graphics card drivers?
Running with mis-configured game settings
The page file size is inadequate
If your answer is yes then division 2 keeps crashing error will constantly occur on your PC.
How To Fix Division 2 Keeps Crashing Error on PC
After readings multiple threads on forum we have come up with the list of best troubleshooting to fix Division 2 crash or freezing error.
Fix 1. Check System requirements of Division 2
Before running the Division 2 you should check if your PC meets the system requirements. Visit official page and see the required hardware.
If your system doesn't meet the requirements then you will face crashing, freezing, or black screen issues.
You can also upgrade your gaming PC to play PC games smoothly.
Fix 2. Install Latest Game Patch
The developer of Division 2 are constantly releasing games patches to fix error and enhance gaming experience.
If you are constantly seeing crashing error then install latest game patch. If you are using Steam then it will automatically install the game patch.
Fix 3. Set the Affinity of AntiEasyCheat to One Core
Reddit users recommended setting up AntiEasyCheat's affinity. It's wrong settings can cause Division 2 keeps crashing error.
AntiEasy Cheat is a program that comes preinstalled with this game.
Follow these steps to sett the affinity.
Run Division 2 on your PC.
While running the game just Open Task Manager.
Click on More details Tab to expand Task Manager.
From the given list search for the AntiEasyCheat entry.
Right-click on this entry and click the Set CPU affinity option, deselect all, except CPU Core 1.
Fix 4. Verify integrity of Game Files
Sometimes the game files on PC gets corrupted or broken. While running the Division 2 on Steam check the integrity of games files.
This process scans the game files on PC and compares it with game file on server. If any file found corrupt it will replace it.
Steam users follow these steps:
Launch Steam.
Click on Library.
Righ-click on Division 2 and choose Properties.
Click on the LOCAL FILES tab, then click Verify Integrity of Game Cache…. After that, click CLOSE.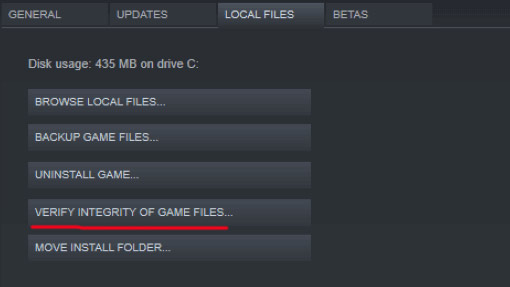 Uplay users follow these steps:
Open Uplay.
Click on Game tab.
Now click on the downward triangle appearing on the lower-right corner of the game tile.
Select Verify files.
Epic Game launcher users follow these steps:
Open launcher and click on the Library.
Select game and click on Cog icon.
Click on Verify to start the process.
Fix 5. Manage Page file Size
If the Division 2 crashing issue is caused due to insufficient RAM then changing the paging file will help you.
To determine you need to check the crash logs, if you see an event called Resource-Exhaustion-Detector then apply these steps:
Press Windows + I > System > About > Advanced System Settings
A new windows (System Properties) will appear, here click on Advanced Tab > Settings.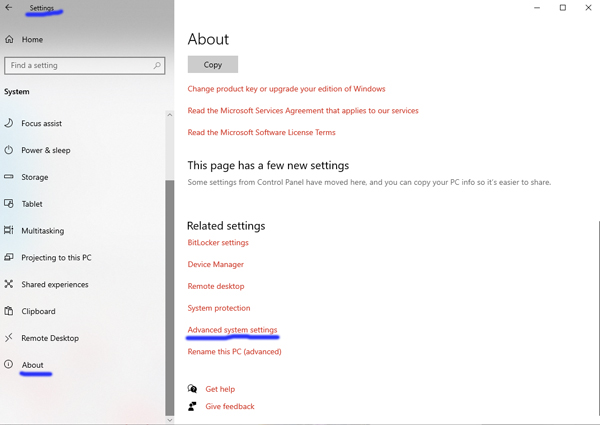 It will open Performance Options here again click on Advanced Tab > Change.
Under the Virtual memory section, checkbox "Automatically manage paging file size for all drives" and click OK.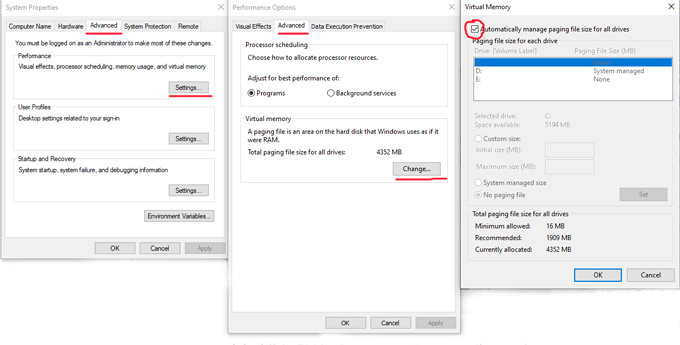 Now restart the game and see if Division 2 still crashing or freezing on PC.
Fix 6. Run Windows Compatibility Troubleshooter
Windows 10 compatibility troubleshooter is a built in utilitytthat checks whether certain program or game settings doesn't match with OS.
Follow these steps:
Right click on the TheDivision.exe and choose properties.
Click on the Compatibility tab and then click Change high DPI settings.
In the new windows check the box next to Override high DPI scaling behavior and select Scaling performed by: Application.
Click OK to save the changes.
Tick the box next to Disable full screen optimizations and click OK.
Fix 7. Disabled Steam Overlay and Ubisoft Overlay
Overlay feature in Steam can enhance game performance at the same time it is also a major cause of PC games crashing and freezing.
If you are using any of these overlay features then disable them.
Programs like Discord and MSI Afterburner also has overlay features such as FPS counter. You need to uninstall these tools from your PC.
Fix 8. Update Graphics Card Driver
Graphics card play a vital role in playing PC games. If you don't any error to appear on your PC while playing game then make sure that you have updated graphics card.
The easiest way to update the GPU drivers is to download Driver Easy. It's a best driver updater tool that automatically scans and update outdated drivers with just 2 clicks.
Fix 9. Lower in-game graphics settings
If you lower in game graphics setting you can get rid of Division 2 keeps crashing issue. Change these settings:
Open the game settings. Then go to Graphics tab.
Set Shadow Quality and set it to Low.
Set Spot Shadows to Low.
Turn off Contact Shadows.
Set Particle Detail to High.
Set Reflection Quality to Low.
Set Vegetation Quality to Medium.
Turn off Local Reflection Quality.
Set Ambient Occlusion to Medium.
Set the value of Object Detail to 50.
Set Terrain Quality to Medium. Then save all the changes.
Fix 10. Delete Useless DLL Files
Useless DLL file situated inside the game's installation folder can also cause division 2 crashing.
The Anti Cheat Engine can also create useless DLL files. Go into the game installation folder and locate tobii_gameintegration_x64.dll file right click on it and delete it.