The third Playtest of Dark and Darker includes new items, systems, and mechanics. One of the mechanics added to the third play test is Mining through which players will be able to get useful resources. As the Dark and Darker have different classes with their respective attributes, it is necessary to know the required items to get before you will be able to do Mining in the dungeons.
In this guide, we'll explain how you can do Mining and what things are required for Mining in Dark and Darker.
How to Mine in Dark Darker
The newly added mechanic "Mining" will let players gather resources from the Resourceful Rocks around the dungeon. Players will find the big rocks at random locations on the mining map. There are four maps in total for now and all of them have Mining Rocks spawn. However, there is only 1 type of Mining Rock has been added to the third Playtest that players can get and it is Rubysilver. Rubysilver is a Red Color giant rock that can be found at random locations on all levels of the maps.
How to get Dark and Darker Pickaxe
Mining these Rocks will require a Pickaxe that can be found from killing other players or you can get it from the Weaponsmith Merchant. The Pickaxe will cost you 25 Gold from the Weaponsmith so if you have some Gold stored in your Storage, make sure to buy the Pickaxe in order to do mining. Pickaxe will take place in your character's Utility Slots so you will not have to worry about storing it in your inventory. If you are storing potions and bandages then store 1 in the inventory and place the Pickaxe in its place to utilize your inventory in the match so you can get more loot.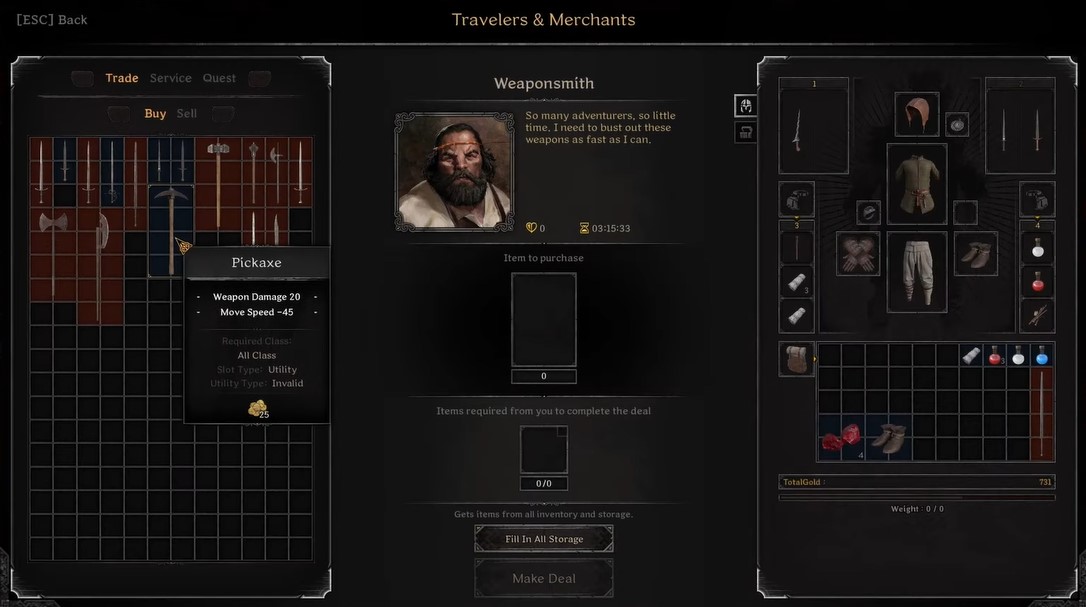 After getting the required item for the Mining, you will have to search for the Rubysilver Mining Rock in different areas. Once you have found one, press the 3 or 4 hotkeys to quickly equip the Pickaxe, and then press the F key to start mining. Once the mining bar is full, you will get the ores from the mining rock. The resources from the mining rocks can be used to craft other materials as well as Clothes and Armor. For example, Rubysilver Ores are used to craft Rubysilver Powder, and Rubysilver Ingots which can be used to craft Rubysilver Armour and Rubysilver Clothes.
You can also sell the resources to the relative Merchant or put them for sale in Utility Trading Room to make money.