Hulu Error Code RUNUNK13 is a common issue that can occur while streaming content on Hulu. Hulu Error Code RUNUNK13 means Hulu can't complete the request to play the content you selected, and we know that it can be frustrating to encounter.
To resolve your Hulu Error Code RUNUNK13 on mobile & computer, ensure your internet connection is stable and robust enough to stream content on Hulu. If this fix doesn't work, try restarting your device, checking Hulu's servers, reopening the Hulu app, clearing the cache, updating, and reinstalling the Hulu app & device.
In this article, we will discuss some simple and practical steps that you can take to fix the Hulu Error Code RUNUNK13.
How to Fix Hulu Error Code RUNUNK13
Here are some easy troubleshooting steps you can take to start streaming again. So, let's begin.
1. Check the Internet Connection
The biggest issue Hulu users face is an unstable or unreliable internet connection. This can be due to various reasons, such as needing to restart your Wi-Fi router or experiencing problems with your internet service provider (ISP).
When your internet connection is unstable, it can cause interruptions and errors while streaming content on Hulu. Therefore, it is crucial to identify and troubleshoot internet-related issues to enjoy uninterrupted streaming on Hulu.
2. Restart the Application
If you see the RUNUNK13 error still exists on a particular device, try closing the app and restarting it. This should eliminate any corrupt data that keeps the app from working correctly. For most streaming devices, select the app and then click and hold or long-press until you see additional options, including force-closing the app. 
3. Check Hulu Server Status
If the above troubleshooting fixes don't work, you can use online-based site monitoring tools such as DownDetector to check if Hulu's servers are functioning correctly or encountering an outage. These tools can provide valuable information about the status of Hulu's servers and the scale of the issue.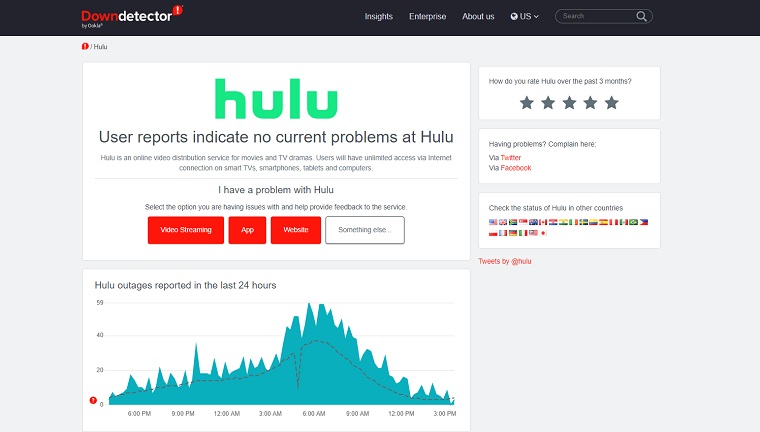 By confirming whether the issue is with Hulu's servers, you can save time and effort trying to fix an issue that is out of your control. Therefore, it is advisable to check the status of Hulu's servers before attempting other troubleshooting solutions.
4. Clear The Cache On Hulu App
Clear your Hulu app cache and data if your device still has the Hulu error code RUNUNK13. It may be possible that corrupt data can cause this problem, so this is an important step.
How to Clear Cache on the Hulu App?
Here is a list of how you can quickly clear the cache on the Hulu app on different devices;
On Apple TV: You can't clear the Hulu cache on Apple TV. Instead, restart your device by pressing the menu and home buttons together, then selecting Settings > System > Restart.
On iOS: Go to Settings > General > Storage > Hulu, then delete and uninstall the app. Reinstall it via the app store.
On Android: Go to Settings > Apps > See all apps > Storage and cache > clear storage, then clear cache.
On Fire TV: Go to Settings > Applications > Manage Installed Applications > Hulu > Clear cache > Clear data.
5. Update the Hulu App
Hulu recommends promptly installing their streaming app's latest version as soon as it becomes available to ensure optimal performance and fix any potential errors. These updates introduce new features and address bug fixes and performance issues.
Installing the latest version of the app can significantly enhance your streaming experience on Hulu, as it ensures that you are utilizing the most up-to-date version of the software. Therefore, keeping your Hulu app updated is advisable to enjoy uninterrupted streaming of your favorite content.
6. Clear Web Browser Cache
If you are watching Hulu on your computer, attempt to clear the browser cache. The presence of corrupt data within the cache can impede your ability to play particular episodes and movies.
By clearing the cache, you can eliminate the chance of encountering playback issues caused by corrupt data. Therefore, clearing the cache is an effective troubleshooting method that can help resolve issues related to playback and streaming on Hulu.
7. Update the Web Browser
Suppose you are using Hulu on a web browser. In that case, it may be possible that an outdated browser can often restrain the proper functioning of the Hulu web player, whether you are attempting to update Chrome, Firefox, or any other browser. Sometimes, simply closing and reopening the browser may be sufficient to address the issue.
However, if the problem persists, you may need to go through a more complex process to update the browser. It is essential to ensure that your browser is up-to-date to avoid errors and guarantee seamless playback of your favorite content on Hulu. Therefore, it is advisable to keep your browser updated to prevent any potential issues while streaming on Hulu.
8. Restart Network Hardware
In many cases, restarting all of your network hardware can resolve connectivity issues while using Hulu. To correctly restart your router and modem, disconnect them from the power source and leave them unplugged for a minimum of 30 seconds to one minute. Once this time has elapsed, plug the modem back in, followed by the router and other connected network devices.
Restarting your network hardware in this manner can help resolve issues that may impact your Hulu streaming experience, such as a weak or unstable internet connection. Therefore, restarting your network hardware if you encounter connectivity problems while streaming on Hulu is recommended.
You May Also Like: