Every time you launch Rocket League with Epic Games, you are stuck on a loading screen and it keeps crashing and completely unable to play the game on your ps4 or Xbox.
This means that your Rocket League screen goes black on startup or on a boot. The game also fails to open on Steam or Nintendo Switch whenever players play on DirectX 12 or DirectX11.
Sometimes, Rocket League won't launch on your PC after an update. As a result, many players think their Rocket League is dead, but it is just that the game can't connect to Rocket League servers.
If your Rocket League is not launching on ps5 or the PC, you will have to perform a series of steps to ensure your game is up again, and you have completely fixed Rocket League load failure.
Why is my Rocket League not launching?
Players routinely face Rocket League shutting down whenever they open up epic games launcher. Therefore, we have to figure out the reasons why your Rocket League is not opening on your ps5 or Xbox.
Some obvious reasons why Rocket League keeps crashing on epic games or the game won't launch on your PC are the game glitches. Similarly errors on HDD and game files not verified lead to Rocket League crashing.
Another reason why the game crashes before it opens is too many application running on the PC. So these many application all buzzing in the background occupy graphics card and this slows down the performance that results in Rocket League won't launch.
Corrupted game data, saved files, or local files give a hard time to your game and you might feel that the Rocket League is kicking me out.
Hardware limitations won't launch Rocket League on Xbox or PS5. Similarly, server issues make Rocket League hard to run. Likewise, outdated graphics card drivers and updates not installed properly all keep minimizing Rocket League.
However, this guide will help you fix Rocket League that keeps crashing on epic games. The PC versions of Rocket League are slightly different. Therefore, we have separated instructions into Epic Games and Steam.
Note: This article will fix Rocket League that won't launch on different devices, streams, and consoles like PC, PS4, PS5, Xbox, Nintendo Switch, and Steam.s
Fix: Rocket League Won't Launch Epic Game Launcher
If Rocket League is stuck on the loading screen, then you should likely verify game files, run Rocket League as administrator, change compatibility mode, etc. We have listed down solutions to fix Rocket League that won't launch after any update.
Solution 1 – Run Rocket League As Administrator To Avoid Game Lag
We have to grant Rocket League its administrative rights, so it can make full use of its features. Rocket League keeps lagging if it does have the full potential over the file system. To open Rocket League as an administrator you have to:
Right click Rocket League and select Properties
Click on Local files > Browse local files
Right-click on Rocket League Launcher.exe.
Click Properties
Click compatibility tab and check Run as administrator
Solution 2 – Delete d3d9.dll File To Fix Rocket League Not Opening On Switch
Your d3d9.dll can be the reason you can't log into the Rocket League server. If the d3d9.dll file is put in the wrong folder, Rocket League won't launch on startup.
Delete the file following the steps below:
Open the Steam in case you do not navigate to the Rocket League saving folder
Right-click on Rocket League > Properties > Local Files > Browse local files
Double click on Binaries > Win 32 where you'll the d3d9.dll folder
Right click the folder and click Delete
Run the game now
Solution 3 – Change The Compatibility Mode To Start Rocket League Again
The reason why the game is not opening on your PC can be with the compatibility mode. You should run Rocket League in compatibility mode. Incompatibility mode can cause Rocket League won't launch problems so:
Go over to the folder where the game is saved
Right-click it and select properties
In the Compatibility tab, click Run this program in compatibility mode for. Then choose the OS in the drop-down menu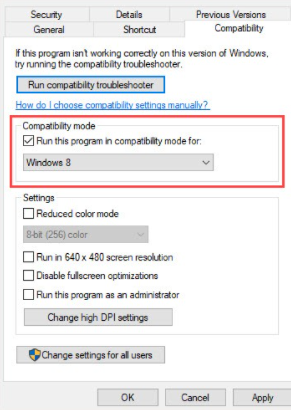 Solution 4 – Update The Graphics Card Driver To Repair Rocket League That Won't Launch
Sometimes Rocket League won't launch after an update and that can cause minor glitches. You can either update the graphics card driver manually or use Iobit driver updater.
Visit the manufacturer's official website and search for the model your computer is running. Download the driver that suits your specific operating system.
Choose the best driver updater of your choice. It will find the correct drivers for you and download them to your system.
Solution 5 – Rename Your Rocket League Folder To Stop Rocket League From Crashing
Error 64 in Rocket League means that the servers are experiencing a problem, or your internet connection is having issues. Players who face this need to rename their Rocket League folder.
This forces Rocket League to make a new folder or a file for the game. If there's a version of the game that has become corrupted somehow, then this method should fix the problem.
Navigate to Settings
Uncheck 'Enable Cloud Saves'
Open up the File Explorer
Look for My Games and click on it
Find Rocket League folder
Right-click on the folder and select Rename
Change it to Rocket League Old
Press Enter
Launch the game
Solution 6 – Delete The Cache To Fix Rocket League When It Freezes
The cache can become corrupted which stops the software from working correctly. Rocket League won't launch if you don't delete the cache. Clear the piled-up clutter so you can play Rocket League again.
Open File Explorer and navigate to My Games folder
Open up the Rocket League Folder
Doule-click TAGame
Right-click on Cache and click Delete
Relaunch the game.
Solution 7 – Verify The Integrity Of The Game File To Remove Rocket League Black Screen
Rocket League won't launch if the files on your computer don't match with those on the server. If they don't match, then the platform will repair them if there's a problem with the files.
Open Epic Games
Find Rocket League in the library
Select the three dots on the right side of the Rocket League line
Select Verify
Wait for a moment
Relaunch the game
You can verify the integrity of the game file in Steam in the same fashion. Right-click Rocket folder > Properties > Local Files tab > click Verify integrity > Wait for some time.
Solution 8 – Disable Steam Overlay to Fix Rocket League Won't Launch
The Steam Overlay can create surprisingly high CPU and GPU spikes when it is enabled. This can cause problems for games even if they launch as the game hangs.
However, if you disable Steam Overlay, you'll no longer be able to use it for messaging friends, looking at guides, using the web browser, or possibly snap Steam screenshots.
Here's how to resolve Rocket League not launching on Steam:
Click on Steam button and select Settings from there
Navigate to In-Game section on the left
Uncheck the 'Enable Steam Overlay'
Hit Okay
It is good to check 'disabled for Rocket League' before you launch the game
Go to the Library
Right-click Rocket League and select Properties
Check General to ensure that the option is unchecked
Solution 9 – Use The Launch Option To Fix Rocket League Crashing on Game Start
If you are coming up with the error that says Rocket League won't launch either on your Nintendo Switch or Steam then you have to remove any existing launch options.
Open Epic Games Launcher
Navigate to Settings
Click the Additional Command Line Arguments box and check the box
Enter the following: -novid -nomovie
The 'novid' command tells the game to skip most intro videos that start as the game loads up including the Valve ones. Whereas, the 'nomovie' command forces the game to skip the other start-up animations including the logos.
If Rocket League won't launch/keeps crashing on Steam, then the steps are the same as above except for a few:
After launching Steam, navigate to your Library
Right-click on Rocket League
Select Properties
Click Set Launch Options found in the first tab
Paste the following command: -novid -USEALLAVAILABLECORES -sm4 -d3d10 -nomansky -lowmemory -novsync -high
Launch the game
If the game stutters then use only -novid -novsync -high
The high command assigns more resources to it. This can be an issue for low-end computers so always be careful when using the command.
If Rocket League is taking so long, then use the commands given below:
USEALLAVAILABLECORES – This forces the game to use all of the CPU cores
d3d10 – This helps the game to launch properly.
lowmemory – This launches Rocket League in 4GB RAM memory if you have under 16GB.
If still, Rocket League Keeps Crashing on ps5 or Xbox, then you should proceed to the next solution to set the right FPS for your PC.
Solution 10 – Disable FPS Lock To Fix Rocket League Not Launching
Rocket League won't let you play if the FPS lock is not disabled.
Open Run dialog box by pressing Windows key + R
Type %Appdata%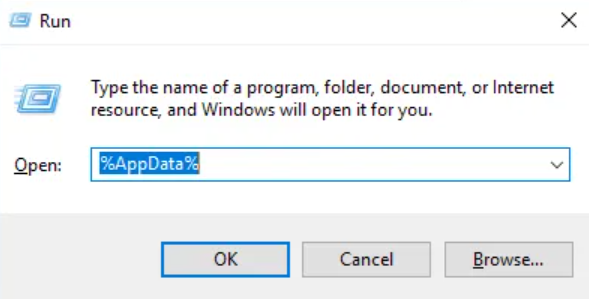 Navigate to "Local > Rocketleague > Saved > Config > WindowsNoEditor"
Look for "Gameusersettings.ini."
Right-click it and open it with Notepad
Search for "bUseVSync" (use Ctrl+F for it)
Change the value next to this term to "False"
Close the editor
Check for the monitor rate
Right-click on desktop and choose Display Settings > Advanced Display
Select "Display adapter properties"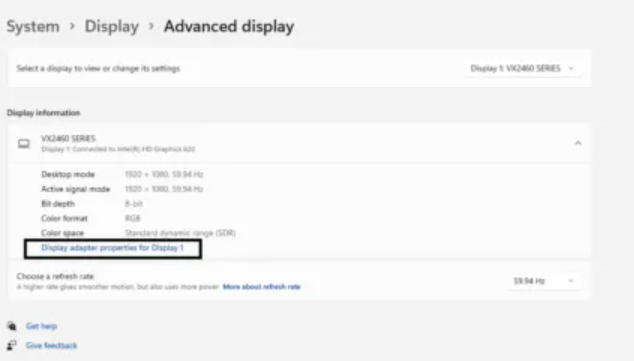 Go over to Monitor in the pop up window
The Screen refresh rate should be under "60"
Change value higher than 60
Launch the game again
Solution 11 – Repair The Easy Anti-Cheat Service To Resolve Rocket League Not Responding
Easy Anti-Cheat Service protects from dubious users and the service comes with Rocket League. However, when the service no longer works, then it gets corrupted and Rocket League won't run. Therefore:
Go to your File explorer and look for Easyanti-cheat
Select EasyAntiCheat_setup.exe
Right-Click EasyAntiCheat_setup.exe
Select Run as Administrator
The Anti-cheat service software will open
Select "Rocket League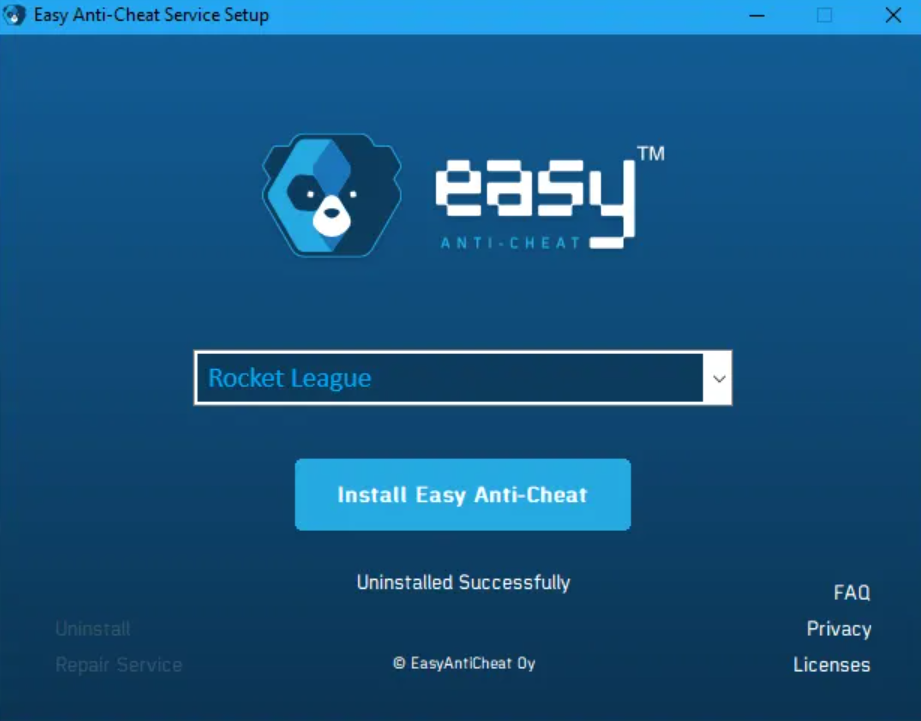 Now, press on 'Repair Service' button
Solution 12 – Change Power Settings To Minimize Rocket League Disconnecting
To avoid Rocket League crashing when joining the game on startup, you have to change the power settings, and here's how you can do it.
Find 'Power Option' in the Control Panel
Change it to High Performance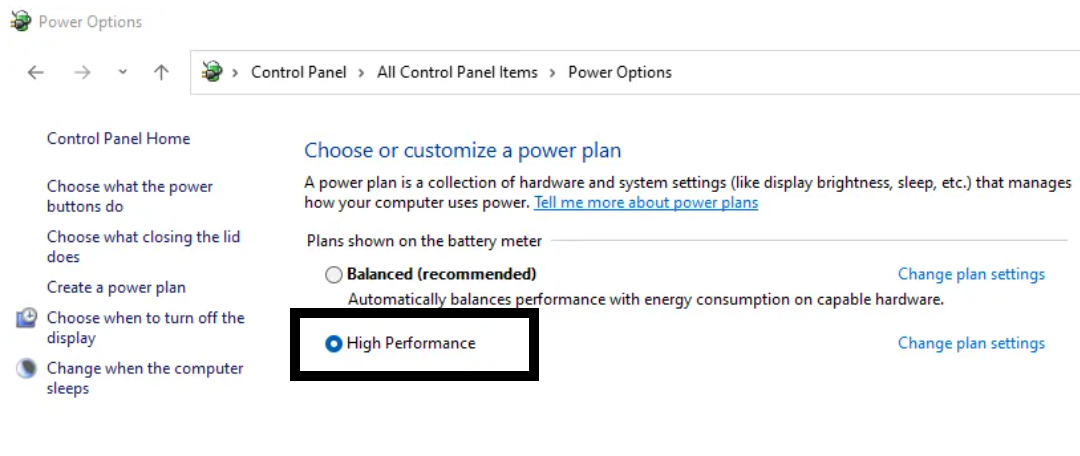 Solution 13 – Perform A Clean Boot To Fix Rocket League Won't Launch
You need to perform a clean boot so you can launch Rocket League from Epic Games. here's how to initialize Rocket League again:
Open the Run dialog box
Type "MSConfig"
Press Enter
Select the Services tab
Uncheck all the unnecessary service
Click OK when done
A clean boot helps to prioritize important services and leave out unnecessary ones. After the clean boot, you will be able to play Rocket League without crashing on the start-up.
Solution 14 – Shut Down Any Unwanted Program To Stop Rocket League From Crashing
Eliminate all the unnecessary programs that stop Rocket League from launching.
If there are multiple files and programs opened all at the same time and running in the background, then this would cause Rocket League to take so long to connect to servers.
Open Task Manager (press Ctrl+Shift+Esc)
Check for the program that is taking too much of the Network
Right-click that program and select End Task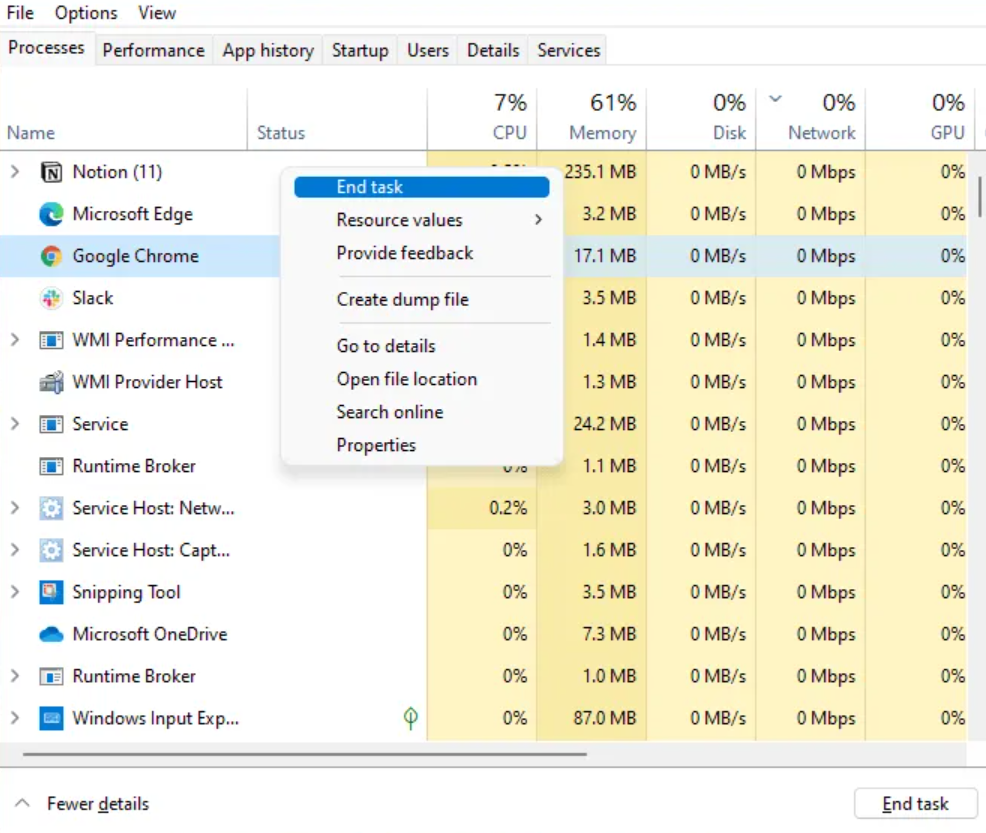 Launch the game again to see if Rocket League won't launch error pops up.
FAQ's
Is Rocket League Dead 2020/2021?
Rocket League is not dead. However, the active player numbers have dropped along with time which has also decreased online viewership.
As a result, Rocket League seems to be dying. Originally, when the game was free-to-play, its online viewership boosted, and so did the number of players.
Is Rocket League down right now?
To check if Rocket League is down right now, you can visit their twitter page to stay updated about the server maintenance times or any activity which is going to affect the game.
Is Rocket League offline?
Rocket League can be played offline, both in split-screen co-op, and in the training mode so you don't miss your practice even without an internet connection.
Why won't My Rocket League launch Xbox one?
Keep the console on automatic updates. Press the Xbox button > Click Settings > All Settings > System > Updates > select keep my console up to date
Why can't I connect to Rocket League servers Xbox?
Ensure that you are not in a restricted region. Otherwise, restart the router to improve the connection. Also, delete the Rocket League cache as explained above
What is error code 42 on Rocket League?
Rocket League error code 42 stops the players from joining matches on their PS4, Xbox, or Nintendo Switch. These can be online casual matches or even ranked.
Therefore, to fix error 42 in Rl you can restart the console > run a speed test > make sure you don't have a lot of apps competing for bandwidth.
What does Deleting Cache do on Rocket League?
Clearing the Rocket League cache helps to reduce game crashes and freezing without losing any of the saved data.
What do I do if Rocket League won't open on switch?
If RL won't launch on Nintendo Switch, then you may want to update the switch system software. You may also force a reboot and check for any corrupted data. A good way is to install the game on the internal storage instead of the SD
What are the minimum requirements for Rocket League?
OS: Windows 7 (64 bit) or Newer (64 bit) Windows OS
Processor: 2.5 GHz Dual-core
Memory: 4 GB RAM
Graphics: NVIDIA GeForce 760, AMD Radeon R7 270X, or better
DirectX: Version 11
Network: Broadband Internet connection
Storage: 20 GB available space
Do you lose your progress if you delete Rocket League?
If you delete Rocket League because of the fact that it won't launch, then both your ranks and items stored locally will reset the progress
Why can't I log into Rocket League servers ps4?
Make sure you are not in a restricted region. The best way to overcome this is to force close the software and restart your router to improve the connection. If possible, connect your PC or console through an Ethernet cable
Why is my game randomly crashing?
Games keep crashing in Windows 10 for many reasons, such as an outdated driver or other software interference.
Rocket League Won't Launch? How do I fix Rocket League from freezing and crashing?
Disable any mods
Ensure that you're using DirectX11
Delete the cache from Rocket League folder
Make sure you meet the Minimum System Requirements
Verify the Integrity of the Game Files
Disable the FPS lock
Run Game as Administrator
Perform "Clean Boot"